Eating With The Mets: A Brief Memoir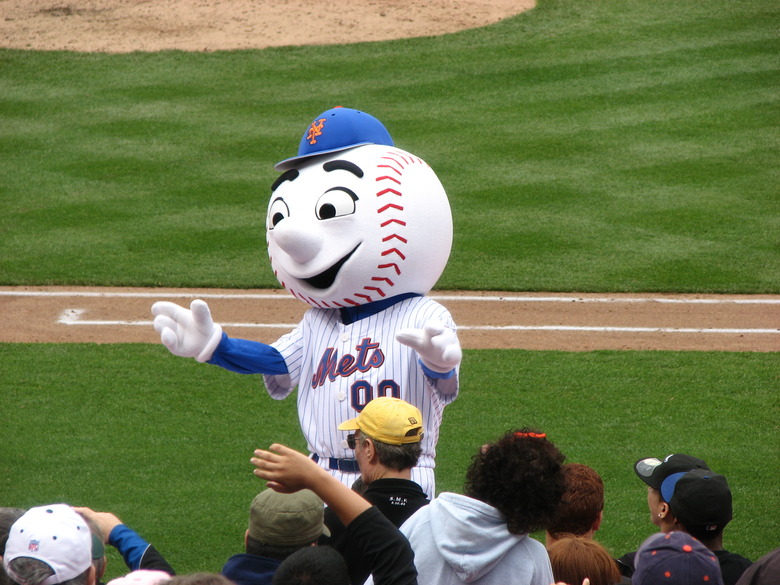 Mr. Met
I know other teams have lost more and had longer droughts. I know that over in England and up in Montreal, being an Arsenal supporter or a Canadiens fan can rival anything for heartbreak. But right now, there's no harder team to be completely, blindly loyal to than the New York Mets.
When the Mets play their home opener tonight against the Washington Nationals, I will not be in attendance, though I live about 10 miles from Citifield as the crow flies. All the injuries, the losses, the added embarrassment of the Madoff fiasco have made it excruciating to follow the Mets other than out of the corner of my eye.
I have to do at least that, of course, because since I was a kid, I've been a Mets fan. I went to Shea Stadium at least a hundred times, and I ate watery hot dogs, rubbery hamburgers, scrapable ice cream, and, my favorite, Ellio's pizza slices delivered to me in my seat. (Yes, back in the days when Tom Seaver was still in uniform.)
It's been a long time since stadium vendors patrolled the aisles with those big metal bins handing out Ellio's slices to snot-nosed kids, and food at stadiums has, of course, become vastly more sophisticated: I am among those who have dipped my Ichiroll in wasabi-soy sauce, an homage to the Japanese outfielder Ichiro, during a Mariners game at Seattle's Safeco Field.
I also did a stint on the Atkins Diet, when I snuck low-carb bread slices into Shea, purchased hot dogs, 86'd the buns, and slid those weiners into my spongy, truly unappetizing bread. Yes, I was really feeling good about myself at that point.
But things hit rock bottom at Shea when my friend Brendan and I purchased an 8-game ticket plan and began to notice that the upper deck overhang above our seats regularly produced a drip, even when it wasn't raining. We dubbed it "Shea Jus," and imagined it as a sauce for a really disgusting French Dip (Brendan's a vegetarian).
When the Mets moved to Citi Field three seasons back, I dutifully trudged in for opening day and made my way back to the much-hyped Danny Meyer-dominated food court, which features Shake Shack and Blue Smoke. The lines for the Shake Shack were then, and continue to be, insane, just as they are in NYC's Madison Park at the original location. But the burgers are amazing, easily the best I've ever had at a ballpark. And I could now wash 'em down with a choice of 20-plus beers and ales.
On subsequent visits, I learned that when the line at Shake Shack is so long that it will eat into time I could be spending watching the Mets blow another lead, I could quickly get a pulled pork sandwich from Blue Smoke. This smoke sandwich has erased my memory of those kitschy rectangular Ellio's pizza slices. Almost.
This year, I'll probably make it to Citi Field again. I can't stay mad at the Mets long. And besides, I keep meaning to try the fine-dining restaurant in the Acela Club out in left field. The guy behind it is Drew Nieporent of Nobu and Tribeca Grill fame. He told me recently that it's truly good. He's not objective, of course, but it's not a bad bet: If the Mets are playing like, well, the Mets, at least I can get a decent meal.
---
What's the food like at the stadium of your favorite team? Dish it up in the comments.