Food & Wine Best New Chefs Party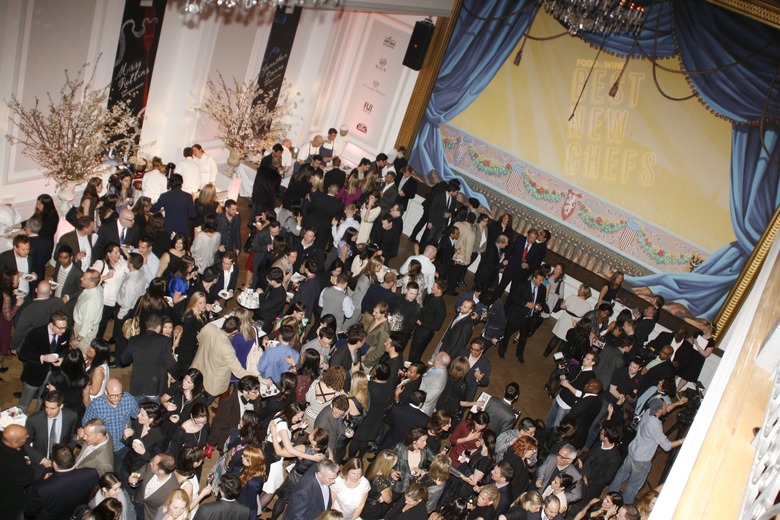 Being on Food & Wine magazine's annual list of Best New Chefs is an honor coveted by chefs. But perhaps even more feverishly desired is an invite to the annual over-the-top party where the announcement is made. This year's festivities at NYC's Bohemian National Hall did not disappoint, somehow managing to seamlessly combine a hip-hop opera flash mob and a slew of fabulous food served by former winners and famed chefs.
Tom Colicchio offered up an insanely good spice-roasted duck with black bread pudding and pickled ramps. Rocco DiSpirito served fried chicken, Top Chef winner Kevin Sbraga wowed guests with a luxe foie gras soup, and Gramercy Tavern's Michael Anthony brought some folks to their knees with his parsley-mussels dip.
Drumroll please, the 2011 class best new chefs are:
Bowman Brown & Viet Pham Forage, Salt Lake City, UT
Jason Franey, Canlis, Seattle, WA
Bryce Gilmore, Barley Swine and Odd Duck Farm to Trailer, Austin, TX
Stephanie Izard, Girl & The Goat, Chicago, IL
James Lewis, Bettola, Birmingham, AL
George Mendes, Aldea, Manhattan
Carlo Mirarchi, Roberta's, Brooklyn, NY
Joshua Skenes, Saison, San Francisco, CA
Kevin Willmann Farmhaus, St. Louis, MO
Ricardo Zarate, Mo-Chica, Los Angeles, CA
Did the judges get it right? Who are your favorite new chefs? Tell us in comments.