The Fabulous Beekman Boys Seed Project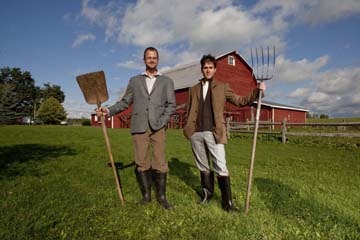 The Fabulous Beekman Boys
A few years ago, city boys Josh Kilmer-Purcell and Dr. Brent Ridge began a plan to give up city life to become gentlemen goat farmers in upstate New York. Kilmer-Purcell, a New York Times bestselling author, ad executive, and former drag queen, and Ridge, former VP of Healthy Living for Martha Stewart Living have chronicled their journey on their Planet Green TV series, The Fabulous Beekman Boys.
Thanks to the television show, the couple is most known for the herd of 80 goats — and a single llama — that form the basis of their burgeoning Beekman 1802 agricultural empire. But they also grow 110 varieties of heirloom fruits and vegetable at their sustainable Beekman Farm.
And while not everyone can have a herd of goats, the boys think that everyone should be growing at least some of their own produce, and have teamed up with Williams-Sonoma to create what they are calling the world's largest community garden.
The goal is to get 10,000 gardeners across the U.S. to each grow 10 of the varieties of heirlooms grown at Beekman Farm, including cherries, pumpkins, kale, peppers, and potatoes."Heirlooms are important to me because they taste better, richer" than conventionally available vegetables, says Kilmer-Purcell. Adds Ridge, "It's also important to promote diversity. If mostly one kind of tomato or carrot or anything is what we rely on for our food supply, it makes both the vegetable and us vulnerable if that variety gets a disease. That's what led to the potato famine."
The couple, which learned most of what they know about farming on the internet, have set up a place online where gardeners taking part in the project can trade tips and experiences throughout the growing season, but the boys have a few pieces of advice to get you started. "Don't be scared" says Ridge. "So many people are afraid of trying to grow something, but sometimes it really can be as easy as putting the seed in a pot of soil, watering it, and letting it grow." But, Kilmer-Purcell adds, "Don't be disappointed. Every year there is something that won't turn out and that's okay too."
---
Are you planning to grow any of your own vegetables this summer? Let us know in the comments.