Faking My Way Through A Champagne Tasting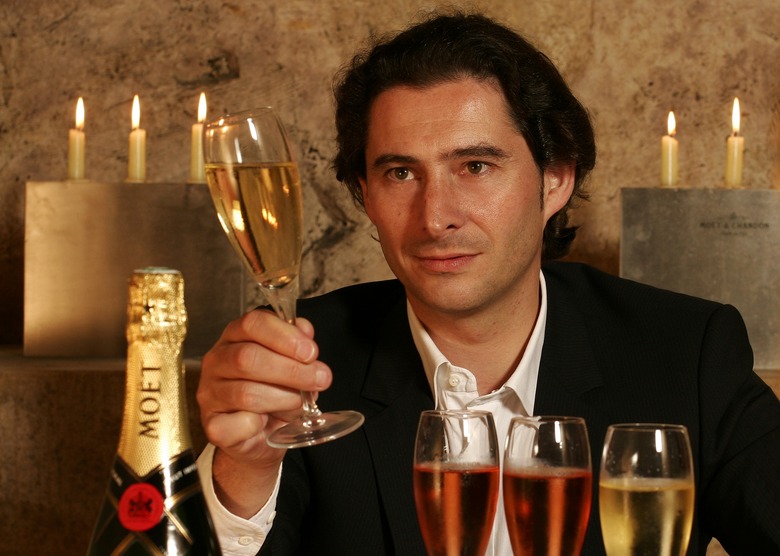 Chef de Cave Benoît Gouez of Moët & Chandon
At the intersection of Pico Boulevard and the edge of the Pacific Ocean sits two swanky hotels side-by-side. It's a beautiful area. One I like to visit often.
The hotel to the south of Pico, Casa Del Mar, houses a spacious, chic but relaxed 1920s-style bar that is the natural habitat to one of the largest and most rapacious cougar populations in the western hemisphere. Just north of it is Shutters on the Beach, which also has a bar, though I can't tell you much about it since I've only been there once. It's not that there's anything wrong with Shutters, mind you, it's just that I really dig cougars.
That lone visit to Shutters took place last week, when I met with Chef de Cave Benoît Gouez of Moët & Chandon, who'd invited me there to sample the soon-to-be-released 2002 Grand Vintage and Grand Vintage Rosé.
Prior to my arrival I went on the Internet, located Gouez's own tasting notes on the '02 vintage and committed them to memory. The plan was to dazzle him with a critical study of the champagne that would be virtually unimpeachable — identical, as it were, to his own evaluation. Almost identical. As with cheating on a test in high school, when bullshitting your way through a wine tasting it's advisable to throw in one erroneous note so as not to invite suspicion. I decided "hints of damp yak wool" would do the trick.
The yak wool caught him off guard, of course, but Gouez's reaction when I mentioned picking up notes of quinine in the Grand Vintage was totally unexpected.
"No," he said, raising an eyebrow to signify either curiosity or disgust (I couldn't tell which, really, because I don't understand French). "You shouldn't be tasting quinine. Perhaps this is due to your stuffy nose."
Yes, perhaps it did have something to do with the lingering effects of the flu, or maybe I was experiencing some sort of bizarre gin and tonic flashback or the table we were sitting at was made with the bark of the cinchona tree — the only known natural source of quinine. OR maybe — just maybe — I said I tasted quinine because Gouez had said HE tasted quinine in HIS tasting notes!
In my mind the three most plausible explanations for this inconsistency were: 1) The man sitting in front of me was not, in fact, Benoît Gouez, but rather some summer stock actor from Culver City hired to impersonate a Chef de Cave by Moët & Chandon in order to save money in these challenging financial times; 2) Benoît Gouez's tasting notes hadn't actually been written by Benoît Gouez; or 3) I needed to cut back on my medical marijuana card usage.
In the end it mattered not, since the champagne was so delicious. Seven years in the cellars had imbued the '02 Grand Vintage with warm notes of grain and frangipane along with toasted almonds and malt, just like it said in Gouez's... er, whoever's tasting notes. I found it to be quite creamy and round as well. Certainly one hell of a deal at $60 a bottle.
Again, things are tough all over, and every dollar saved on champagne is a dollar that could be put to even better use... like wooing cougars.
If you liked this story, we think you'll also enjoy: