Exclusive: Samuel Adams X Dogfish Head!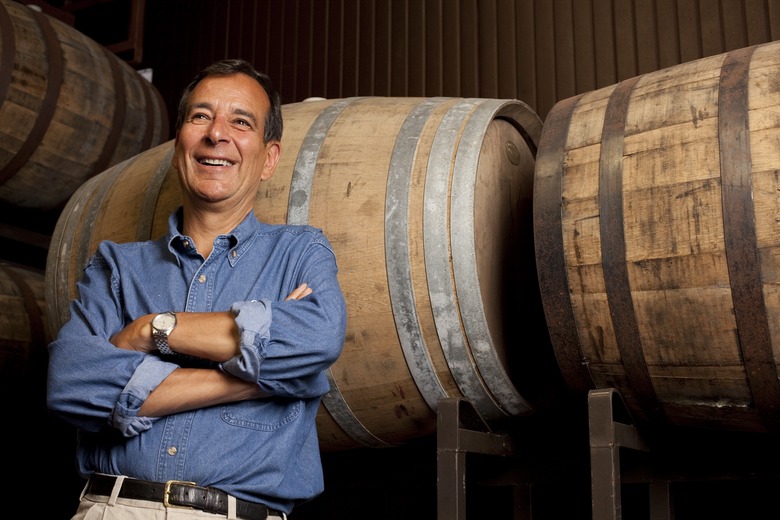 Jim Koch in brewery
As any reader of Cool Hunting or Hypebeast will tell you, collaborations were all the rage in the streetwear world a few years back. Artists, t-shirt brands, and sneaker companies regularly exchanged designs and ideas. Now, it looks like the concept could cross over to the food and drink world.
That's why Food Republic was psyched to get a phone call from Jim Koch, founder of Samuel Adams, inviting us up to Boston to sit in on the first mash for the new Sam Adams collaboration with ultra-hot craft brew master Sam Calagione of Delaware's Dogfish Head brewery.
The Sam Adams x Dogfish Head collaboration can also be traced back to a phone call.
Many a beer geek dreams of merely visiting Weihenstephan brewery in Germany. So when Koch picked up the phone one day and received an invite to create a beer in collaboration with the oldest brewery in the world, he was "pretty sure that I was being punked by another brewer," he laughs.
The resulting collaboration, 2010's bubbly, champagne-esque Infinium, was received with mixed reviews, but that wasn't the point, says Koch. "It was about changing things," he explains. "If beer culture isn't moving, if we aren't creating new things, pushing the envelope, then what are we doing? Being a brewer in the U.S. today is the most exciting time in the 10,000 years that people have been brewing beer." It also made him think about other possible collaborations.
Which is what led to our trip up to Boston on a recent Friday for a clandestine meeting with Koch and Calagione. The godfather of American craft brewing and the current It-boy of the brewing world were meeting up in the Samuel Adams brewery to begin the mash for their beer, which will be released for the first and only time at the sold-out Savor craft beer and food festival in Washington DC in June.
"Have you ever brewed beer with rose petals?" Koch asks Calagione. "Neither have we," he says. But among the hush-hush ingredients he pulls out are two different types of dried roses, one red and one pink, and the fresh petals of two other kinds of roses. Koch passes around a tincture —or extraction — that he has nicknamed WTF, which smells and tastes a lot like lavender. "I'm not saying if it is or it isn't," Koch says with a sly smile before pouring out a pile of an experimental and particularly floral hops — that go by the name 369, for those who know — onto the table.
"We wanted to push things as far as we could," says Calagione. Adds Koch: "We said let's take all the tools we have on Batman's toolbelt and see what happens." Calagione gestures around the brewery and notes, "And this is an awesome set of tools." The pair wrote old-fashioned snail-mail letters to develop their ideas, and they were meeting in Boston to put these ideas into action.
In addition to rose water — which is replacing regular water, the main ingredient in most beer — the WTF tincture is added. Eventually, the WTF is confirmed to indeed contain lavender, as well as hibiscus and jasmine flowers. The resulting brew, which will be aged in the same whiskey barrel that was first used to age the first Sam Adams triple bock in 1993, is food-friendly and food-focused, which will be appropriate for Savor, which is focused on beer and food pairings. The amount of effort and expense of ingredients for this brew will never be recouped by either brewery for this limited editon beer. But "that's not what this one is about. We created something completely new," says Koch. "This one is for the fans."
---
Have you tried a great collaboration beer? What do you think of beer with rose petals? Tell us your thoughts in the comments.