Oscar De La Hoya, Tequila Ambassador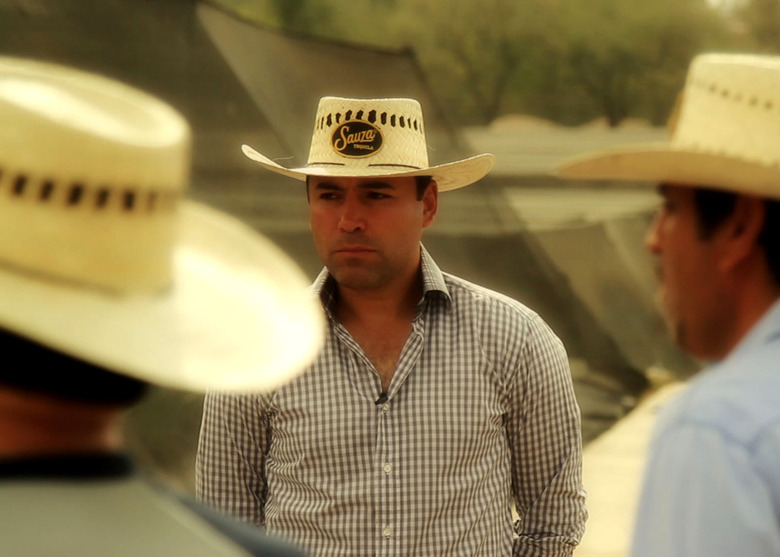 Oscar De La Hoya is one of the most popular boxers in history, a powerful Mexican-American figurehead who parlayed his ring expertise into the wildly successful Golden Boy Promotions, and now, the part-owner of a ... tequila brand? What gives?
The 38-year-old, who is based in Los Angeles, partnered with Beam Global Spirits & Wine on the premium tequila brand Tres Generaciones, and he's actively involved in everything from marketing to, well, providing Food Republic with some pairing tips.
Food Republic caught up with the former world champion and Gold Medal winner to find out how the transition from the boxing gym to the spirits world is going for Oscar De La Hoya, aka The Golden Boy.
How the did the partnership between you, Golden Boy, and Tres Generaciones come about?
I've always had a passion for tequila. When I began to talk about a partnership with Beam Global, it quickly became apparent that the way my own history embodies Tres Generaciones' history and attributes of success through hard work were a perfect fit for a partnership.
Me and my family have spent three generations perfecting the art of boxing, and Tres Generaciones has spent many generations perfecting the art of tequila.
Tell us about Tres Generaciones and what you like most about the tequila.
Unlike so many new and "trendy" spirits brands, Tres Generaciones has a real history and true authenticity honoring the three Dons of the Sauza family and built on the expertise and experience of three generations of master distillers. It's the smoothest tequila I've ever tried.
Tell us how Tres Generaciones relates to "The Sweet Science of boxing." For example, what kind of boxing style would a glass of Tres Generaciones be?
Confident and Sophisticated.
Okay, in a bout against Patron, what would the final score on the judges' scorecards be?
Knockout in the first round.
From what we've read, it seems like you have a real appreciation for food. Can you give us three examples of food and tequila pairings?
Start off with sea bass carpaccio paired with Tres Generaciones Plata Tequila
Pollo pipian paired with Tres Generaciones Reposado Tequila
Mango sorbet paired with Tres Generactions Anejo Tequila
What's your favorite thing to cook at home?
Truffled risotto.
What's your favorite way to drink tequila?
In a brandy snifter.
Final question, Champ. After all you have done, what comes next for you?
Next for me is to try and impact as many lives in a positive was as possible.
---
Ever tried Tres Generaciones tequila? How does it stack up? Let us know in the comments.