Champagne And Soup Dumplings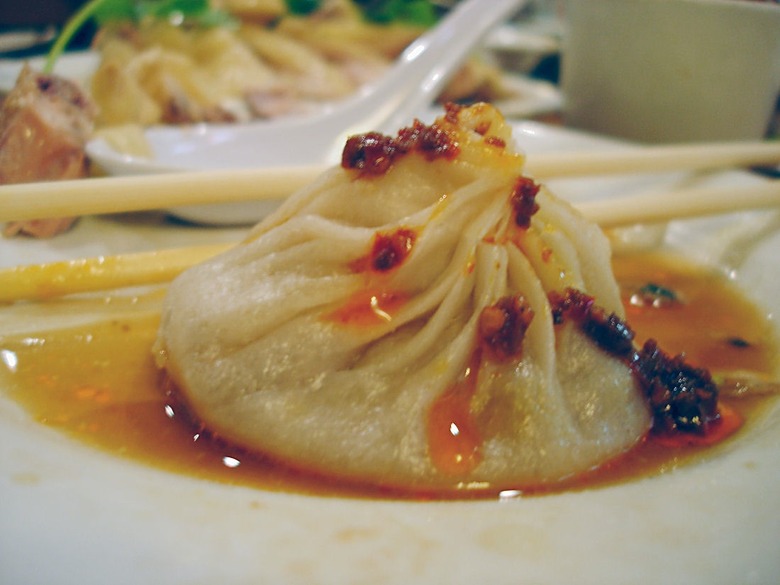 Soup dumpling
The wine may have been fancy, but the setting certainly wasn't for the best food-and-wine pairing I experienced this past week: Bollinger rosé champagne with Shanghai-style soup dumplings at Philadelphia's Dim Sum Garden, with a Greyhound station just outside and Chinese-language music videos on the TV inside.
Every sip of bubbly and slurp of soup-filled dumpling brought to mind an age-old truth about food and wine matching: Most people obsess over it way too much, and by focusing only on the so-called classic matches, they end up missing out on the sort of serendipity that can result when you let loose and try something unexpected.
People tend to think that Champagne only for celebrations and sports championships. But Champagne is one of the most food-friendly wines in the world.
Intellectually everything about this match makes sense, except the high-low perception of it. Pork and pinot are familiar and friendly bedfellows. And Champagne works wonders alongside rich or fatty dishes. Really then, there's no reason that, in theory at least, this combination wouldn't be a winner.
And indeed it was, the bubbles slicing through the richness of the broth, the pinot in the blend making quick work of the pork, the minerality of the wine cleansing everything away before the next bite. But what surprised me most was not the benefit the Champagne brought to the food but the many ways in which the food changed the Champagne.
Alongside steamed dumplings, the Champagne seemed fruitier, its cherry and strawberry flavors coming to the fore. Next to pan-fried ones, with their skins all crisped-up and nutty, the wine showed a more masculine character, its yeasty notes amplified.
Sometimes, the best pairings are the ones you least expect. And typically, they're that much more exciting for sneaking up on you.
---
What's your favorite weird wine and food pairing? Let us know in the comments.