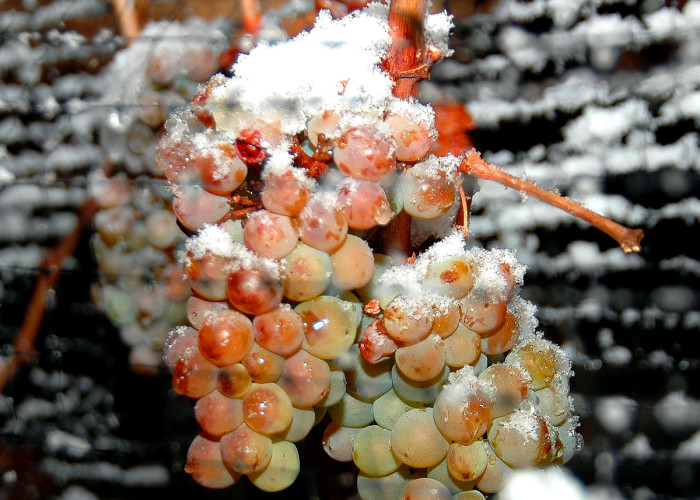 On the East Coast we began this first April weekend with the 97th snowstorm of the season. But instead of being aghast and annoyed here at Food Republic HQ, we decided to channel the enthusiasm for the white stuff that we encountered on a trip to Canada earlier this year. We had gone to Niagara-on-the-Lake in Ontario to visit the vineyards at Inniskillin, an award-winning winery that specializes in intensely sweet but strangely refreshing icewine. We were there to taste the wines and take part in the unique harvest.
Icewine, as the name infers, is served chilled, but the term icewine actually refers to the production of the wine. Unlike most agricultural endeavors, snow and frost are a key part of the of the growing process for the grapes used for ice wine. When the grape freezes on the vine, only the water in the fruit freezes, not the sugars, making for particularly concentrated flavors. The grapes can only be picked when the temperature is consistently below 17 degrees for several days, to guarantee the most intense juice from the Vidal, Riesling and Cabernet Franc grapes.
We began to get worried the night before our harvest adventure when our Canadian hosts got really chipper at the news that an "Alberta clipper" was headed our way, and indeed as we headed to the vineyard in the morning, the snow was coming down hard and fast, which we were assured only made our experience more authentic. Picking grapes by hand is hard work, picking grapes in the snow is quite honestly borderline insane. But at least we weren't picking at night, which is how it's often done to ensure that the sun does not melt any of the icy fruits. And we kept relatively warm by downing mugs of hot chocolate liberally spiked with Inniskillin Cabernet Franc Icewine and taking breaks for Chef David Penny's beef stew. At the end of the day, it's hard to stay annoyed with the snow, when it is directly helping to make such a tasty adult beverage.
Because of the sweetness of the wines, ice wines are often considered dessert wines. While they do go well with chocolates and baked goods, ice wines can also sub for regular table wines. Icewines made from Vidal grapes work well with roasted pork, or root vegetables. Riesling-based white wines are great with foie gras and Cabernet Francs work well with nutty dishes (and Penny's beef stew). The honey characteristics of Iniskillin wines contrast nicely with rich or salty cheeses.
They can also be used in wine cocktails. We are now going to go mix ourselves a Classic Inniskillin Icewine Martini and wait for the spring thaw. It's got to be soon right?
---
Ever tried icewine? Let us know in the comments.