A Night In Paris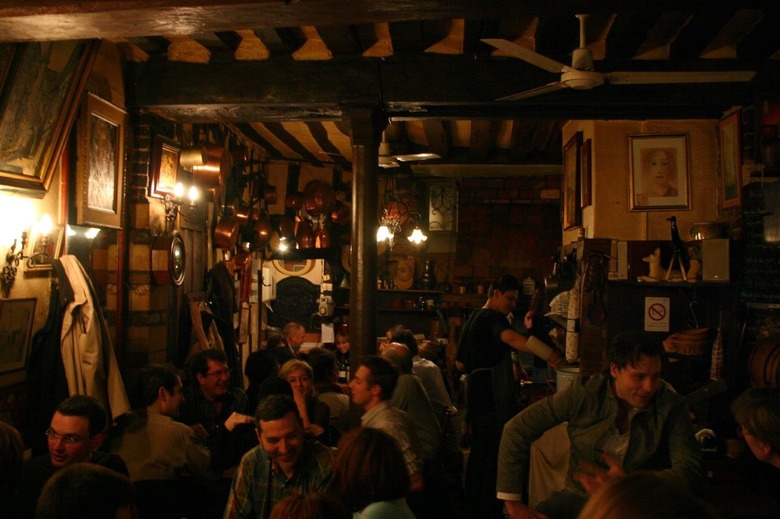 Restaurant Robert et Louise in Paris
Like many foodies of my generation, Tony Bourdain has influenced me. Into a landscape of polished and scrubbed television chefs, Bourdain stumbled onto the Food Network, a curse word on his lips, a hoop earring in his lobe, a cigarette burning in his hand. It was as if a pirate had invaded the Good Ship Emeril. The juxtaposition was so jarring and wonderful that I wondered if the Food Network knew this Bourdain show was airing on their network.
Eventually Bourdain was bounced to the Travel Channel, and one of the first episodes of his hour-long show featured Tony in Paris. Toward the end of the program, he ate at Robert et Louise, a small restaurant in the Marais, where Bourdain pointed out that everything that made Robert et Louise cool — meat cooked on an open fire, unpasteurized cheeses, a dog running around in the dining room — would be illegal for a restaurant in the United States.
It happened that a few days after seeing this show, the wife and I were in Paris, and on our first night there we wandered over to Robert et Louise. An few hours after being seated, I needed to lie down, as I had literally been stuffed with steak and goose fat-seared potatoes and a bottle (or three) of Côtes du Rhône. On the way out, François, the restaurant's charming proprietor, motioned for me to have a seat at the tiny bar. He reached behind the counter and pulled out a large bottle full of a liquid that looked suspiciously like melted green apple Jolly Ranchers. He placed a small glass in front of me and poured out a few fingers of the emerald fluid, then set the bottle in front of me. I read the label – Chartreuse, it was called — lifted the glass to my lips and sipped.
The first thing you become aware of is the thickness of the liqueur — it reaches your lips but doesn't seem to feel any urgency to cross the threshold. You suck it in and immediately notice sweetness at the tip of your tongue, then feel a burning at the back of your mouth as you swallow. And the flavor, well...it's sweet and sour, with maybe notes of menthol and pine and lime and spice and fennel, all underlined by an explosive intensity. It was both ethereal and surreal. But mostly it was delicious.
By then it was late on a Friday night, and the restaurant was raucous. People were crammed into every corner and nook of the joint, eating meat, drinking, talking, laughing. I sat there nursing my Chartreuse(s), which helped make my evening come in for a smooth, lovely landing.
Later, I did some research. I learned that Chartreuse was invented in the 1740s by Carthusian monks in the French alps. It involves the extracts of 132 plants, and the brilliant jade color comes from the chlorophyll. I found out that Chartreuse was the drink of choice for Hunter S. Thompson. Actually, the list of people who've referenced or are associated with Chartreuse is rather formidable and, frankly, a bit aspirational: Tom Waits, the Queen Mum, Quentin Tarantino, Charles De Gaulle, Bon Jovi, F. Scott Fitzgerald, Alfred Hitchcock. One recent night at Bar Boulud, I met a man who showed me a BlackBerry picture of his friend's tattoo of the Chartreuse logo.
That evening in Paris, I found a good friend. Ever since, many nights I'll kick back on the couch and have a few sips of Chartreuse before going to bed, to sand the rough edges off my days. With each sip, I'm transported back to that night in Paris, where I was inducted into a cult, a quiet society for those of us who appreciate the divine inspiration of monks, the science they utilized, and this mysterious, lovely combination of 132 plants.
---
Ever tried Chartreuse? Or do thick green drinks gross you out? Let us know in the comments.