Talking With Margaret Cho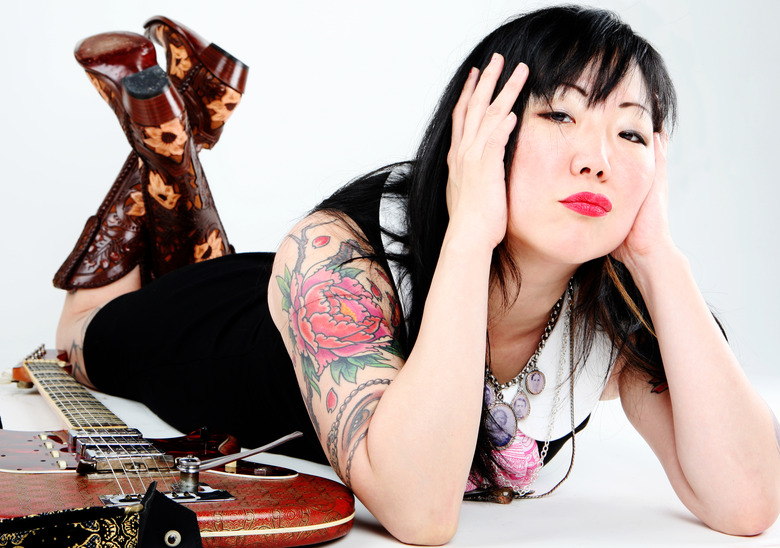 Margaret Cho
Every comedian wants to be a rock star, or so the story goes — but when one is able to enlist talented friends to assist and outsource strengths they may be lacking in attempting to weld the two mediums together, an opportunity for something truly unique arises. That's the magic behind Margaret Cho's Grammy-nominated comedic musical album Cho Dependent, a fantastic collection of comedy music that boasts collaborations with high-profile musicians such as Fiona Apple, Tegan and Sara, Andrew Bird, Ani DiFranco and more.
Margaret's raw-honest standup appeal and unabashed sexuality is in full bloom on Cho Dependent, be it on "My Puss," the Mickey Avalon parody song, or "Calling in Stoned," which features Ben Lee and legendary stoner Tommy Chong. While some tracks focus more on the fun and humor of the material, a few songs are downright fantastic, particularly "Baby I'm With The Band" (featuring Brendan Benson) and the beautifully dreamy "Hey Big Dog" with elusive chanteuse Fiona Apple.
Food Republic caught up with Margaret in Los Angeles to discuss her culinary philosophy and relationship with food, as well as her favorite eating spots in the world.
Not too long ago you mentioned on Twitter that you had pasta in Rome for the first time in four months. How was the experience?
Oh my goodness, it was really good. I had bucatini, which I have never had before. It's like a thick spaghetti with a tiny hole in the center so the sauce – which was a very thin but sweet tomato base with lots of pancetta – would flavor the pasta from the inside out. The place, the spectacular Roman treasure is named Bucatini – for the dish. It's one of my favorites in Rome. Unfortunately, right after I ate dinner I had to walk up a huge hill to get back to my hotel, so that part wasn't fun, but the eating part was great.
Are you a pasta aficionado?
Yes, I love it, but I have been trying to stop eating it because it isn't the healthiest for me. But it's my favorite! I am such a penne queen.
Name your three favorite restaurants and why you love them.
Bucatini – Rome – best place to break a pasta fast. They have an antipasto bar that's tremendous and it's really old fashioned Roman specialities like chicken with peppers and of course delicious bucatini.
Perilli – nearby on Via Marmorata in Rome – this was Fellini's favorite restaurant. It's very hard to get a table so reserve way ahead of time. The food is amazing, especially if you are way into Roman cuisine. It's fancier than Bucatini but so delicious. Beef knuckle with tiny onions will haunt you in your dreams.
For Italian in Los Angeles I always go for Farfalle on Hillhurst. It's very basic, very delicious Italian that's not such a huge big deal and they haven't changed the menu in ages which I truly appreciate. I love the farfalle salmone and usually only need to order that as the portions are huge.
What's your version of heaven on a plate?
There's all different kinds of heavens, as many as there are religions! I love something simple really – perfectly roasted meat and vegetables paired with the right wine – if I am cooking this is what I will do. Not too showy, but surprisingly difficult to pull off for 4! The world's greatest cuisine is Moroccan, although I haven't found a restaurant outside of a traditional riad in Morocco that serves it up right. That is heaven on a plate! 'The Imam Faints' eggplant salad, pigeon bastilla covered with powdered sugar and raisins, lamb tagine with prunes offered up with an illicit bottle of merlot from the Meknes Marjane (which is like Wal-mart of the middle east) and then finished off with oranges dusted with cinnamon – that's heaven. But you can't really get it in a restaurant, you have to go to a riad! Or make it yourself.
Do you have any particular dietary habits, such as veganism or vegetarianism?
I have done both in the past, but now I eat everything – except too much pasta! I have done really extreme diets too like raw food, juicing only – I would even travel with a blender and a juicer and a set of knives!!!
What do you love to cook most, and how do you prepare it?
I think the most beautiful, simple, poetic thing to make is a roasted whole chicken. Just rub the thing with cut lemons and good oil AND butter, stuff the cavity with the same lemons, stick in a hot oven – make sure to cover the top of chicken loosely with foil for the first 30 min so it doesn't burn. It's easy and really delicious and satisfying. Selene Luna puts a half empty beer can inside the chicken too! That's a fantastic trick! It flavors and moistens the meat as well as cooking it faster from the inside!
What food will you absolutely not eat?
I don't know yet, but anything with eyes kind of bothers me.
Name your most ideal dinner date.
Someone who loves to eat as much as me, because usually if they love to eat they are alright.
Jesus Christ, Julian Assange, Glenn Beck and Axl Rose are your guests for a dinner party. What do you serve?
Lots of wine, or maybe just water and Jesus can make some. This may take the edge off the fighting as well.
You've been around the world, and you don't seem the type to shy away from new experiences. What's the best culinary surprise you've found while traveling?
I think what I have discovered is that even though cultures are vastly different, everyone (no matter where you are) is super excited about dinner! My favorite discoveries have been street foods in places like Berlin- where doner kebab rules. It's kind of like shawerma, chicken or lamb pieced together on a giant spit and cut off with a huge knife and wrapped in a crispy flatbread and served with a tahini-yogurt sauce. That is amazing with a side of fries and curry ketchup. There's nothing better in my opinion.
The worst?
Oh easily Tibet. I love Tibet, but I really cannot deal with the food. It's very different. The yak butter tea kind of tastes like vending maching chicken noodle soup – for anyone old and unfortunate enough to have had that. It's really gross, and you have to drink it when you are offered a cup in the monastery. The people are really poor and so when they offer it to you, it's a huge big deal. And it's nasty. Boy, I really don't like that tea.
The most bizarre?
I think this has to be Tibet too – where the breakfast is yak butter tea served with tsampa which is basically just flour and you pour the tea into the flour and make doughballs and eat it. That's very weird to me but better than drinking the tea on its own.
Also, there are great restaurants in Mexico City that serve Aztec specialties like ant eggs and corn smut (which is the mold that grows on corn), which I absolutely love but it is weird.
My favorite weird thing is pollack roe, which is a salty, spicy preserved fish egg sac that's served in soondooboo, which is a hot Korean tofu. Best!