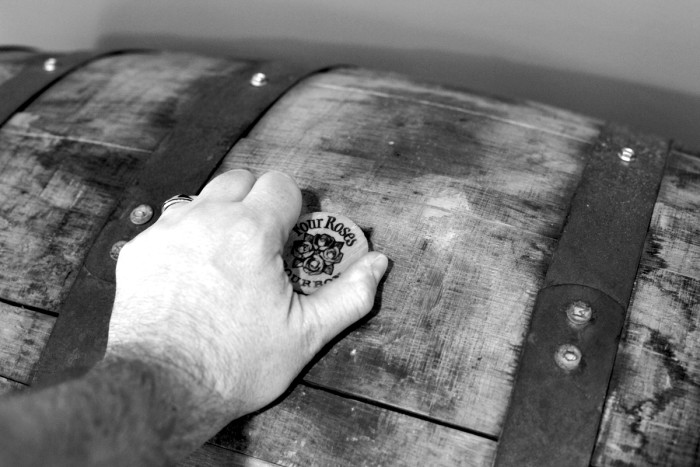 So the observant drinkers among you may have noticed a new term popping up on drinks menus across the land: cask-aged. You've had vintage wines and aged whiskeys. But cocktails? Can imbibing a six-week old manhattan be at all good for you? Or tasty? Never fear we are here to figure out the trend for you.
How it works: A wooden barrel (cask) typically soaks up some of the whiskey, rum or tequila it holds during the often years-long aging process. Once the original spirit is drained and the cask is refilled with a new liquid, the retained flavors from the previous spirit marry with the new liquid in the cask. The end result: a more complex spirit, which takes on a slight change in color and/or flavor. This is referred to as a "cask-finished" or "cask-aged" product.
Distillers have been using this technique for decades with whiskeys being aged in casks that previously held port or sherry; rum aged in Bourbon casks; tequila aged in rum casks. More recently, a handful of savvy bartenders have co-opted cask-aging for cocktails. These vintage drinks can be found at places ranging from Fort Defiance in Brooklyn to the Girl and the Goat in Chicago and San Francisco's Blackbird.
Perhaps the best-known pioneer of barrel-aged cocktails is Jeffrey Morgenthaler, bartender at Clyde Common in Portland, Oregon. Originally inspired by Tony Conigliaro's, bottle aged bevvies at 69 Colebrooke Row in London, Morgenthaler whips up drinks in five-gallon batches, then allows them to rest in barrels for as long as six weeks. His experiments include rye-based Manhattans in used Madeira barrels, Negronis in Bourbon barrels, and Trident cocktails in barrels that formerly housed single-malt whiskey.
Does aging really make a better drink? Different is more like it. Sipping an aged and new Manhattan side by side, the older tipple is a little deeper, a little more oaky. Both are pretty tasty.
How To Make Your Own Cask-Aged Cocktails:
Select a barrel. If you have a favorite distillery nearby, don't be shy about asking if they will give or sell you a previously used barrel. Another option: order a barrel-aging kit from Copper Fox Distillery, or seek out used Bourbon barrels from an online resource such as KentuckyBarrels.com or eBay.
Select a cocktail. Follow Morgenthaler's example and opt for spirits-only cocktails (bitters-based drinks are okay too). Avoid sugary mixers, fruit juices, dairy products, and anything else that won't keep for weeks at room temperature. Choose a spirit base that differs from the barrel – for example, a whiskey cocktail aged in a whiskey barrel will be too strong.
Be patient. Mix together a batch of the cocktail, pour it into the barrel, and cork firmly. After that, the secret ingredient is….time. Allow the cocktail to age at least six weeks, then decant into glass bottles or jugs for longer storage.
---
Do you think that barrel-aging makes cocktails better? Any favorites? Let us know in the comments.