5 Wines From Santorini To Try Now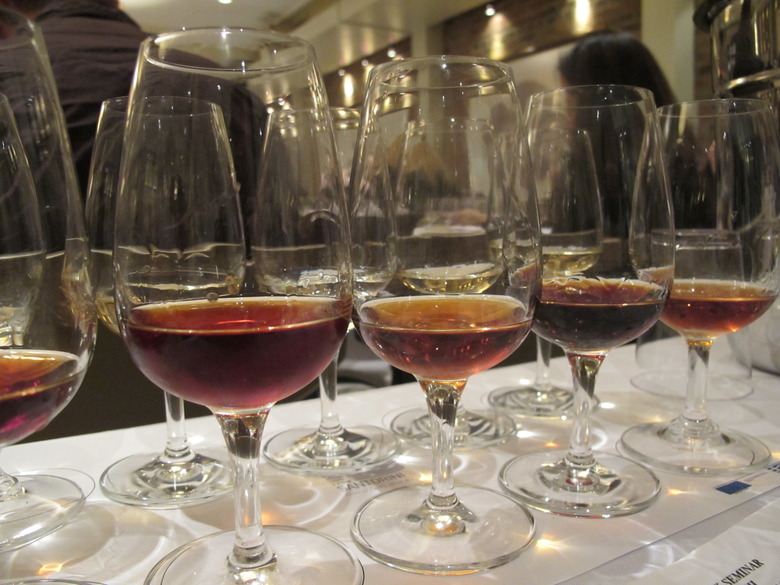 Vinsanto wines from Santorini
Here at Food Republic we want to help you be the guy who shows up at the dinner party or cookout with the bottle of wine that makes all the other guys jealous and all the girls go, "Whoa, that man knows his grapes."
That's why we're featuring wine stories just about every day, and it's also why we gladly accepted an invite to go meet with Dr. Yiannis Paraskevopoulos of GAIA wines during his recent trip near our home base in NYC. One of Greece's top oenologists, Yiannis is like a Greek George Clooney with a slick palate and the type of wine knowledge that we love in a drinking companion.
Thus editor Lisa went on a pre-lunch mission to throw back taste a dozen-plus glasses of wines from the Greek isle of Santorini. Read through to the end for her tasting notes and her 5 top picks, which you should (a) try to locate at your local wine store; (b) if they say, "what is Santorini," demand that your local wine store carry (or go to a different wine store); (c) bring with you to a party or cookout to impress the ladies and piss off their boyfriends.
Anyway, why Santorini? And why now?? Yiannas spelled it out: "These wines are truly about terroir and could not be produced anywhere else in the world." The volcanic soil makes the island immune to phylloxera, he went on to explain, so unlike in the rest of Europe, these rootstocks have never been grafted or replanted.
The wines we were drinking were from the same vines that have been on the island for hundreds of years. And there is little rainfall on the island, so most of the irrigation in the vineyards is in the form of a thick ocean fog that blankets the island each morning, drenching the plants and leaving behind a slightly salty characteristic to the juice.
These conditions create bone-dry white Assyrtiko wines and intensely sweet Vinsanto dessert wines. But these aren't typical whites: They have the acidity and freshness of a white, but the earthiness and structure of a red. They should be decanted before serving, and can be aged for years, if not decades. Their duality also opens them up to unusual food pairings—it's a white you can serve with beef or duck! And yet it's a white, so it goes with fish or poultry. Crazy.
OK, onto the notes and recommendations.
Sigalas Santorini 2010: crisp with notes of apple and anise
GAIA Thalassitis 2010: citrusy with a hint of ocean water brininess
Hatzidakis Nykteri 2009: ripe fruit with high alcohol
Gaia Wild Ferment Assyrtiko 2010: intense minerals, most like a red wine
Argyros Vinsanto 1989: like drinking liquid toffee but in a really good way
Have you tried any wines from Santorini? Anyone? Okay tell us about it in comments.