Talking With Eddie Huang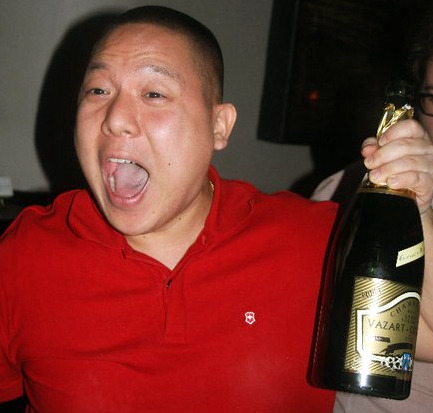 Eddie Huang
"I'm not a chef, I am a cook," explains Eddie Huang as he assembles an order of his wildly popular Haus Bao: Taiwanese steamed bun sandwich filled with braised all natural hanger steak. "I was never formally trained or even worked under another chef, I learned my skills from watching my mom and experimenting in the kitchen."
The 28-year-old rap-loving restaurateur prides himself on his home cooked-style menu made from locally sourced ingredients, prepared at his unassuming subterranean shop on Manhattan's Lower East Side. BaoHaus opened in early 2010, a few months after Huang was selected as a finalist on Food Network's Ultimate Recipe Showdown. "My family owned restaurants when I was a kid and I have always wanted to open one of my own, but not a fine dining spot like most chefs. I wanted a relaxed environment with great food, just like eating mom's food from home." The former comedian and law school grad describes his food as a mix of East Asian, Jamaican, and Southern flavor. His straightforward menu consists of pillowy steamed buns filled with a flavorful protein of choice, cilantro, crushed peanuts and Taiwanese red sugar, and sweet bao fries.
Huang also runs the edgy and über-opinionated Fresh Off the Boat Blog, which he claims has the Howard Stern effect. "For some reason there are way more women followers than men, although the content can be somewhat raunchy."
Kitchen tool you could not live without:
A cleaver, and Miller High Life...at the same time.
Best compliment you have received from a restaurant guest:
This reminds me of my grandma's cooking. Happens all the time, but it's the best thing anyone can say to me!
Favorite ingredient:
Tie between Oxtail or pork belly
Culinary philosophy:
Have fun and put personality in your food! Also, I don't like to single out flavors; sometimes with precision, you over-isolate flavors. I like when ingredients come together and create a new flavor. I lean towards braises, stews and brining—old school home cooking. Just like some people like the sound of records as opposed to MP3s or CDs. Maybe it's ass backwards, but I like that feeling, flavor, and style of slow cooking.
Favorite music you like to listen to while you cook?
Best food memory:
My grandpa taking me to eat soup dumplings for my birthday at a place called Yi Ping Xiao Gwan. They were delicious!
Drink of choice:
Johnnie Walker on the rocks with a splash of sweet green tea
Favorite cookbook:
Paul Kirk's Championship Barbecue. My brother, Emery, got it for me in college, so I went through the whole book and made almost everything. I didn't have much understanding of Western technique until I read that book. I bought a Brinkmann smoker and started smoking everything. Everyone knows me for Asian food, but my barbecue is pretty serious. My first year in New York, I was too busy to cook every day, so I brought my little green Brinkmann with me and I started smoking food on 3rd Ave. so that it would last through the week. The bums on the street all called me "Chino" and then flipped it and called me "Country" after I started pulling out whole turkeys on my 3-ft. balcony...
Parting quote:
"My soliloquy may be hard for some to swallow, but so is cod liver oil..." —Big Boi