Achatz Turns To Cocktails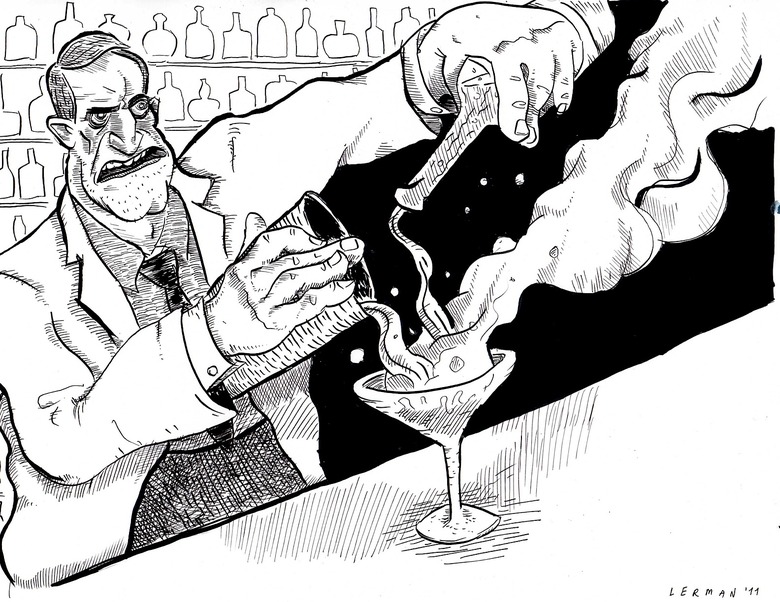 Mad Scientist of Mixology
Chef Grant Achatz is opening Next restaurant in March but he is not stopping there. At the same time he plans to open a cocktail lounge, called Aviary, alongside the restaurant.
While the two businesses are connected by an open doorway and owned by Achatz they are not meant to be thematically joined.
"They're two separate entities," Achatz says. "They're completely different, conceptually."
Achatz, the master of a progressive American cuisine and one of the stalwarts of the so-called "molecular gastronomy" movement, predicts that Aviary will change people's perspective of cocktails.
"We'll be redefining cocktails and pushing them in innovative and creative ways," he says. "You might be drinking a cocktail that's both hot and cold at the same time, and how does that feel? Just like our hot and cold potato at Alinea. Can a cocktail be a solid? Can it be a frost? Can it be a solid? Can cocktails be treated like food—put on a plate or in a bowl? Can they be finished tableside?"
Chef Heston Blumenthal of the Fat Duck restaurant in Bray, England famously serves a "hot and cold tea," which, when drunk, sends hot liquid down one side of the mouth and cold liquid down the other. The sensation is pleasant and strange. But it is a rarity. Achatz has designed an entire establishment devoted to pleasant and strange drinking experiences.
The reinvention of cocktails is something Achatz has been thinking about—and practicing—for a very long time. At the Evanston, Illinois restaurant Trio, where Achatz was executive chef from 2001 to 2004, he featured a "dry martini"—essentially a powder version of the classic American cocktail. He likened "drinking" the martini to the way people snap taut near-empty bags of chips and let the bottom crumbs slide into their mouths. He smiled when he pantomimed the motion.
In addition to offering Willy Wonka-style libations, the two-story Aviary will also turn out classic cocktails prepared with the careful hands of trained culinary professionals. A limited food menu will be available, too, and some drinks will come with food garnishes beyond the traditional citrus fruits and vegetables of garden variety cocktails.
As is the case with everything Achatz does, Aviary promises a full and complete experience. The chef has even tapped Martin Kastner to design unique glassware specifically for his forward-thinking cocktails.
"We want to do for cocktails what Alinea did for food," Achatz says.
We'll drink to that.