Studio Visit With José Parlá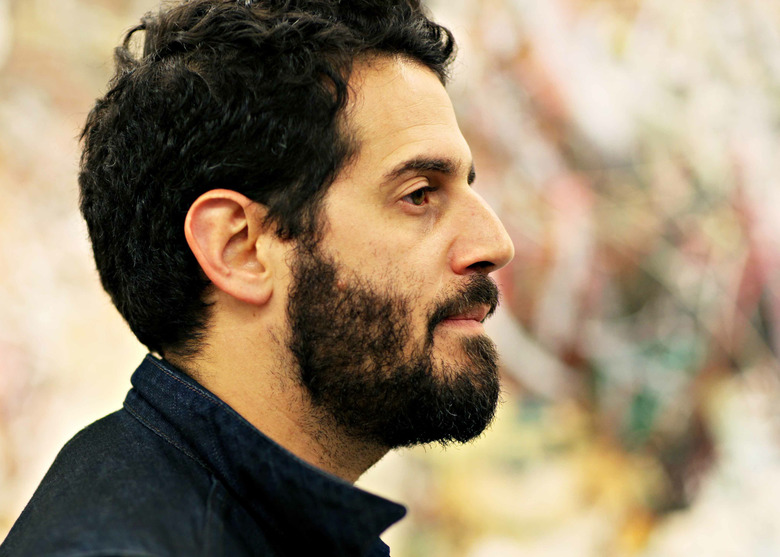 Headshot of Jose Parla
I've known the blazing-hot artist José Parlá for years now, but it wasn't until a party in April 2010 that I learned of his appreciation for food. He'd invited me for a visit to his studio in Ft. Greene, Brooklyn, and as I was leaving, he suggested I attend a little party he and a fellow artist, Rostarr, were throwing in a SoHo loft belonging to the artist Ryan McGinness that weekend.
The party, as it turned out, was one in a McGinness series called 50 Parties ("No sponsors. No strangers."), and this particular soiree was billed as "Picadillo vs. Kimchee," pitting Parlá's favorite dish of his heritage (Cuban) vs. Rostarr's (Korean). Parlá had ordered up Cuban favorites like rice and beans, tostones, and of course the spicy ground beef dish picadillo from a favorite Brooklyn restaurant, Pilar, while Rostarr tapped Koreatown's Woo Chon Restaurant for specialties such as kimchee. A buffet was served, music was played, and dancing lasted all night.
Fast forward a year and Parlá again hooked me up with a free meal, this time courtesy of the gallery hosting his current show "Walls, Diaries and Paintings," the Bryce Wolkowitz Gallery in Chelsea. (The show runs until April 16; next up for Parlá is another solo show at LA's new OHWOW Gallery in September.) After several hundred visitors packed the opening in March, Parlá and friends removed to the private dining room at the Standard for a dinner of salmon, steak, mac and cheese, and much more. A week later, I called José to talk about his culinary history.
How'd you get into food?
Hanging around the kitchen with my mom. I was always interested in food and she would tell me to get out of the kitchen because she didn't want me to get burned, but I was always tasting the food. She cooked a lot when I was a kid, and she learned all her cooking from her mother and her grandmother in Cuba, so she had tons and tons of recipes.
Do you cook?
I do. I mainly cook Cuban food because it's what I grew up with. I can do pasta and some Thai food but mainly what I can do is Cuban food. I do arroz con pollo, arroz imperial—which is a traditional Cuban dish you do in the oven, sort of a rice-based Cuban lasagna—and ropa vieja.
I know that when you're painting you work really fast. How do you experience food when you're working? Do you take breaks?
There are days when you can't help but eat on the fly and New York is keeping me busy, so I do takeout, but I try to find time to cook at home. I find it the most relaxing thing, and I multi-task when I'm cooking, cutting stuff up, frying stuff up. Making rice. I move around my kitchen like I move around my studio while painting. I move really fast.
Where do you shop for food?
In Brooklyn I go to Fairway or the Saturday farmer's market in Fort Greene.
You have had shows all over the world. What are your favorite places to eat?
In Japan, friends have taken me to amazing sushi markets. Thailand—most incredible food I've ever encountered. French food is always really good. I spent three months living in Italy, in Genoa, where they invented pesto. And I had farinata, a meal I had never had before that's hard to find in the United States, and that was really delicious. It was nice to spend time in Italy just eating amazing food.
How did you stay in shape?
I didn't! I actually gained weight and then I came back and went on a diet.
How did you go on a diet if you love Cuban food so much?
I don't eat Cuban food all the time. I try to eat as healthy as possible. I went on a diet because I had paint inside my system, so right after Italy I did a 10-day cleanse, where all I did was bought juice and I was juicing everyday for 10 days. I was dreaming about all kinds of cheeseburgers, pizza—3 in the morning waking up, tripping out. In the mornings I would have grapefruit with limes or lemons and ginger. For lunch it would be carrots with pears, apples, and beets. And then for dinner it would be more serious, like dandelion, kale, broccoli, and carrots.
And it made you feel better?
Oh man. My skin color was really healthy. I lost weight. I got the paint out of my system, which was primarily why I did it. And I felt great. And then after that I didn't start eating foods, because you feel different, so I ate light: No meat for a couple of weeks; it was all vegetarian, all boiled, nothing fried. And I felt great. Then you ease back into eating normally.
OK, I know you're busy, so last question: What are your go-to restaurants in Brooklyn?
I like a Japanese place called Zenkichi in Williamsburg. I like Madiba, a South African restaurant in Ft. Greene. And there's a spot on Atlantic Avenue called Bedouin Tent, like Jordanian, Egyptian, Middle Eastern food. It's delicious.