Sustainable Fish Cheat Sheet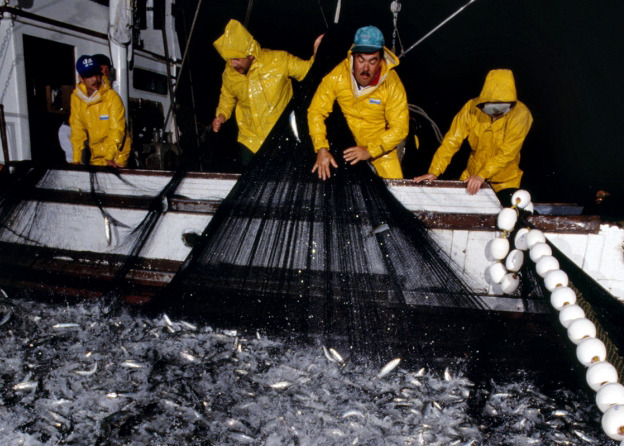 sustainable sardine fishermen
Last year, I made the HUGE decision to give up meat and go to an all fish and vegetable diet. It was temporary—I can't turn my back on burgers forever—but I wanted to get in shape and I was training for a half-marathon, and, well, I had my reasons.
Anyway, it was all good, but then I realized: what if I were doing this super-healthy and supposedly awesome thing at the expense of the environment? Like, in theory it's better to eat bass than beef, but maybe not Chilean sea bass over grass-fed, responsibly raised beef. I briefly panicked, but I never really did the research about what fish it was and wasn't okay to eat, and I went on supping on salmon, dining on Dover, lunching on lobster—you get the idea.
Which is why I recently phoned Sheila Bowman, senior outreach manager for the Monterey Bay Aquarium's Seafood Watch. You may know Seafood Watch from its paper pocket guide (over 40 million printed) or its iPhone app (more than a half-million downloads), both of which counsel users toward better decision-making when buying a salmon for the grill or ordering a filet at the restaurant.
That said, some guys don't even want to take the time to type "Farm-raised Canadian halibut" into their app, nor do they want to fumble through their wallet in search of their regional pocket guide. (It's not just me: Our GM Nate admitted that he downloaded the app but has never once used it! Shame!) So, I asked Ms. Bowman if she'd help me out with a shortcut. Reluctantly, she agreed. I fully encourage everyone out there to get their hands on a Seafood Watch guide or app (it's coming for Android in early April), and to read up on seafood sustainability. But at the very least, commit these Seafood Watch-endorsed rules to memory so that you become a more responsible pescatarian, omnivore, or whatever you happen to be:
Never eat the following: Shark, Chilean sea bass, orange roughy, bluefin or yellowfin tuna, non-American farm-raised salmon
"Find a new fish to love," says Bowman. Here are three recommended substitutes to overfished species like the ones mentioned above:


Barramundi—often dubbed "ocean-friendly," this mild white fish is good enough for Thomas Keller, so it's good enough for you.
Arctic Char—if you're not finding a wild salmon or an American-farmed salmon, this is a good and often cheaper option.
Sablefish—Like a meaty-fleshed fish but don't want the cancer-causing PCBs? Can't figure out which type of cod is being overfished? Go for this sustainable substitute anyway.

Size matters. Bowman suggests avoiding mercury-laced big guys like swordfish in favor of sardines or anchovies, both of which can be grilled up simply, or for those who don't mind shellfish, try scallops.
Everyone loves tuna, but remember this, if you eat bluefin or yellowfin tuna, you're likely contributing to extinction. General rule when it comes to tuna: ALBACORE!
"Use your consumer voice," Bowman advises. Talk to the guys or gals at the fish store or the restaurant about what sustainable options are offered. If they don't have it, request that they start to carry barramundi or other safer fish. Bowman says that too often guys go to the market, can't find the sustainable fish they've heard about and instead decide to "cook some ribs." Speak up, and next time you'll have ocean-friendly, healthy alternatives.
What fish do you eat and what fish do you avoid? Let us know in comments.