Eco Dining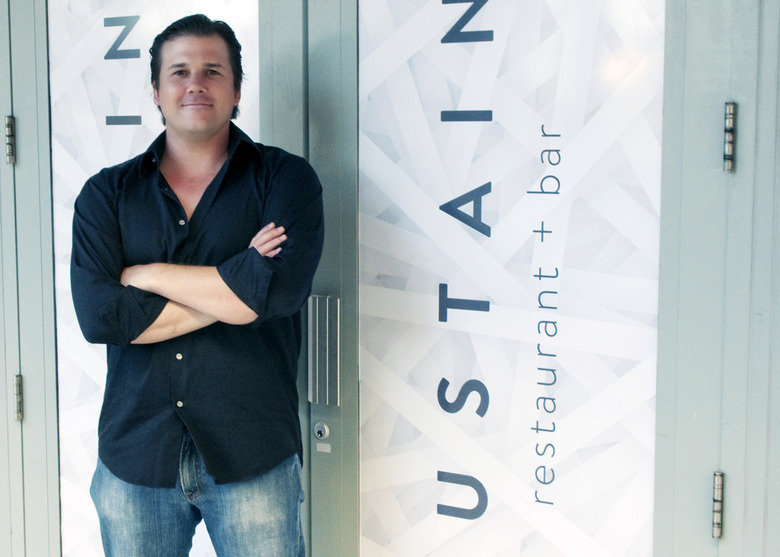 Sustain owner Brian Goldberg
A lot of guys say they're environmentally conscious but then don't back it up. Not Brian Goldberg. His restaurant in the emerging dining destination of Midtown Miami, Sustain, lives up to its name. Everything on the menu is sourced from farms and purveyors with a commitment to sustainability and the environment—"those who operate outside the industrial food grid," according to Sustain's mission statement. The interior design relied on local designers and craftsmen who were tasked with using recycled and reclaimed materials. All in all, Sustain is, well, sustainable.
Ever considered the distance your food traveled to reach your dish? If you've indulged in a bowl of strawberries in the dead of the winter, probably not. But for Goldberg, the question was paramount when opening his restaurant. "The idea of Sustain ­came out of the kitchen: work with small local farms to feature a great product," explains Goldberg, who has worked in kitchens in Philadelphia, Miami, and DC—including a stint at Asia Nora under Nora Pouillon, credited with opening the first certified organic restaurant in the US. The menu at Sustain, helmed by chef Alejandro Piñero, keeps true to Goldberg's vision with an assortment of seasonally inspired dishes made of almost entirely locally sourced ingredients. Produce is purchased from local farms in Homestead just 40 miles south, while grass-fed beef and pork travel farther and are supplied by farms in Ocala, FL.
Buying locally in part reduces the restaurant's carbon footprint, but it also ensures the quality of the product. "We've built relationships with local farmers and employ people who go to these farms regularly, pick the produce for us, and bring it in the same day," says Goldberg. And though he's not out there picking the fruits and vegetables himself, he does find peace of mind in signing off on invoices addressed to these local farmers. The challenge, however, has been finding the necessary volume of produce to run the restaurant, but with a flexible menu they are able to stick to what's available.
So much emphasis is placed on the locavore movement that often ingredients are not certified organic, another big food trend these days. "Organic is a component of being sustainable but proximity to the restaurant and knowing the quality of your product is also important," Goldberg maintains. Most of the farmers do, in fact, follow organic standards but can't afford to pay for the license. Goldberg says he also incurred additional costs when outfitting the restaurant with only recycled, green, or sustainable materials. "It's definitely more expensive—green and sustainable is the hot product right now."
Do you try to ensure sustainability when you eat? Are you a locavore? Share your feelings in comments.