A Tale Of Two Festivals In Paris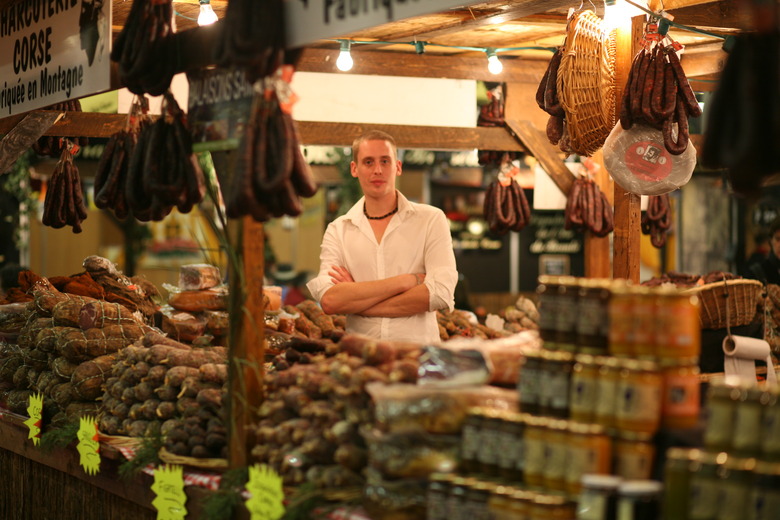 At the end of March, Parisian Bobos (slang for Yuppies, or "bohemian bourgeois") will flock to an exposition center on the outskirts of Paris for the bi-annual Association of Independent Wine-Growers Fair, to taste, sniff, and purchase from hundreds of small producers from throughout France. City-slicker oenophiles will navigate the aisles, nose deep in their glasses, communing with their rustic fellow countrymen. It's a refined affair, as sober as an event dedicated to drink can be.
The stately atmosphere starkly contrasts with another expo in Paris, the rowdy Paris Farm Show, held in February. It's the equivalent of a State Fair—there is even a livestock competition.
Seven cavernous "pavilions" feature the best of France's rural heritage. Exhibitors come from all over France, including 850 farmers, 2,000 animals, among them 120 breeds of cattle, sheep, goats, pigs, horses, cats, and dogs. This was its 48th year and 650,000 visitors attended the week-long event. It is also de rigueur for French politicians, who attend the Salon's opening to show they are in touch with the country's rural base. (In 2008, President Nicolas Sarkozy was caught on camera telling a bystander to "piss off" when refused a handshake).
But you won't find many Parisian bobos there. Ask one, and the response is almost invariably, "No way, it's for the beaufs" (country bumpkin). Why?
"This is the people's festival," said Pascal, a farm show exhibitor from Brittany. "Wine tasting fairs are like a Mercedes showroom. This is like a day at the car racetrack."
Entering the pavilion "Regions of France," a thick pall of smoke hangs over the endless rows of exhibitors, drifting from skillets piled with sausage, duck breast and foie gras sandwiches. Stands are overflowing with cheese and saucissions. In the aisles, burly farmers vie for space with tipsy middle-aged women and gangs of beer-toting Bretons, Basques, Auvergnats, and Normands.
Mini-parties are everywhere. In the Basque section a table of drunk chefs break out in song while a traditional Feria brass band from Bayonne parades by to a chorus of hoots. This year's festival had a special focus on France's overseas territories in the Caribbean and Indian Ocean, known for their heady mix of African, French, and Indian cuisines. But most festival-goers seemed more interested in the local infused rum, munching on samoussa and salt cod fritters as a drunken afterthought.
"It's a party here every night," said Nicholas, from the town of Barrettali on the French Mediterranean island of Corsica. His stand featured heaps of spicy wild boar sausage. "It's a chance to drink a few beers with my fellow Frenchmen."
So why do the bobos of Paris opt out of this rare pan-France love-a-thon? After all, it's not often you hear a Corsican wax poetic about his fellow French.
"At wine fairs you can maintain a certain distance because you are only drinking," explained Pascal. "It's different here because it's about drinking and eating, and with food you are at the same level with everyone. It's about working class people eating together."
It's not like this installment of the wine fair is a no-party zone—the mostly empty spittoons at every stand attest to the high alcohol consumption. But for now, Paris' culinary classes, be they bobos or beaufs, will have their own expos.
More info:
This year, the Salon des Vignerons Independants runs through March 28th at Espace Champerret in Paris, with almost 600 independent wine growers. Despite the dearth of drunken farmers, it's still a great place to have a tête-à-tête with actual growers. A larger version takes place at the end of the year; see the site for details.
The Salon International de l'Agriculture takes place every February at the Porte de Versailles in Paris. People are ridiculously friendly and you can spend hours talking cheese, meat, and farm animals with a variety of regional characters. Grade school French will get you a long way once the alcohol starts flowing.