Renegade David Sampedro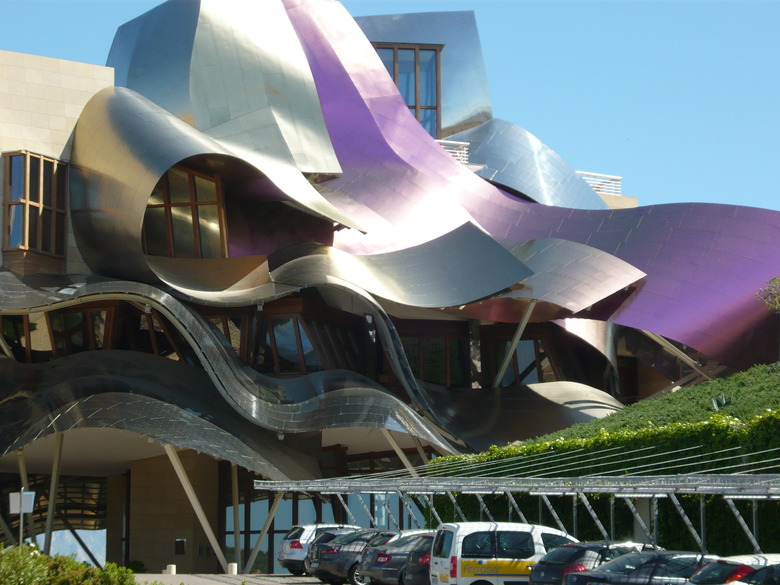 Photo: Lisa McLaughlin
The first time I saw David Sampedro, I didn't recognize him. I stood waiting for my interview with him for 10 minutes in front of Frank Gehry's celebrated hotel on the grounds of the Marqués de Riscal winery, not thinking that the only other man in the driveway—mid-30s, cargo shorts and skater shoes, his hair in the kind of faux-hawk popular with Spanish footballers—could be an accomplished Rioja winemaker.
It was my first day in Rioja, and the preening, glinting monument that is the Gehry hotel left me with the impression that wine in Rioja is a big and somewhat self-important business, and that winemakers here would therefore all look like Ricardo Montalban in a crisp linen suit.
It's long been fretted that Rioja, the spiritual home of Spanish wine, has been victimized by its own success. According to the storyline, the world fell in love with those big, well-structured tempranillo wines and now that's practically all that Rioja offers. And even though the region of Rioja has been exporting wines since before the time of Marcus Aurelius, the Gehry hotel and the growing number of cookie-cutter chateau-wineries are a sign that in its era of success, Rioja may be losing its character.
Sampedro, on the other hand, is in no danger of running short of character. He may sport a winepunk look, but in many ways he's a traditionalist. His solution to the problems facing Rioja is to reach deeper into the land, using fewer grapes per hectare so they soak more of the terroir. And he obsesses about the "forgotten grapes," as he calls them—those varietals that were pushed aside as Rioja became a global force. "These are the wines my grandfather was making 55 years ago," he says. "These are real Rioja wines."
At one of his vineyards outside of the small town where he's from—Elvillar, population 200—Sampedro's plots wore the difference. Where neighboring plots were carefully tended and tightly packed with vines, Sampedro's rows looked loose and somewhat feral. Dill grew among the stalks. Cypress trees demarcated his plot, not just because they form a natural barrier from his neighbors (soaking up whatever fertilizers they use that he doesn't want touching his grapes), but also because the trees have a spiritual significance. "Cypresses have always been a bridge between the heavens and the earth," says Sampedro. "That's why they've always been in cemeteries."
Yes, he's a bit of a New Ager: he even consults an old astrology-based almanac for his harvest times. "People think I'm crazy for ignoring the weathermen," he shrugs.
The grapes outside of Elvillar go into his Brozal wine, a refined tempranillo in the $30 range that was recently added to the wine list at Mario Batali's Casa Mono in Manhattan. But Sampedro's true passion is for taking grapes that most producers use as blenders and building wines around them.
The "blender grape" that he obsesses over the most is the graciano, a fragrant black grape that used to be far more widely cultivated throughout Rioja before tempranillo took over. "I want Americans to taste this grape," he says. "It's spicy, balsamic. It's great without any oak flavor."
Sampedro's 100% graciano wine, one of just a handful in global distribution, is now available in the U.S. under the labels Gra2 and Traza. It delivers what it promises: a distinct and more subtle flavor than tempranillo. It's also priced lower than any other 100% graciano wine: $10-$15 a bottle, which is the cost for his Cortijo red, white and rosé (Sampedro's best-selling wines in the states). It's a low price-point for the quality. "I don't like $100 wines," says Sampedro. "I am also a consumer, and wine shouldn't be that expensive." Or, as Patrick Mata of Olé Imports, Sampedro's distributor in the U.S., puts it: "David makes incredible wines at a price at which no one can make money."
Yet there is good business sense behind the wines Sampedro makes. Diversity and character are market strengths for Spanish wine as a whole, especially compared with newer competitors like Australia or Chile. The Spanish vine stock is among the oldest in the world. There are more than 77 appellations in the country, and over 400 varietals. The recession has made the idea of unique, low-price wines even more attractive, says Sampedro. "It's good for me to be different."
Sampedro is also spending his afternoons finishing a doctorate degree (from the University of Rioja, of course) in oenoculture. For Sampedro, both science and faith contribute to winemaking. The most important thing, though, is the disposition of the person making the wine. "You have to achieve balance within yourself" he says. "And then your wines will be balanced alongside."
It's a lesson that rest of Rioja, so tempted by excess and conformity, would do well to learn.