San Luis Obispo Farmer's Market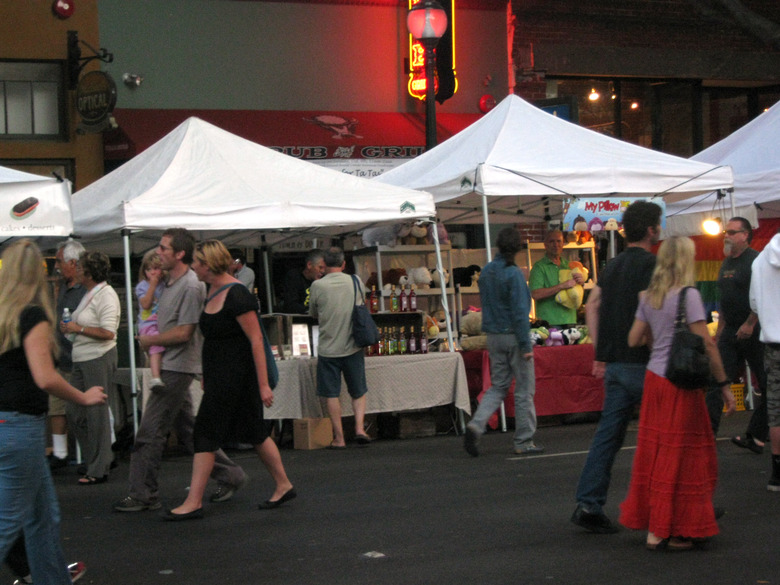 San Luis Obispo farmer's market
Walking through the San Luis Obispo farmer's market is a bit like strolling London's Piccadilly Circus in rush hour, or the streets of Rio during Carnival. At one end barbecue vendors bellow out orders from behind a smoky grill as the politicians next door try to talk visitors into taking a pamphlet. At the other end, a mariachi band, its members strumming furiously while decked out in sequined suits, entertains shoppers lugging bouquets of flowers and bags of fruit. And in the middle, thousands of Cal Poly students and families wander about, filling up on kettle corn and churros.
The weekly market, which is crowded, frenetic, and lots of fun, has taken over six blocks of downtown Higuera Street every Thursday night since 1983. It was started not because locals wanted more access to fresh fruit and vegetables, but to clean up the streets. "It was an effort to stop cruising," admits Diana Cotta, event coordinator for the city's Downtown Association. "It was a very different town, not quite as vibrant as it is now. People used to cruise Higuera on Thursday nights, so the businesses tried to think of a way to stop what was going on."
Twenty-seven years later, the market is a mishmash of stalls manned by farmers, artisanal producers, and chefs. "It's a place to people watch. It's been like that since the very beginning," says Cotta. "In the summer we can have over 80 vendors plus 40 produce spaces."
Peter Jankay, administrator of the county's Farmers' Market Association, organizes the produce stalls. "In California you must be the farmer to sell at a farmers' market," he explains. Some farmers are local to the market and sell lettuce and the things that are year-round," adds Cotta. "Others come in seasonally to sell cherries or peaches from San Joaquin Valley," and from other areas. And it's not just fruit and vegetables: on any given night you can also purchase cheese, oysters, meat, salmon, and fresh flowers too.
Up to 10,00 people crowd into the market on warm nights—in peak season top produce sellers can earn $1,500 in three hours—and many start lining up well before 6 p.m. to be sure they get their hands on whatever they're hankering for. One of the most popular vendors is McKlintock's, a restaurant on Higuera that serves ribs, chicken, corn, and many other dishes from their booth. "We go through a lot of tri-tip kebab, beef, and pork ribs. The artichokes have caught on pretty well too," says Tyler Ortali, who helps man the booth.
"We serve up to 1,000 people on a busy summer night," Ortali says with a smile. "We've been doing that as long as I remember and I was born here. And we still run out every week!"