The Secret Ingredient That Will Change Your Meatloaf Forever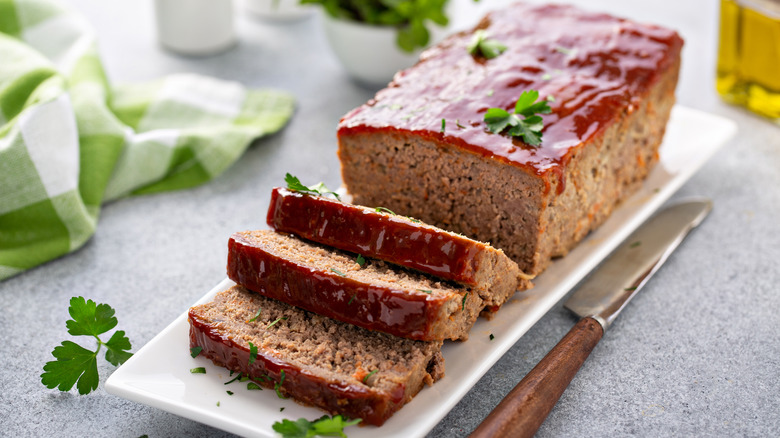 Elena Veselova/Shutterstock
Although there's nothing wrong with following the most basic meatloaf recipe, you can very easily give this classic dish new life with a single secret ingredient. Oh, and we're not just talking about adding a dash of hot sauce or a sprinkle of herbs; we're talking about wrapping the whole loaf in phyllo or pastry dough.
To make this version of meatloaf, you can start with your usual recipe. Once the meatloaf is cooked, place it in the middle of a sheet of your dough of choice and wrap it like you would a present. Make sure to fully seal in the meatloaf, as the dough will help contain all those beautiful juices. Bake the whole thing again, until the dough is a crispy golden brown.
In addition to bringing textural contrast to an otherwise soft dish, the premade dough offers a certain delicate, buttery note you might not otherwise find in a meatloaf. Truly, this ingredient alone upgrades meatloaf from a family favorite to a dinner delicacy.
Variations on dough-wrapped meatloaf
Valerio Pardi/Shutterstock
Wrapping your meatloaf in a delicate sheet of phyllo or pastry dough may already be enough of an upgrade for your family, but, if not, this dish can be taken so much further. For instance, you might continue on the Wellington-esque train,  and top the meatloaf with a mixture of mushrooms and cheese before you wrap it in the dough.
Likewise, you can transform this dinner dish into an appetizer for your next party. Rather than baking the meatloaf in a loaf pan, you can saute the meatloaf mixture in a pan on the stove, then roll it up in phyllo dough. Once the rolls are baked and crispy, you can cut them into smaller pieces for your guests to enjoy before the main course — like a meatloaf eggroll.
Alternatively, you can swap out the beef entirely for another meat, such as turkey or pork. These tiny substitutions can further elevate the classic meatloaf into a meal worthy of the fine-dining experience.
Things to consider when pairing meatloaf with dough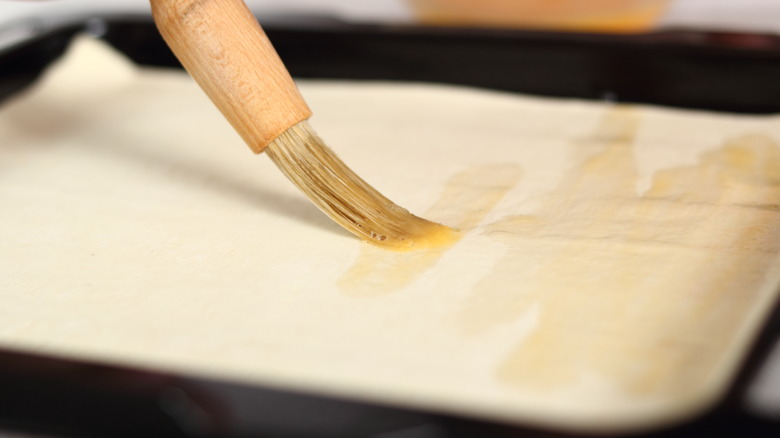 ffolas/Shutterstock
While wrapping meatloaf in pastry or phyllo dough may sound fairly simple, there are a few things to keep in mind as you prepare it. Firstly, regardless of which meat you choose, you want to monitor the moisture. If the meatloaf itself is too wet, the dough will become soggy rather than crispy, and that bit of textural contrast is gone.
During the actual wrapping process, you should also ensure that you thoroughly brush the dough with an egg wash. The egg acts as a binder, holding the dough together as it bakes, but it also helps the pastry develop that gorgeous golden brown sheen. Make sure the meatloaf is entirely enclosed in the dough to minimize any potential leaks –- we don't want to lose what juices are still in the meatloaf!
The last item of concern is allowing the finished meatloaf to rest, just as you would rest meat after grilling. Not only does this let the food continue cooking a bit longer, but it also gives the juices time to more evenly redistribute through the loaf before you cut into it.