The Secret To Ordering Frozen Bread Rolls From Texas Roadhouse For Thanksgiving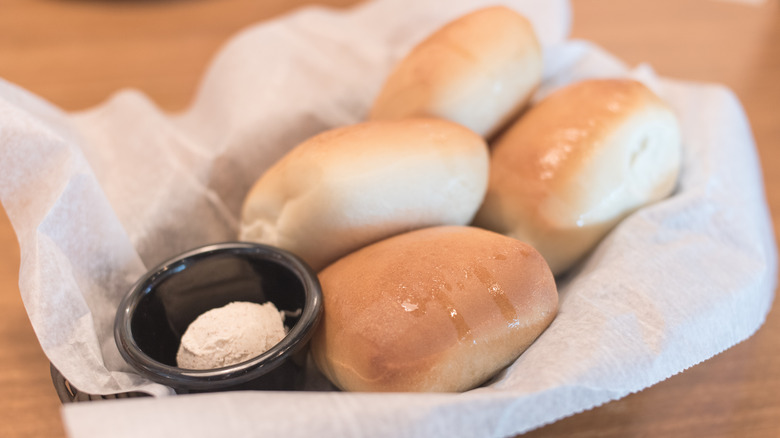 Colinhui/Getty Images
Just as you can order a Cajun turkey from Popeyes for Thanksgiving, you can take part in a similar holiday hack at Texas Roadhouse by ordering the chain's famous rolls for your family dinner spread. Yes, that's right, you can get a box of pre-made, frozen Texas Roadhouse rolls to bake at home and zhuzh up your festive dinner like never before.
To get your hands on these frozen rolls, according to TikTok, you must call or visit your local Texas Roadhouse and sign up via an order sheet. The order sheet allegedly goes live the week before Thanksgiving, with a dozen frozen rolls costing about $4.99 and a half-dozen costing $2.49. Each box also comes with the chain's signature honey cinnamon butter.
Once you've ordered and picked up your rolls from Texas Roadhouse, simply allow them to thaw the day before your Thanksgiving feast. Bake at 350 degrees Fahrenheit for 15 minutes, and voila, delicious rolls will be ready for your holiday dinner with your guests simply begging for your recipe.
Do this if you can't get Texas Roadhouse rolls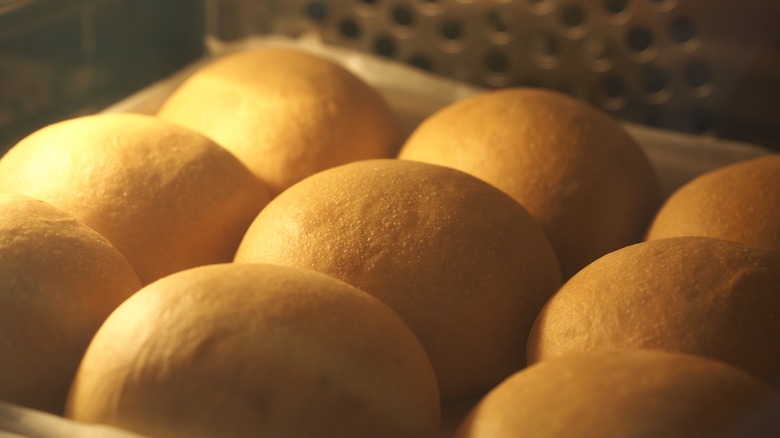 chaechaebyv/Shutterstock
As you can imagine, Texas Roadhouse's frozen rolls sell out fast, between the low price and the limited holiday supply. So, what if you wait a day too long to order, and you completely miss the sign-up period? No worries, there are alternatives.
For instance, Rhodes sells a very similar frozen yeast roll in packs of 24. At Walmart, a package costs about $5.12, which isn't too much more than what Texas Roadhouse charges for a pack of 12. To prepare, allow the rolls to thaw and rise until they double in size. Bake at 350 degrees Fahrenheit for up to 20 minutes, then brush with butter. You can add even more flavor by using your own homemade herb basting brush to apply the butter. 
Of course, if you've got time to make rolls from scratch, you can also follow a copycat recipe for both Texas Roadhouse rolls and honey cinnamon butter, or swap in your favorite homemade butter. Yum.
How to make DIY Texas Roadhouse rolls at home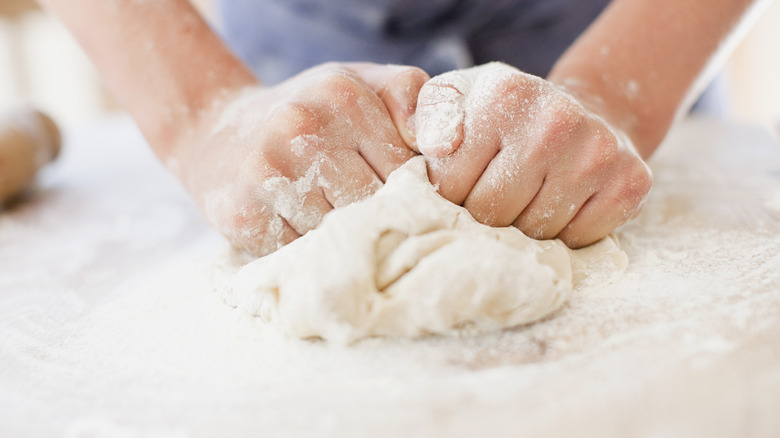 Tom Merton/Getty Images
During the holiday season, you may not have time to be constantly baking, but if you do, a homemade version of Texas Roadhouse rolls are sure to be a dinner guest favorite. A user on TikTok recommends following a copycat recipe, but you can also adapt classic Parker House rolls by adding a dash of honey to the dough. It provides a touch of sweetness without being overwhelming, and, of course, pays homage to the honey-flavored Texas Roadhouse rolls. 
Alternatively, you can zhuzh up regular store-bought yeast rolls by simply slathering them with a Texas Roadhouse-inspired butter. It's easy to make by simply whipping together salted butter, cinnamon, and honey. Quick and easy, but nonetheless delicious. You can also use this butter on your copycat rolls to woo your taste buds without ever having to leave the house for Texas Roadhouse takeout.