Here's What Christmas Dinner Looks Like In Japan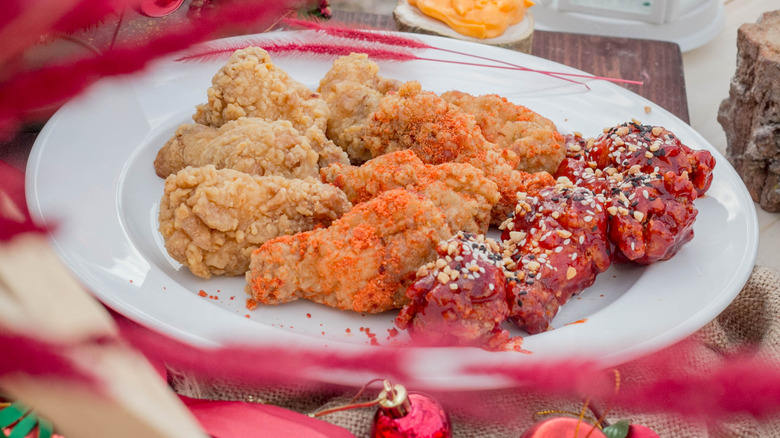 khonkeng/Shutterstock
In the West, a large, stuffed, and roasted bird is often considered the ideal main dish for a traditional Christmas dinner, be it duck, turkey, chicken, or goose. Indeed, in Charles Dickens's "A Christmas Carol," Scrooge expresses his newfound holiday generosity by gifting an enormous turkey to the Cratchit family.
Similarly, in the Far East, the highlight of the Japanese Christmas feast is chicken, but with a crispy, fast-food twist. From December 23rd to 25th, millions of Japanese people enjoy Kentucky Fried Chicken as part of their holiday meal. Accompanying this deep-fried centerpiece are dishes like kurisumasu keki (a strawberry-studded, international Christmas cake), holiday-themed wagashi (Japanese confections), and yet another comfort food classic: pizza.
German food, particularly potato salad, has also become a part of the Japanese Christmas tradition. During December, it's common to find German Christmas markets in cities like Tokyo or Sapporo, featuring bratwursts, mulled wine, chimney cakes, and more.
A celebration of prosperity and fast food traditions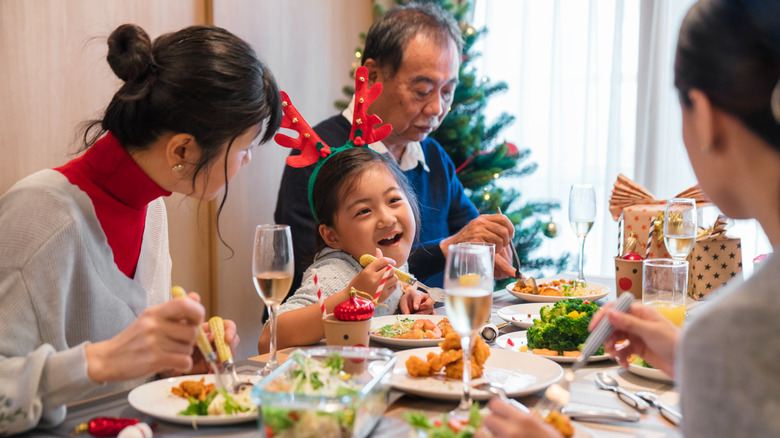 Jgalione/Getty Images
Interestingly, a 2019 Statista report notes that less than 2% of Japan's religious population is affiliated with Christianity, with most adhering to Buddhism and Shintoism. The popularity of Christmas in Japan aligns closely with the country's economic recovery post-World War II. By the 1970s, with increased prosperity, the Japanese had enough money to indulge in unprecedented consumerism — and this extended to food. Over time, Christmas in Japan evolved into a celebration of prosperity, marked by lavish dinners at home, extravagant date nights for young couples, and festive gatherings among friends.
KFC, which arrived in Japan in 1970, quickly capitalized on this trend with its "Kentucky for Christmas" advertising campaign in 1974, associating the Western holiday with its party bucket. Today, the demand for KFC during Christmas is so high that those who don't order months in advance often wait in lines for hours come Christmas Eve. Similarly, pizza has become a part of this tradition, with Pizza Hut and Domino's offering holiday-themed promotions, emulating KFC's successful strategy.
Japanese dishes take on a festive twist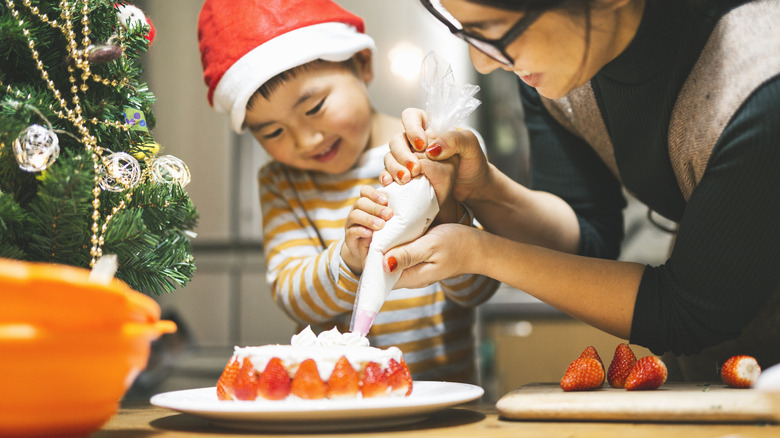 Kohei_hara/Getty Images
Regarding the sweeter aspects of Christmas in Japan, perhaps no dish is as iconic or popular as the Christmas cake. During the war, sugar, butter, and fresh fruit were scarce, making a cake — particularly one made of genoise sponge, whipped cream, and fresh strawberries — seem extraordinarily decadent in the years of subsequent economic growth. The snowy cream and bright red strawberries, while evocative of Christmas's red and white, also closely resemble the Japanese flag's colors, rendering the dish more patriotic than religious.
Additionally, traditional Japanese dishes often take on a festive twist during Christmas. Holiday desserts frequently feature yuzu, a classic Japanese winter citrus, leading to the popularity of yuzu bars, cakes, and teas during this season. Wagashi, typically made from moldable mochi, replaces gingerbread, allowing Japanese pastry chefs to craft elaborate edible Christmas decorations. As a result, patisserie shops often display sweet Santas, snowmen, and Christmas trees.
To cap off a child-friendly Christmas celebration, the Japanese often enjoy Chanmery, a non-alcoholic champagne. Its name is a blend of "Champagne" and "Merry Christmas," and the drink was supposedly inspired by the bubbly consumed by American troops celebrating the end of the war. It serves as a cute and sweet finale to a Japanese dinner shared with loved ones.