Watermelon Radish Roses Are The Height Of Plating Elegance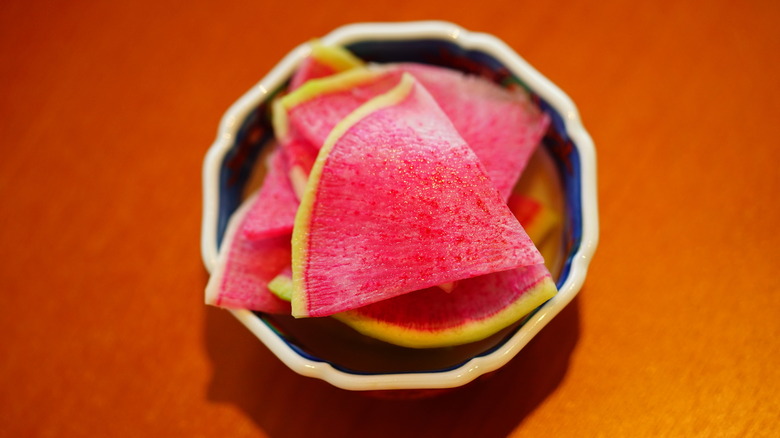 EQRoy/Shutterstock
The watermelon radish is a work of art in itself. Named for the much larger fruit it resembles, this particular radish sports a pale green exterior that conceals a vibrant pink interior, edged with a white band. Incorporating a slice of watermelon radish into any dish promises a burst of color as well as a spicy flavor kick and a pleasantly crunchy texture. For those seeking to craft an artistic masterpiece, however, watermelon radish roses are a must-try.
Creating watermelon radish roses is a simple yet elegant way to elevate a grazing board from the ordinary to the extraordinary. You don't need to be an expert in origami, a professional chef, or a seasoned gardener to master this technique. With just a radish, a few basic tools, and a bit of patience, you can assemble a stunning grazing board to impress at any gathering. To create a watermelon radish rose, start by slicing the radish into thin rounds. Then, roll these slices and fan them out to mimic the appearance of rose petals.
How to make watermelon radish roses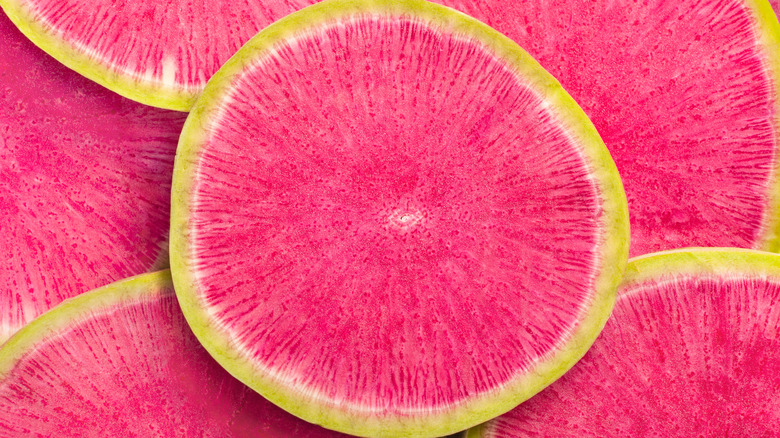 Iura_Atom/Shutterstock
To craft a watermelon radish rose, start by assembling your tools: a clean plate or cutting board, a mandoline or a sharp knife, and a small bowl or glass jar. Wash and dry the radish thoroughly. For the thinnest and most uniform slices, a mandoline is the tool of choice. However, if one isn't available, a very sharp knife can also suffice. Just ensure the slices are as thin as possible; this will facilitate the shaping of your rose.
Once you've cut around 10 thin radish slices, arrange them on your plate or cutting board in an overlapping line, with each piece displaying just a sliver of white edge. Carefully roll your radish slices up into a cylindrical shape, and then tuck the bottom of the roll into your bowl or jar. Gently fan the slices outward, crafting them into the likeness of a rose.
Different ways to serve watermelon radish roses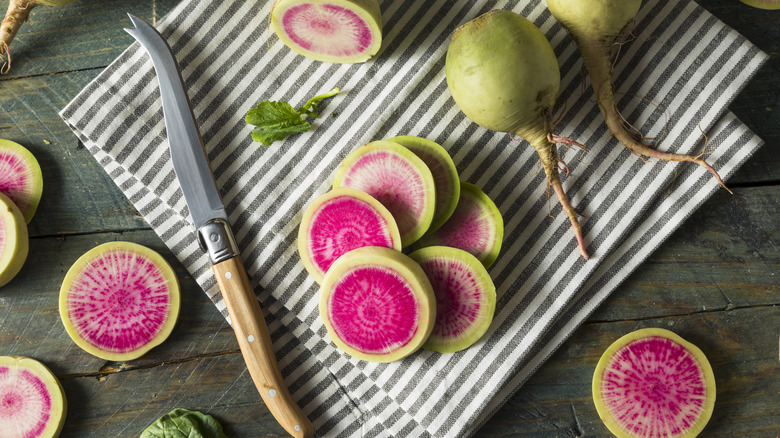 Bhofack2/Getty Images
Once you've mastered the watermelon radish rose, you can incorporate it into a variety of dishes, adding an elegant flair that's sure to impress guests or make even a solo dining experience feel extra special. If a salad recipe calls for radishes — like a radish, mâche, and arugula salad, or a radish and citrus salad with candied shallots — adorn it with a few radish roses on top. These roses also make for a sophisticated, effortless snack, served with butter and salt, or as vessels for dipping into an array of spreads such as pesto or hummus.
For a visually stunning addition to grazing boards, where simplicity meets artistry, scatter watermelon radish roses among cheese slices, cured meats, or, for vegetarian and vegan options, alongside other fruits and vegetables with a selection of dips. Round out your board with salty, crisp elements such as crackers, toast, or, for a gluten-free alternative, rice cakes.