The Mess-Free Cheese Grater Hack That's Too Easy Not To Try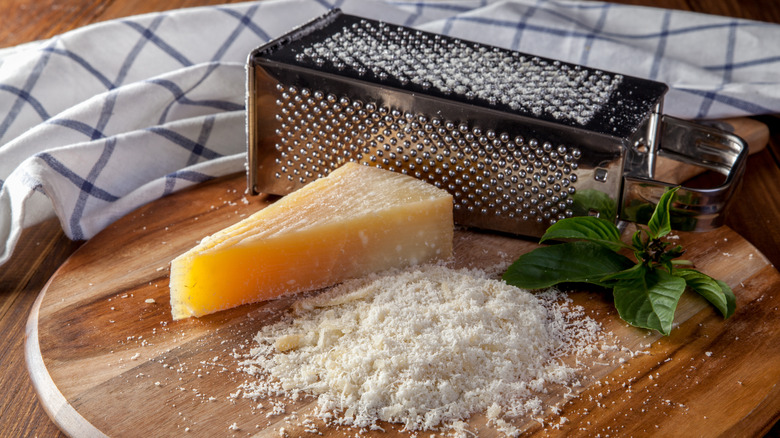 Jaded Art/Shutterstock
Do you remember when you first learned to shred cheese using a box grater? Maybe you watched a parent or relative handle one as they cooked, or perhaps you watched a chef use one on TV. For many of us, the obvious way to use one has always been to stand the grater upright and scrape the cheese in an up-and-down motion against the sharp holes. But this leaves a pile of messy cheese falling out of the opening. While you can attempt to corral all the flying cheese bits together by placing a cutting board, plate, or bowl beneath the device to try and catch it all, this can make the tool hard to control. Not to mention that your fingers and knuckles are at constant risk of getting skinned or cut.
While it might not be the most obvious method at first glance, there is a better way. This hack not only makes shredding cheese (and any kind of food) so much easier, but it's also mess-free and keeps your fingers out of harm's way. All you have to do is simply turn the box grater on its side. Then, instead of moving the cheese vertically, move it horizontally from side to side. The best thing about this is that the cheese accumulates inside of the grater rather than all over the place, and you can just pick up the whole thing and dump the shreds out without anything extra to clean up.
How to properly use your box grater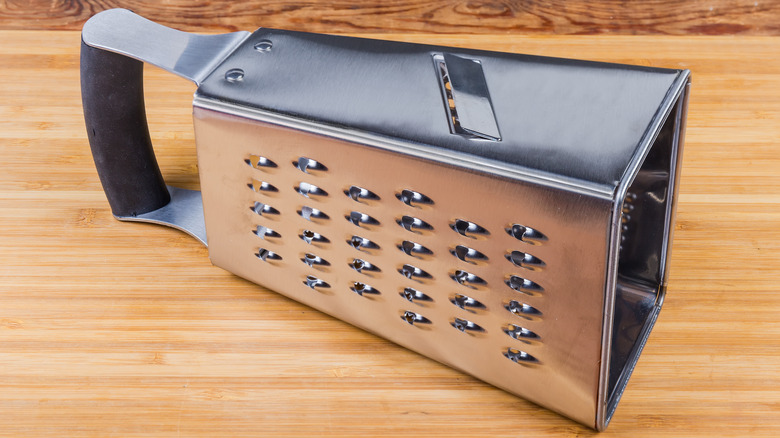 anmbph/Shutterstock
Another hack that will help you complete the task faster and put less strain on your hands is to only press the cheese down during the downward pass. As you move it from side to side, lift the cheese up slightly on the return motion, then lower it back down to make contact again as you complete the motion. This prevents blobs of cheese from accumulating in the holes, which can clog them up, slow you down, and create uneven tears rather than clean shreds.
It also helps to know what all the different types of holes do on all four sides of the box grater. The side with the largest holes is the one most of us use for regular shredding, such as for mozzarella cheese that will end up on pizza, or carrots and cabbage for salads. The side with smaller holes makes finer shreds that work well for things like cheddar cheese for topping a taco or bowl of chili, or thin strips of zucchini for baking into bread. The side with spiked star-shaped holes is for when you want an extra fine shred — it's perfect for zesting citrus, shredding aromatics like garlic or ginger, grating cinnamon and nutmeg, or for a sprinkling of Parmesan cheese. The side with wide slots creates thin slices of cheese or vegetables and is used in the same way as a mandoline. Just make sure you put the grater on its side and hold onto the handle tightly.
It's easy being cheesy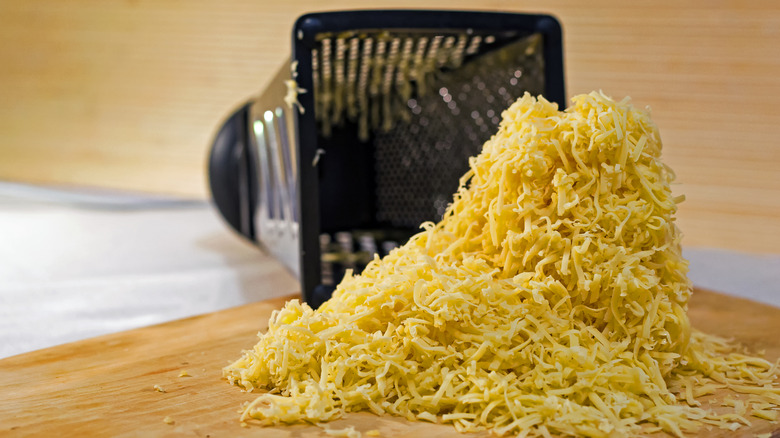 Konstantin Zaykov/Shutterstock
Another secret for achieving shredded cheese greatness comes by way of an Iron Chef. Michael Symon adds a crispy finish top to lasagna by first freezing his mozzarella cheese for about 30 minutes before shredding it. The cheese's naturally soft texture makes it difficult to shred, but freezing it will firm it up enough to make it easier to work with and also results in even pieces that melt consistently.
The reigning queen of Italian food also has some excellent shredding suggestions regarding pasta. Giada De Laurentiis' pasta cheese hack is a twofer: First, she suggests only using freshly grated cheese, not the pre-grated kind you can purchase — because the store-bought product will be dryer and lacking in flavor. Next, she recommends adding the freshly grated cheese — her preference being Parmigiano-Reggiano — directly to the hot pasta before adding sauce. This gives the cheese a chance to melt and coat the noodles, simultaneously giving the sauce something to stick to.
Of course, a box grater can be used for much more than just cheese. It's practical for many types of applications, from soft ingredients like tomatoes, eggs, and butter for soups, salads, and baking, to firmer foods like potatoes for Hanukkah latkes or everyday hashbrowns. Using the grater on its side is especially handy for harder foods like potatoes, carrots, and beets because it will utilize your own body weight rather than just rely on your arm muscles to do the pushing.