The Best Alcohol To Pair With Apple Cider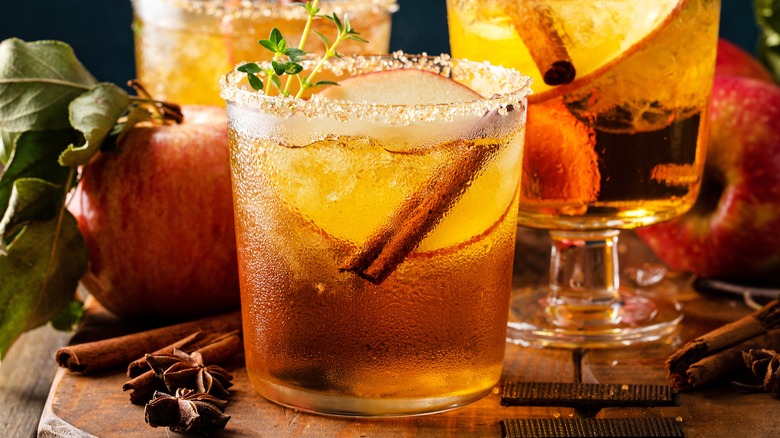 Elena Veselova/Shutterstock
When the leaves start to fall and the breeze becomes chilly, it's time for all things autumnal, especially when it comes to cocktails. Apple cider, with its rich consistency and sweet flavor, is the ideal base for a mixed drink with fall flair — but what is the best alcohol to shake or stir it with?
Brown liquors are a traditional pairing with apple cider. It's hard to deny that the warm flavors of whiskey or spiced rum mingle beautifully with the tart sweetness of apple cider. But, if you're looking for a simple way to spike your cider while allowing its natural flavors to shine, you may want to turn to vodka.
As a neutral spirit, vodka not only allows you to truly enjoy the complexity of the apple cider, but it also gives you the opportunity to get creative with your cocktail-making by introducing other ingredients. It's also perfect for parties. While some may not prefer the distinctive flavors of darker, spiced liquors, vodka's neutrality makes it a winner for mixing up a batch of spiked cider.
Choosing the right vodka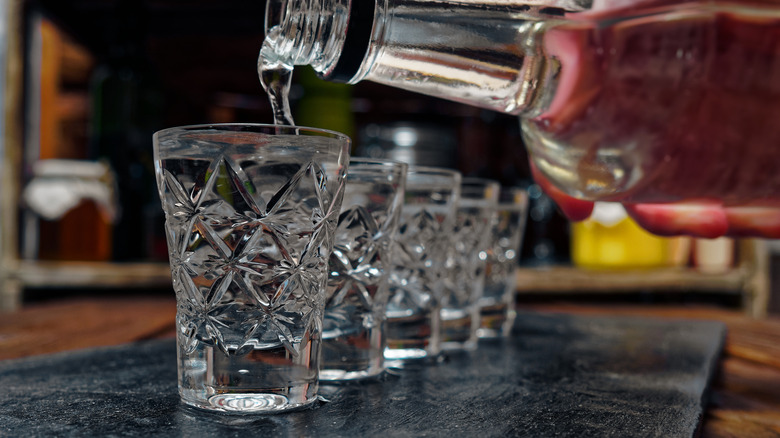 Invizbk/Getty Images
As with any liquor, the brand you choose is up to personal preference. But if you don't already have a favorite, there are a few things to look for when choosing which to buy. First and foremost, you'll want to consider taste, of course. Despite the fact that vodka is considered a neutral spirit, it still has a subtle flavor.
You can get a sense of how a vodka will taste by looking at what ingredient was distilled in order to make it. For instance, rye, barley, and corn can all yield a vodka that has subtle sweetness while vodka made with wheat may have undertones of pepper, citrus, or aniseed. Meanwhile, potato vodka can be earthy and is known for its smooth mouthfeel. These are some of the most common types of vodka, but there are other less-prevalent vodkas made with ingredients like sorghum, rice, soybeans, and others that have their own unique flavor profile.
You'll also want to take a look at the amount of alcohol in the vodka. Many vodkas clock in at around 40% alcohol by volume (ABV) though there are high-proof options available. An increase in proof, though, can affect the flavor, making for a less smooth sip. To complement the apple cider, a wheat vodka — with its notes of spice — makes a fantastic pairing.
Add flavors to create new cider drinks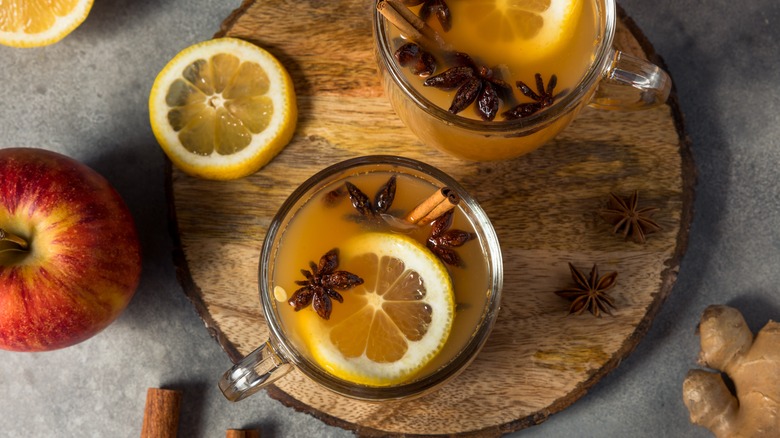 Brent Hofacker/Shutterstock
While choosing vodka for its neutrality makes sense, if you want to change up your apple cider, you can easily do it by using flavored vodkas. Try using a caramel vodka for a caramel apple in drink form — or use a vodka flavored with orange or lemon to complement the cider with citrus. You can really kick things up a notch with a spiced tamarind vodka, which blends well with ciders that have been steeped with cinnamon or star anise.
While you can just stir a bit of vodka straight into a glass of apple cider, there are plenty of ways to channel even more fall flavor. Try adding a cinnamon stick or some rosemary for garnish, or if you're warming the cider, mix in some mulling spices. You can also create a sweet decorative rim by dipping it into maple syrup or honey then into apple pie spice or red decorator's sugar.
You can also put a cidery seasonal twist on your favorite cocktails. Whip up an apple cider spritz by adding the cider and vodka to a traditional Aperol spritz – or add some cider to a vodka martini. Get creative and incorporate apple cider into a Moscow mule — the tart apple and warm ginger are a perfect fall flavor pairing and the neutral vodka lets them shine.