The Iconic Store-Bought Pasta Sauce Ina Garten Uses Constantly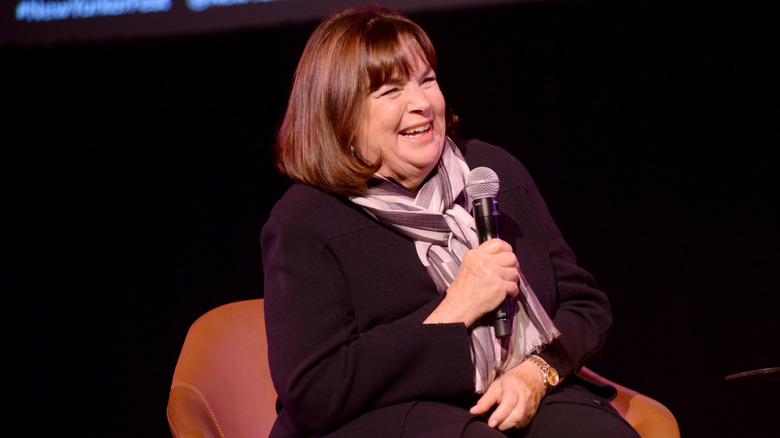 Brad Barket/Getty Images
When Kathy from Florida reached out to Ina Garten via her official website's "Ask Ina" Q&A section, she wanted to know what was the Barefoot Contessa's favorite jarred marinara sauce. Asking a pro chef this question could be insulting, but Garten has always been honest about her use of quality store-bought ingredients, which is one of the reasons she's developed such a cult following. In response to Kathy, Garten simply responded, "That's easy! Rao's Marinara Sauce."
Garten has often been asked the same question in interviews, and her answer remains consistent. In a 2019 "Today" show segment, Garten also said, "Of course, it's always good to make it yourself, but I find Rao's is fantastic, so store-bought's good, too."
The sauce's origin starts with the legendary Rao's restaurant in East Harlem, New York; after it became so popular, they started jarring the popular marinara in 1992. Adapted from owner Frank Pellegrino Jr.'s family recipe, the jarred sauce was meant to be a kind of consolation prize for all the customers who couldn't get reservations. Although, today, the restaurant is no longer affiliated as Campbell Soup bought its parent company Sovos Brands for $2.7 billion in 2023; even so, Garten still likes to use Rao's for quick pasta dinners, including assembling an effortless lasagna.
Rao's marinara sauce has roots in Italian culinary traditions
The family recipe behind Rao's Homemade Marinara sauce has roots in Italy and contains Italian whole-peeled tomatoes, olive oil, onions, salt, garlic, basil, black pepper, and oregano. Without adding sugar, starches, fillers, tomato paste, or other additives, it's easy to understand why even Ina Garten prefers this brand. A 32-ounce jar of Rao's sauce retails for $8.52 at Walmart, although customers have reported finding it cheaper at big box retailers like Costco and Sam's Club where two 22-ounce jars have a price tag of $9.98.
As Garten suggests, using a quality jarred sauce in dishes like lasagna, which is slowly baked with many ingredients, makes a lot of sense since as a time-saver — and as the meat and cheese slowly cook, the process continues to transform the sauce even further.
Aside from baked pasta dishes, jarred marinara sauce would be helpful in other Italian dishes where the sauce is only one component. So, skip the hours of simmering and add your favorite sauce brand to chicken or eggplant parmesan recipes, or when you're preparing braciole, a cheese and breadcrumb-filled rolled flank steak recipe that's simmered in tomato sauce. 
More store-bought ingredients Ina loves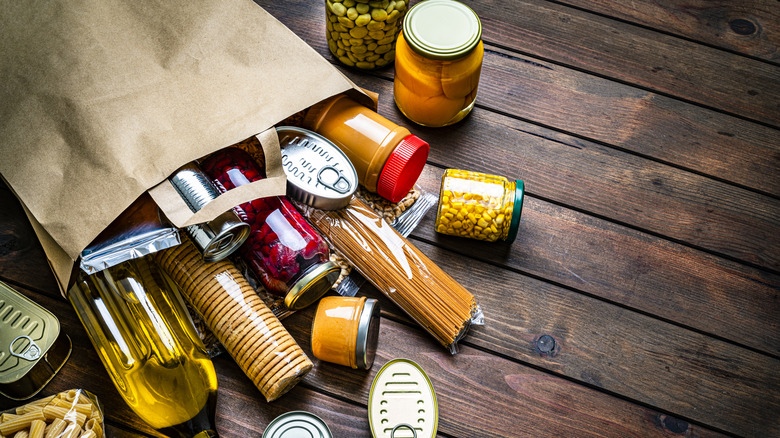 Fcafotodigital/Getty Images
In addition to Rao's jarred marinara sauce, Ina Garten promotes a number of store-bought substitutions on her website, providing links where consumers can shop for her favorite brands. Along with Hellman's mayo, Tate's cookies, and Hecker's flour, here are a few pantry items Garten recommends in particular for preparing Italian cuisine. 
For dried pasta, Garten prefers a readily available supermarket brand, De Cecco. Made in Italy with durum semolina wheat, De Cecco grinds the grains in its pasta factory using a mill located on the same property. This brand uses traditional bronze draw-plates to extrude the shapes, leaving a rough texture on the pasta's surface. This detail enables the pasta to grip more sauce than inexpensive brands that have a smoother exterior.
A little more challenging to find and a bit more pricy, Garten also likes another restaurant brand, Cipriani Food. It can be found online, in specialty food markets, and Bloomingdale's department stores. Its organic pasta is sold by the half-pound and retails around $11, making it twice as expensive as traditional dried pasta varieties that retail for $9.50 per pound.
When Garten prepares marinara sauce from scratch, she also likes to use San Marzano Tomatoes. This style of plum tomato is grown in San Marzano, Italy, in volcanic soil that's prized and protected for its flavor. Like Neapolitan pizza, prosciutto de Parma, and Parmigiano-Reggiano, authentic San Marzano tomatoes from Italy are marked with the DOP label, indicating the product's quality is protected by the country.