Giada De Laurentiis' All-Time Favorite Olive Oil Brand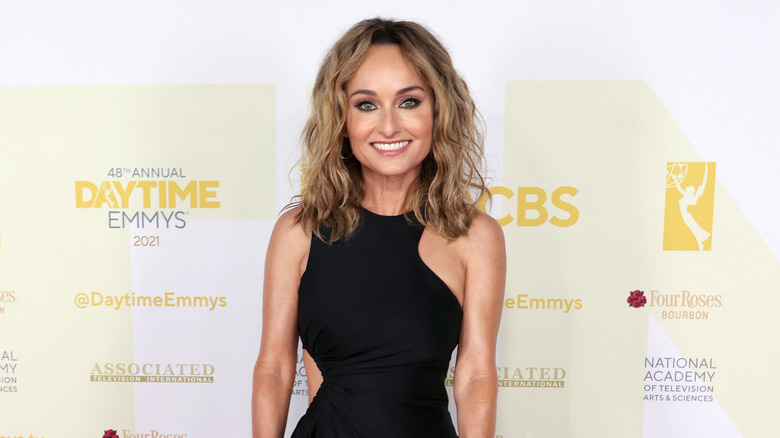 Kevin Winter/Getty Images
Hailing from generations of Italian food innovators, Giada De Laurentiis is a connoisseur of the cuisine. Today her name is practically synonymous with Italian food, and there is perhaps no one better qualified to opine on what is arguably the most essential ingredient in Italian cooking — olive oil.
In her guide for "How To Buy Olive Oil," De Laurentiis shares her favorite olive oil brands. Her number one pick for basic everyday use is Lucini Italia extra virgin olive oil (EVOO). The light oil goes well with any dish, and because it can be heated up to 400 degrees Fahrenheit, it can be used for most kinds of cooking. Olive oil is not just for Italian food of course; it is also a must-have for Greek, Spanish, Portuguese, Middle Eastern, and Mediterranean cuisines, among others. From marinating and roasting to sauteing and pan-frying, Lucini is the perfect go-to fat for daily meals.
Giada's preferred oil currently comes in two varieties: Lucini Everyday Argentinian and Lucini Organic Everyday. The Argentine blend is made from olives grown in the Andes and is described as having a mild flavor with a peppery finish. Tasting notes include floral, fresh herbs, and tropical fruit. The organic oil is made in Italy and hits the same notes, along with tomato and artichoke for a balanced flavor profile.
The best olive oil for everyday cooking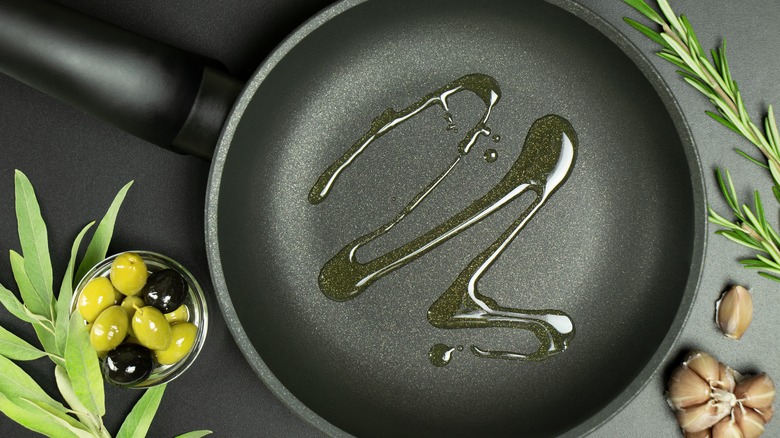 LanaElcova/Shutterstock
Lucini Italia's products are produced using modern methods that adhere to tried and true traditions. Its foods are made in small batches using only natural ingredients, and, along with its award-winning olive oils, also include vinegars, tomato sauces, and pestos. A 16.9-ounce bottle of the Everyday Argentinian oil costs $11.99, and the same size of the organic option goes for $16.99.
In 2015, Lucini Italia became part of the family of brands owned and exclusively distributed by California Olive Ranch. The company works with over 50 family farms in California and worldwide to produce its own olive oils, oil sprays, sauces, marinades, and vinaigrettes. As California's largest grower of olives for extra virgin olive oil and with one of the largest production facilities in the country, the company espouses sustainable practices and packaging and maintains a commitment to creating high-quality products.
It just so happens that Giada includes California Olive Ranch as her second-best choice for regular-use oil in her how-to guide. The brand's 100% California extra virgin olive oil is its flagship product, pressed entirely from California olives. With its flavor notes described as floral, herby, fruity, and grassy, it goes well with practically anything. It is even supposed to be great for baking with, making it an excellent choice to use in a treat like Giada De Laurentiis' olive oil chocolate cake. The 16.9-ounce bottle of 100% California oil costs $13.99.
The finishing touch for when it really matters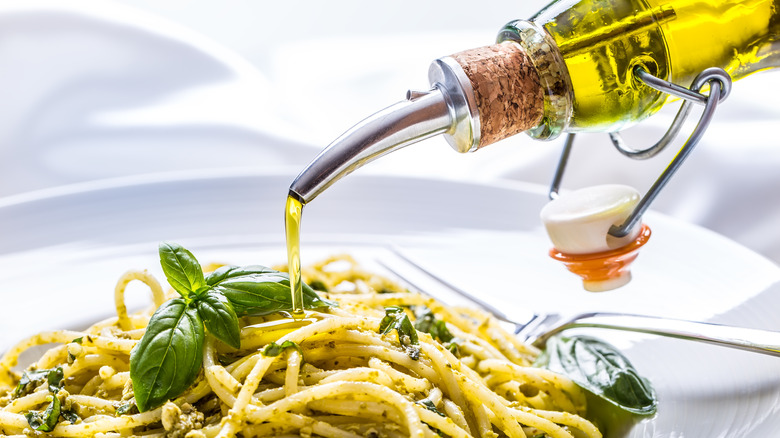 Marian Weyo/Shutterstock
While the EVOO you buy for everyday cooking is usually medium-bodied and has a flavor that does not overwhelm what it's cooked with, there are times when you actually do want the taste of the oil to come through. Finishing oils are more robust and give a maximum punch of flavor. They are best for making salad dressings, dipping bread into, or drizzling over pasta, risotto, hummus, pizza, or grilled meats right before serving. In her unique take on sweet and savory, Giada De Laurentiis tops her ice cream with olive oil, just the sort of specialty where a bold finishing oil fits the bill.
Giada names the Paesanol brand as her selection for finishing oil. Made from a blend of hand-picked Nocellara del Belice, Biancolilla, and Cerasuola olives grown in Sicily, Paesanol Unfiltered Extra Virgin Olive Oil is cold-pressed fresh shortly after the olives are harvested, producing a dark green, cloudy oil that maintains the full taste and aroma of the fruit. The result is an herbaceous, buttery flavored oil with hints of artichoke, pepper, and almond ... just the thing for when you want the powerful intensity of pure olives to make a memorable dish stand out. Unfiltered oils are not meant to be used with high heat and are typically too strong to cook with. They are best reserved for finishing, dipping, topping, and other applications where the luscious qualities of the oil can really shine through.