The Georgia Restaurant That Charges A $50 Fee For Screaming Kids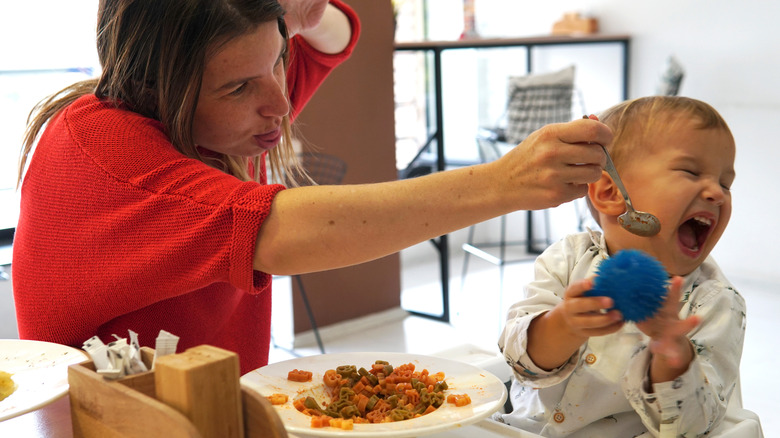 Orsan Elitok/Shutterstock
We've all been in a restaurant, plane, or movie theater when an unruly child disrupted our experience. While it can be annoying, especially if it's fine dining, the parents are usually more upset and embarrassed than any other patron could be. Or so we thought. In a recent Reddit post and Google reviews, customers are calling out a Georgia restaurant for its bad parenting surcharges.
Toccoa Riverside Restaurant is a steak and seafood restaurant with a kids' menu and "dog-friendly seating." At the bottom of its menu, the restaurant describes an "Adult surcharge: For adults unable to parent." Instead of a specific monetary amount, the menu lists three dollar signs as the charge. Kyle Landmann posted a Google review of the restaurant, writing, "The owner came out and told me he was adding $50 to my bill because of my children's behavior." Landmann went on to defend his kids' behavior and disparage the restaurant's owner in the review. Unfortunately, this was not an isolated incident.
Although most reviews rave about the service and the atmosphere, Danielle Hampy's Google review described a similar experience around the same time. With a $50 surcharge added to the check for "bad children," Hampy's party also received a tongue lashing from the owner, who reportedly told the family to "go to Burger King and Walmart" since their children were running outside near the river. This hidden fee has sparked debate on the industry's increased service fees, particularly when dining with children. 
Hidden fees when dining out
With additional fees for paying by credit card, splitting the check, and sharing a plate, Toccoa is the most recent restaurant to add hidden service fees to an already expensive night out. With dim lighting and aging eyes, some of us have trouble reading the entrees, let alone the tiny print listing all of the ways the restaurant will nickel and dime us. The "adult surcharge" seems especially egregious considering there are no parameters listed for what constitutes "adults unable to parent."
As reported by NBC Los Angeles in 2016, a Red Robin made headlines after a customer complained about the establishment charging a hidden "entertainment fee." Dennis Trigueros said he was charged $1.99 when his children accessed the games on the tablet that the restaurant provides for ordering and paying for food. Although the program states customers will be charged for playing games, parents don't need to consent, leaving unsuspecting customers paying the hidden fee. 
The issue isn't isolated to the U.S. In 2023, a woman complained after she noticed a $1 extra spoon fee from Gelateria Serafini in Lavis, Italy so that she could share her $9 ice cream with a friend. Also in Italy, Fabio Bregolato was charged $16 for a pizzeria to slice and plate his store-bought birthday cake. Although Bregolato received permission to bring the cake, he was unaware of the additional fees. Time to add "cake cutting" to the list of hidden charges consumers need to be aware of.