Room Service Etiquette Tips You Need For A Luxury Experience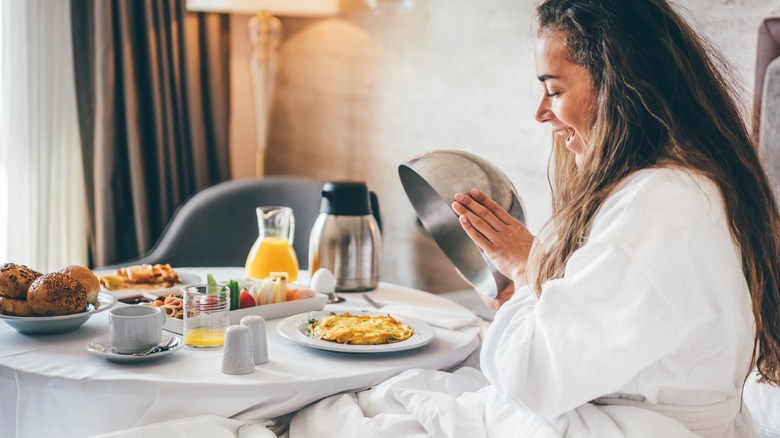 Mariia Korneeva/Shutterstock
If you've ever walked down the hallway of a luxury hotel or resort and seen dirty room service dishes sitting on the floor, you're not alone. This is a common occurrence, but to be honest, it's not a good look. And the lapse in etiquette reflects poorly not on the hotel, but on the guests who commit this easily avoidable breach.
Yes, just as there is etiquette for fine dining and even drive-thrus, there is also room service etiquette. According to our expert, Camille Becerra — the chef-partner of Ace Hotel Brooklyn — there aren't a huge amount of major missteps in room service. However, failing to call for the removal of room service dishes is definitely one of them.
"Call for pick-up of your finished plates," Becerra advises. "Keeping dirty dishes in your room or left out in the hallway is my pet peeve, specifically when I'm staying at a hotel. We have people going up to deliver orders all day, so it's easy to come grab your dirties."
Call ahead for custom orders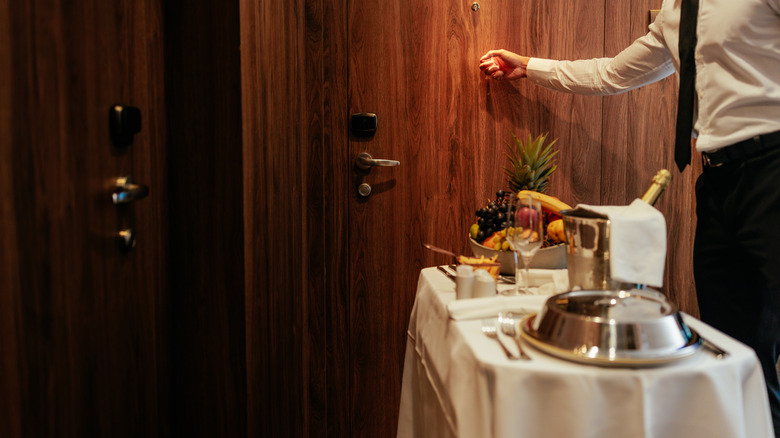 Dimensions/Getty Images
Room service etiquette mistakes are unlikely to get you into trouble. Hotels, especially the more luxurious ones, aim to cater to their guests. In other words, no one will give you a sideways glance if you fail to call for the removal of room service dishes in a timely manner. However, the foundation of etiquette, as Emily Post-devotees all know, is respect and consideration for others. This principle includes luxury hotel staff, so once you're familiar with the rules, it's polite to follow them.
When room service arrives, for example, it's appropriate to be clothed. It seems that many hotel guests answer the door half-dressed, a situation that can be understandably embarrassing for hotel staff. That's a no-no. If you want to order something off the menu, it's also considerate to call well in advance of when you'd like the order delivered.
"I don't mind custom orders," Camille Becerra notes. "It's why we are there, to make the experience feel like you're home." She adds that giving room service additional time to handle custom orders is always a good idea, as it takes time to gather the necessary ingredients. "The more outlandish the request, the more time is better!"
Observe the proper room service tipping rules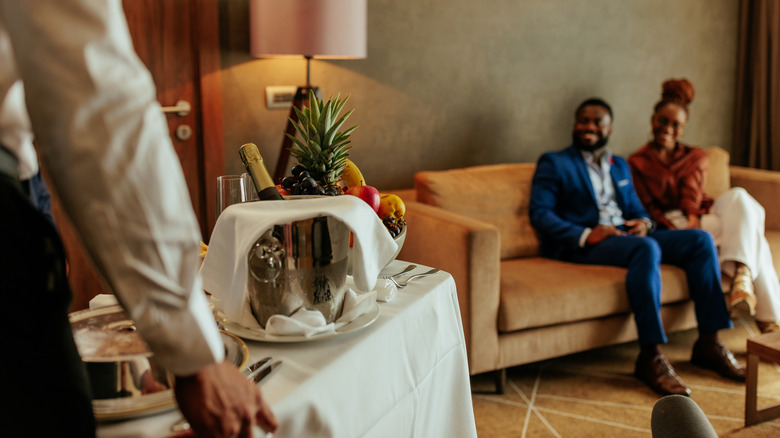 Dimensions/Getty Images
Tips are always appreciated by the hotel staff who deliver your orders. However, there are a few guidelines to keep in mind for the sake of proper room service tipping etiquette. One guideline is that you should typically tip about as much for room service in a luxury hotel as you do in a restaurant setting — generally in the range of 15% to 20%. You might tip more if the situation warrants it, such as for those custom orders Camille Becerra mentioned.
What you don't need to do, however, is double-tip. Many luxury hotels automatically add a gratuity and service charge to room service bills, so it's always a good idea to review your bill to see if this is the case. Alternatively, you can simply ask the server. Even if a gratuity is already included, that doesn't mean you can't add a little extra to reward exceptional service.