Nutritious Ezekiel Bread Gets Its Recipe From A Bible Verse
From Genesis through Revelations, bread is referenced in the Bible hundreds of times. Exodus introduces manna and unleavened bread (aka Jewish matzah) — while Deuteronomy in the Old Testament and Matthew in the New Testament both advise that "Man shall not live on bread alone." Twelve loaves of bread known as showbread are ritually baked, complete with a recipe, in Leviticus. Showbread also appears in all of the Gospels, notably so in Matthew – where, in the story of the feeding of the 5,000, all the people were nourished with only a few loaves and fish. It is also in Matthew that Jesus breaks bread and says, "Take and eat; this is my body," and in John where he declares, "I am the bread of life."
The Southern California-based Food For Life company has been baking up its own version of biblical bread since 1964. Its Ezekiel 4.9 bread is named for the Bible verse that its recipe comes from, which is printed on the packaging — "Take also unto thee wheat, and barley, and beans, and lentils and millet, and spelt and put them in one vessel." While the company does not ascribe to any one religion or faith, its spiritually inspired products are "crafted in the likeness of the Holy Scripture ... to ensure unrivaled honest nutrition and pure, delicious flavors" (per Food for Life). Verily, due to being flourless and made with only sprouted whole grains, Ezekiel 4.9 is one of the most nutritious breads available.
Manna from heaven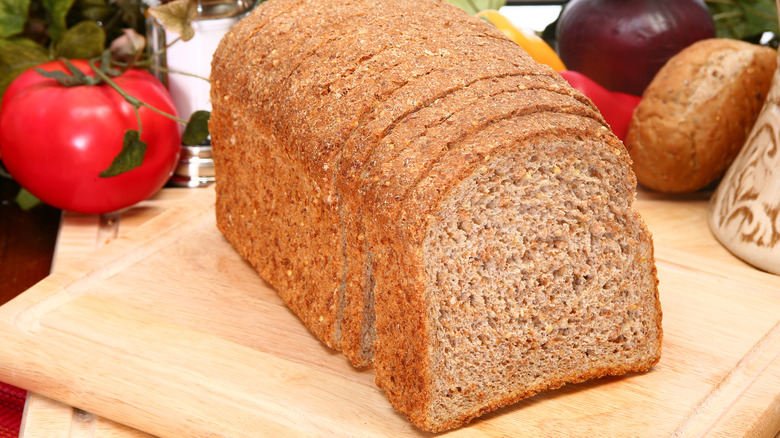 Ixepop/Shutterstock
Following close on the Bible verse's instructions, Ezekiel 4.9's all-organic ingredients include sprouted wheat, barley, millet, lentils, soybeans, and spelt, along with wheat gluten, malted barley, yeast, filtered water, and sea salt. With one slice per serving, each serving contains 120 calories, one gram of fat, no cholesterol, six grams of protein, and 22 grams of carbohydrates (six of which are fiber).
As if by some miracle, Food For Life's founders realized that when the six whole grains and legumes mentioned in Ezekiel are sprouted, together they create a complete protein that provides all nine of the essential amino acids. The bread is vegan, kosher, non-GMO, made without added sugars or artificial ingredients — and remarkably — contains no flour. It is slow-baked to protect nutrients and fiber, and the company touts its sprouted products as being more digestible, antioxidant boosting, pH balancing, and lower on the glycemic index than regular bread.
The high-protein and nutrient-rich bread is a boon for vegans and bodybuilders alike, as well as anyone looking to get more plant-based protein into their diets. Diabetics and others in search of low glycemic foods may also benefit, as Ezekiel 4.9 has been granted the Diabetic Friendly Seal of the Glycemic Research Institute. While the original bread is not gluten-free, the company has an entirely separate product line of gluten-free breads, English muffins, and tortillas available. Other Ezekiel 4.9 specialties include cinnamon-raisin bread, seed breads (flax and sesame), pocket breads, buns, cereals, pastas, and waffles.
Give us this day our daily bread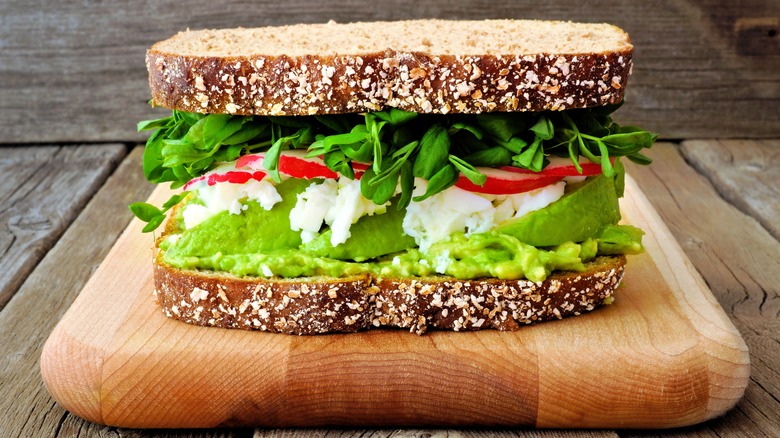 JeniFoto/Shutterstock
Sprouted Ezekiel bread is denser and less sweet than soft, store-bought sliced bread. While some may find it bland, dry, or too "healthy" tasting, others will appreciate the wholesome, nutty taste and hearty texture. High fiber makes it quite filling, and as a complete protein, each slice is a meal unto itself.
Ezekiel 4.9 is sold in many major grocery stores as well as big box stores like Target and Costco. It is stocked at Whole Foods, Sprouts, Trader Joe's, and other natural food stores — where it can usually be found in the frozen foods aisle. It makes a great base for avocado toast, scrambled eggs, and British-style beans on toast, or top it with almond butter, banana, and a drizzle of honey. It's perfect for a classic California hippie sandwich that's spread with hummus and piled on with cheddar cheese, veggies, and alfalfa sprouts.
Interestingly, the recipe as written in the Book of Ezekiel was not meant to be something tasty or healthy, it was pointedly intended as a punishment and a sign of bad times to come. In the Bible's description of Ezekiel the prophet's apocalyptic vision, the grains mentioned were considered leftovers and animal feed, which were then made into bread in an unclean manner as a last resort to avoid starvation. Whether by chance or divine intervention, the fact that the ingredients named in Ezekiel's vision can be combined to become a source of nourishment provides much food for thought.