The Best Whiskeys For Fall And Winter Cocktails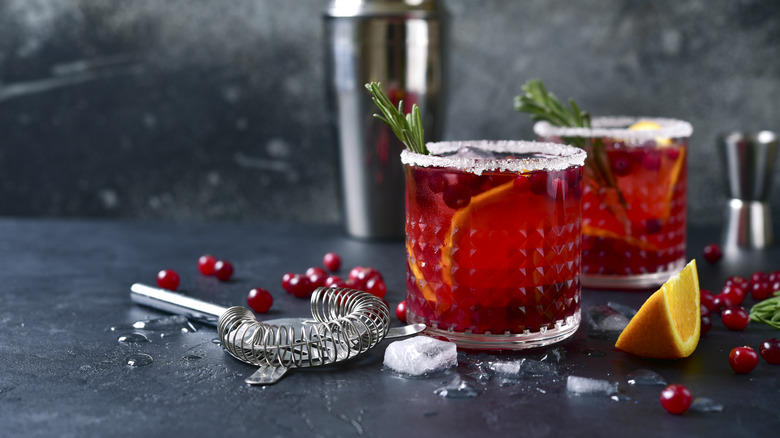 Lilechka75/Getty Images
While whiskey is a spirit that can be enjoyed neat or in cocktails any time of year, it has many inherent characteristics that make it the perfect ingredient in fall and winter drinks. However, there are different styles from all around the world, and some have profiles that make them more suited to cocktails you want to drink when the weather's getting colder and the festive season is approaching.
Some whiskeys are packed with autumnal notes like orchard fruits, honey, and maple syrup, while others boast more wintery flavors — oak, baking spices, smoke, and toffee come to mind. As the temperature drops and the days grow shorter, these aspects make whiskey the perfect addition to both classic and contemporary cocktails alike. Here's a selection of whiskeys to help you choose the perfect dram to elevate your cocktail experience during the fall and winter months.
Buffalo Trace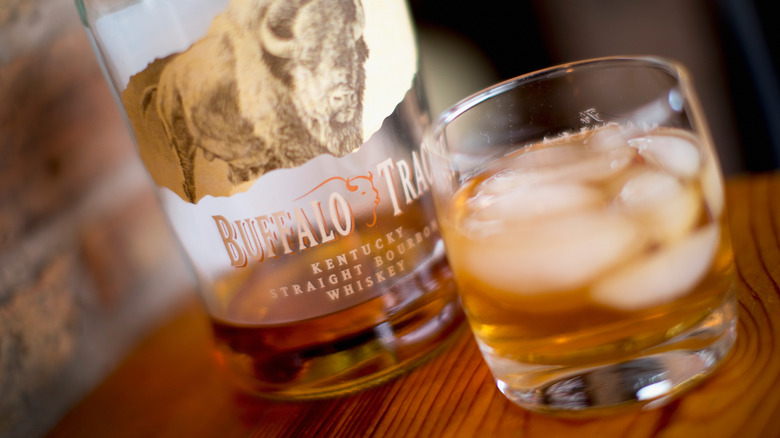 Scott Olson/Getty Images
Bourbon in general lends itself superbly to cold-weather cocktails. While bold and flavorful, it has a smooth sweetness that can make it incredibly versatile. It also helps that bourbon's most prominent characteristics — caramel, vanilla, honey, subtle oak, and dried fruits — all work wonderfully with classic fall flavors.
However, not all bourbons are made the same. Some don't have a powerful enough profile to shine in cocktails, and some are too intense to play well with other ingredients — while others are simply too good to mix. Buffalo Trace has none of these issues. It's a beautifully rich, complex bourbon with notes of candied fruit and toffee; it shines in cocktails without overwhelming other flavors, and it's affordable.
Buffalo Trace is the ideal choice for a classic Old Fashioned, arguably the perfect end-of-year cocktail. But why stop there? Swap out the sugar for a few drops of maple syrup and add a sprinkle of cinnamon for an Old Fashioned with a stunning seasonal twist.
Bulleit Rye
While bourbon's corn-forward mash bill gives it an inherent sweetness, rye-dominant whiskeys have a spicier, more intense side to them. The grain provides hints of pepper and citrus that are enhanced through barrel aging, which also boosts the vanilla, caramel, and oak qualities.
Generally, bourbon and rye whiskeys are interchangeable in mixed drinks due to their similarities, so you can choose whichever one best suits your personal preference. Like Buffalo Trace, Bulleit Rye is perfect for cocktails for many of the same reasons. Although it's delicious served neat, it's balanced enough to enhance other ingredients instead of covering them up — and it won't break the bank.
A Manhattan is an unbeatable warming cocktail if you like boozier drinks thanks to the addition of rich sweet vermouth, but you can modify it even further — add a 1/2 ounce of sour apple liqueur to your recipe to really amplify those fall flavors. You can also experiment with seasonal bitters, swapping out the usual Angostura for something a little more unusual, like winter spice, cranberry, or holiday pie.
Glenfiddich 12 Year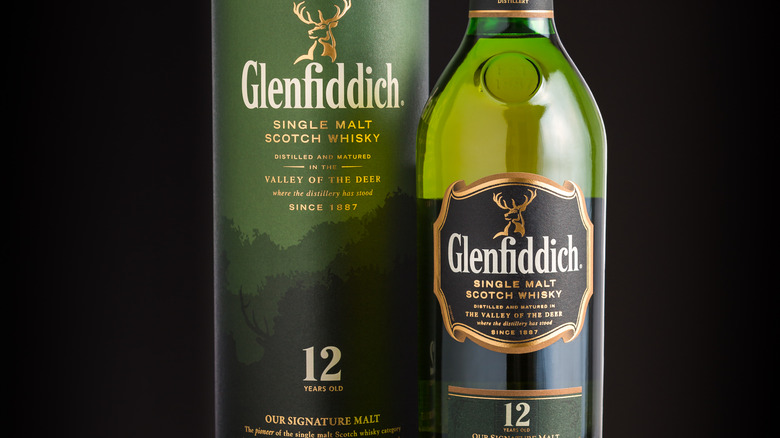 Ultima_gaina/Getty Images
With a mash bill of 100 percent malted barley instead of corn or rye, the profile of single malt scotch whisky differs from American whiskeys in many ways, but it shares several qualities that make it perfect for fall and winter cocktails. However, whereas nobody's claiming all American whiskeys taste the same, there's a lot more variety in the scotch world.
Scotland has distinct whisky-producing regions, and while there's still plenty of variation within each area, the whiskies they produce usually have specific profiles based on where they're made. Scotch from the Speyside region — like Glenfiddich 12 Year — is particularly well-suited to seasonal cocktails thanks to its gentle, honeyed sweetness and exceptional balance. Glenfiddich 12 Year is also matured in both Oloroso sherry and American bourbon casks, so the final product is imparted with extra fruit character, along with caramel, maple, brown sugar, and a touch of oak.
On a cold winter's day, nothing beats a soothing Hot Toddy, especially if you're after something that can combat the symptoms of a cold or flu (of course, that doesn't mean Glenfiddich, or any other booze, will kick that cold or flu to the curb!). While any scotch will do in a pinch, the inherent honey and fruit elements of Glenfiddich 12 Year make it an unrivaled choice — strong enough to stand out yet mellow enough not to overpower the lemon, honey, and ginger.
Jameson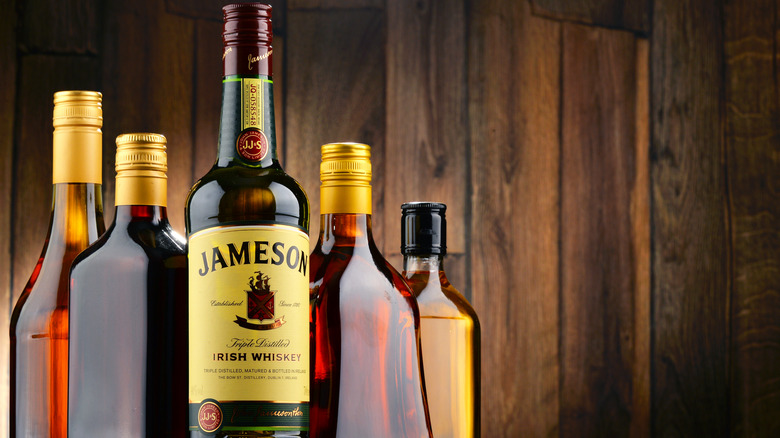 Monticelllo/Getty Images
One of the key differences between scotch and Irish whiskey is that the former is distilled twice, whereas the latter is distilled three times. Although there's a lot of complex science behind the process, the main takeaway is that the extra distillation filters out the harsher flavor compounds in the whiskey, resulting in a mellower drinking experience.
Jameson is arguably the most famous Irish whiskey around and with good reason. Despite being an affordable, mass-produced spirit, the quality is exceptional. It's perfectly balanced, with notes of vanilla, spice, nuts, and sweet sherry, and an unparalleled smoothness. Jameson works well in the majority of whiskey cocktails, but there's one winter warmer that wouldn't be the same without it.
There are few better ways to finish off a hearty holiday dinner than with an Irish coffee, and few better whiskeys to choose for the job. Jameson is ideal for enhancing the cream and coffee flavors in the hot cocktail, and you can put a seasonal twist on one with an added splash of liqueur, such as Cointreau or Frangelico.
Maker's Mark
Although all bourbons must contain at least 51 percent corn in their mash bill, the rest of the grain recipe is left up to the distiller, which can lead to some unique variations between the whiskeys. Many bourbon-makers turn to rye in the tradition of the earliest distilleries; however, others — like Maker's Mark — use wheat as their grain of choice.
Where rye adds a spicier, more robust character to bourbon, wheat softens and sweetens the taste profile with more vanilla, butterscotch, and caramel flavors, while pulling forward the fruitier notes and providing a less spikey mouthfeel. Wheat bourbons like Maker's Mark don't normally stand out as well as rye bourbons in spirit-dominant drinks like an Old Fashioned or Manhattan but that doesn't mean they can't be used in other cocktails to great effect.
Maker's Mark has mellow caramel notes and a creamy profile that make it a go-to bourbon for a Whiskey Sour, with its sweetness balancing out the tart citrus, and the mouthfeel complementing the frothy egg white. The Whiskey Sour is also a cocktail that invites experimentation, so there are dozens of ways to give it a seasonal twist — swap out the bitters, add a few drops of maple syrup or honey, or even throw in a few dashes of apple cider.
Knob Creek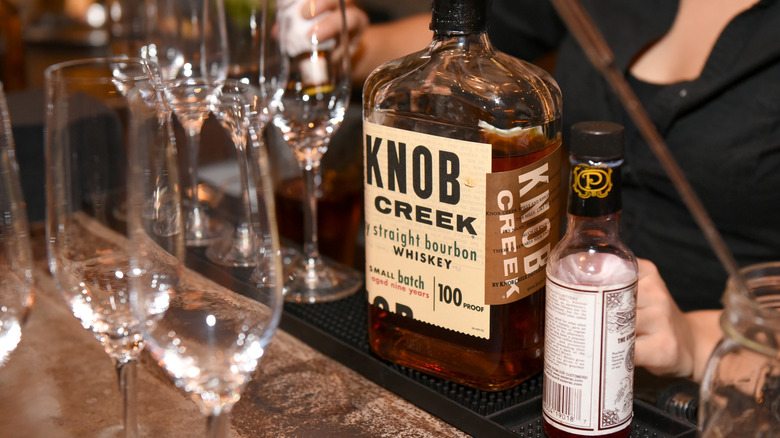 Denis Contreras/Getty Images
Adding further credence to the idea that there's more variety in the bourbon world than some give it credit for, Knob Creek sits somewhere between Buffalo Trace and Maker's Mark in terms of overall profile, showcasing the best of both whiskeys. Knob Creek still uses rye in its mash bill, but the ratio of corn is much higher than Buffalo Trace and it makes up for the lower rye-led intensity with a higher alcohol content.
Knob Creek's core expression is also aged for longer than Buffalo Trace and Maker's Mark, so its caramel and vanilla flavors are supercharged with more oak and barrel char and delicious leather and tobacco notes. While it's excellent served neat or over a couple of ice cubes, Knob Creek is still balanced enough to work as a cocktail ingredient and has enough punch to stand up to the most robust ingredients.
Although the Sazerac cocktail – a warming, boozy drink perfect for colder weather — typically uses rye whiskey as its base spirit, Knob Creek is a bourbon that can take on the role with ease. Its robust, spicy character has no problem pairing with the herbal complexity of the absinthe and Peychaud bitters in a simple, unadulterated Sazerac.
Lagavulin 16 Year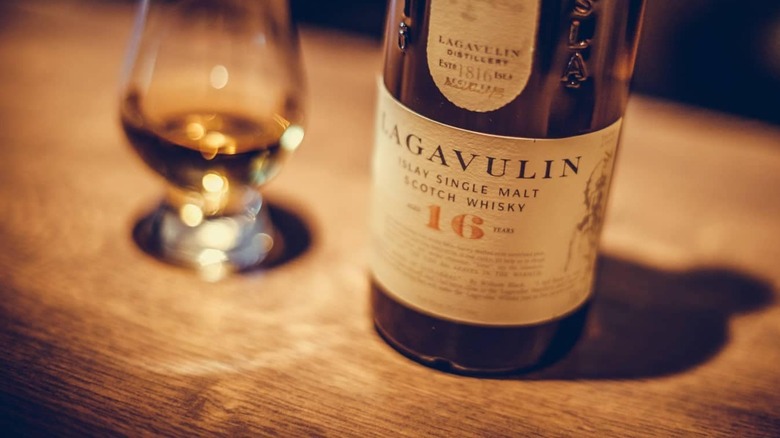 Gueholl/Getty Images
Another world-famous scotch, in many ways Lagavulin 16 Year is the polar opposite of Speyside whiskies like Glenfiddich 12 Year. Hailing from Islay, an island off the west coast of Scotland famed for its whisky, Lagavulin embodies all of the best characteristics of an island whisky.
Islay's single malts are renowned for their use of peated malt that results in incredibly smokey, earthy whiskies, verging on medicinal. The coastal influence is also prominent, adding notes of sea salt, brine, and seaweed. Lagavulin 16 Year is arguably the best showcase of an Islay whisky, with all of these classic characteristics turned up to eleven but its intensity means it can be something of an acquired taste. While it's usually best enjoyed neat in order to savor the bold, distinct flavors, that doesn't mean it can't be used in the right mixed drink.
Specifically, the smoke and peat of Lagavulin 16 Year add an unrivaled depth and complexity to hot cocoa, creating a unique winter treat with hints of bonfire and oak. Just be sure to use premium drinking chocolate in your recipe, as Lagavulin is a top-shelf scotch that deserves to be matched with only the highest-quality ingredients.
Redbreast 12 Year Old
Another Irish whiskey, Redbreast 12 Year Old also benefits from triple-distillation, but it's far more robust and complex than the easy-drinking Jameson. The key difference between the two is that while Jameson is a blended whiskey, Redbreast is a single pot still whiskey.
Although this does mean Redbreast costs more than Jameson, the result is a much richer and sophisticated whiskey overall. Aged in bourbon and sherry casks, Redbreast boasts decadent notes of fresh and dried fruit, like cherry and peach, hints of hazelnut, and sweet toffee. Interestingly, one of the most common tasting notes for Redbreast is Christmas cake, so it stands to reason that it's a fantastic choice for a fall or winter cocktail.
Due to the depth of Redbreast's character, it's better to use it in a lighter cocktail that lets the whiskey's intricate flavors shine through. Try it in a simple Whiskey Smash — the complexity of Redbreast offers the perfect contrast to the fresh mint and lemon, and those Christmas spice notes won't have to compete with bolder ingredients.
Woodford Reserve
Woodford Reserve stands out as a bourbon because it manages to remain incredibly approachable without sacrificing the deep, rich flavors normally associated with more complex and intense whiskeys. In many ways, it's a truly classic bourbon, with rye and barley completing the corn-based mash bill.
If you're completely new to bourbon, Woodford Reserve is one of the best places you can start to really get an idea of what the whiskey style is all about. It also helps that Woodford Reserve is triple distilled like an Irish whiskey, giving it a similarly smooth and creamy profile while maintaining the spicy notes of the rye grain. Additionally, there's a touch of honey up front, followed by vanilla, caramel, a hint of orchard fruits, and just the right amount of wood.
Woodford Reserve is the official bourbon of the Kentucky Derby, where it's traditionally served up as part of the Mint Julep cocktail. You can't fault a Julep, but it's definitely more of a warm-weather drink. Instead, try it in a maple bourbon smash — a fall-inspired cocktail that's rich and tangy but still manages to be extremely refreshing.
Rittenhouse Rye
Despite having a mash bill of 95 percent rye, Bulleit Rye has the complexity and composure of a bourbon that makes it pretty approachable. Rittenhouse Rye, on the other hand, is a far more assertive whiskey.
Rittenhouse is a no-nonsense, classic rye whiskey that most would agree is much more effective as a cocktail ingredient than a sipper. That's not to say it can't be enjoyed neat, just that it leaves a little to be desired in terms of approachability thanks to its higher ABV and characteristic rye flavors. Cinnamon, pepper, and oak are all prominent, with a touch of citrus, leather, and ginger for good measure.
The most common rye-based cocktails like the Manhattan, Sazerac, and the Ward Eight tend to be on the boozy side and served straight up, which isn't to everyone's preference. Although they're all excellent cocktails to enjoy by a fireplace when the temperature drops, there's a lighter, more refreshing way to drink Rittenhouse — in a simple Rye and Ginger Ale. The spicy kick and higher proof add depth to the ginger ale, and a wedge of fresh lime will bolster the rye's citrus notes to round out the heat of both the whiskey and the ginger.
The GlenDronach 18 Year
Unlike some of the other scotch-producing regions, it's much trickier to pin specific characteristics on Highland single malts due to the scale and diversity of the area. While some are lighter and grassier, others are rich and heavily sherried — The GlenDronach 18 Year falls firmly in the latter camp.
The nose is pure sherry with hints of rum and a touch of tropical fruit and Demerara sugar which gives way to a powerful palate of more rum, cocoa, honey, hazelnut, and a long maple-like finish. Like Redbreast, many would use "Christmas cake" as a way of describing The GlenDronach 18 Year's full-bodied flavor profile.
Aside from using it for a scotch Old Fashioned, The GlenDronach 18 Year's huge character can make it a tricky one for a cocktail; however, there's one festive classic that's the perfect fit — the Blood & Sand. It's one of the few classic cocktails that call for scotch specifically, with the rest of the ingredients consisting of equal parts blood orange juice, cherry liqueur, and sweet vermouth. The recipe typically calls for blended scotch, but the Christmassy qualities of The GlenDronach 18 Year make it too good not to try.
Bushmills Black Bush
As the world's oldest licensed whiskey distillery, Bushmills have had more than 400 years to perfect their art. While they have a relatively wide range of whiskeys on offer, including some delectable single malts, their Black Bush expression is arguably the most festive tasting thanks to its prolonged aging in Spanish Oloroso Sherry casks, and a second maturation in bourbon barrels.
A happy medium between the lighter Jameson and the richer Redbreast, Black Bush is packed full of velvety winter flavors, like sultana, cinnamon, allspice, baked apple, honey, and chocolate. Despite being very fruit and sherry-forward, it lacks the inherent sweetness of spirits like rum and bourbon, making it the perfect addition to a batch of eggnog if you're someone who prefers their drinks on the drier side.
Additionally, as an Irish whiskey, Bushmills is triple-distilled, giving it that classic smoothness for which the region's whiskeys are renowned, and therefore adding an extra creamy mouthfeel to the dairy elements of the eggnog.
Elijah Craig Small Batch
A top-shelf whiskey without an eye-watering price tag, Elijah Craig Small Batch bears the name of the Baptist preacher who many have claimed invented the quintessential American spirit we call bourbon. Whether the legend is true or not, Elijah Craig Small Batch is still an outstanding classic corn and rye bourbon.
While it's slightly less approachable than some of its contemporaries, partly down to its higher alcohol content, Elijah Craig is powerfully flavorful. It starts out with a nose of oak, citrus, and tobacco before the vanilla, toffee, and orchard fruit notes begin to shine through. The woodiness is present throughout, and there's a hint of praline and peanut in there too.
You could easily use Elijah Craig in any of the bourbon-based cocktails above, but it's best to keep things simple and let the whiskey do the heavy lifting. Ultimately, the vanilla, caramel, warming spices, and subtle smoke are a perfect match for the crisp, autumnal flavors of a high-quality, craft apple cider. Simply stir the two ingredients over a glass of ice, sit back, and enjoy.
High West Double Rye
A relatively immature rye, Double Rye! from Utah's High West distillery admittedly lacks some depth, despite being an excellent showcase of the grain. The cinnamon and nutmeg aspects of the rye spice are prominent and there's a good amount of oak to counterbalance the whiskey's sweeter side. However, just because it wouldn't be our first choice sipper, that doesn't mean it can't be used to great effect in a cocktail, specifically, a Hot Buttered Rye.
A stellar spin on the popular winter warmer, Hot Buttered Rum, the rye-based twist takes all of the most festive flavors of Double Rye while the butter and sugar soften its rougher edges. If you find Hot Buttered Rum too sweet or not Christmassy enough, using this rye is an excellent way of boosting the baking spice flavors without having to add too many dry ingredients, which can have a negative impact on the drink's texture if they don't dissolve fully.