Fluffy Bread Rolls Are So Much Easier To Make In A Slow Cooker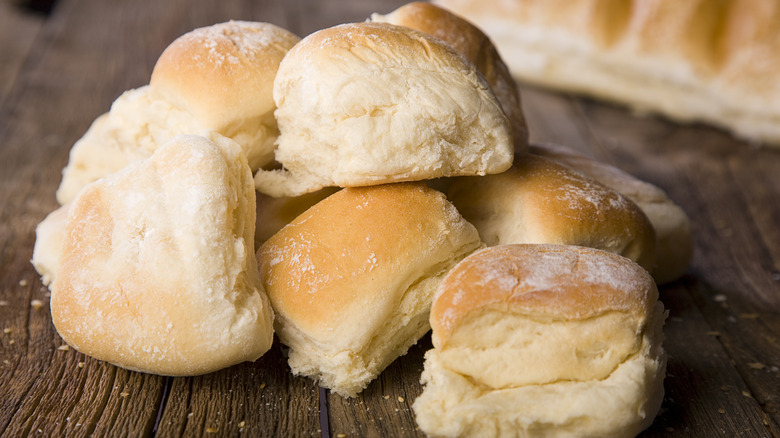 Richlegg/Getty Images
Although many of us embraced breadmaking over the past few years, nursing jars of sourdough bread starters can be intimidating, even for experienced bakers. Aside from relying on a good recipe and properly measuring all the ingredients, taking humidity and altitude into consideration, breadmaking is time-consuming, something many of us are short on during the work week.
While several methods are used to bake homemade bread, one of the easiest is the slow cooker. Not only can you throw a bunch of raw ingredients into this small appliance before work and magically come home to a delicious-smelling cooked meal, but the slow cooker is a great way to make fluffy bread rolls any day of the week. 
According to Food Republic recipe developer Jessica Morone, breadmaking in a slow cooker eliminates all the waiting between proofs for the dough to rise, making the process much quicker. Morone explains in her slow-cooker dinner rolls recipe, "The rolls are actually rising at the same time they are baking." 
These dinner rolls are perfect for sopping up sauce and gravy or split in half to make sliders. They're so versatile. After reading this article, you may feel the urge to invest in a designated breadmaking slow cooker. 
How to make slow cooker dinner rolls
While most bread recipes will work in any slow cooker, the appliance's size and shape determine how many rolls you can cook. To make Morone's slow-cooker dinner rolls, line the slow cooker with parchment paper to prevent the bread from sticking and grease the inside of the paper before preheating it on a high setting. 
You'll need a stand mixer with a dough hook for the flour, sugar, instant yeast, warm milk, kosher salt, and melted butter. Since the rolls won't proof, Morone says it's essential to use instant yeast versus dry instant yeast, which is fast-acting. In addition, the milk should be about 110 degrees Fahrenheit to activate but not kill the yeast — an instant digital thermometer will come in handy for this.
The dough should be soft and pull away from the bowl's sides. If it's tacky, it needs more flour until it's smooth and elastic. With the dough divided into 12 rolls snuggle them in the preheated slow cooker then cover and bake the rolls for 1½ to 2 hours. It's finished when the sides are golden brown and the top is soft but no longer gummy. The cooked bread's internal temperature should be between 190 and 200 degrees Fahrenheit.
Remove the rolls and baste the fully cooked rolls with melted butter, minced garlic, fresh herbs, and sea salt before serving.
How are slow cooker dinner rolls different?
While slow cooker rolls are delicious, easy, and impossible to burn, this method isn't quite the same as oven-baked bread. Traditionally, bread is baked at high temperatures, upwards of 450 degrees Fahrenheit or more. 
The immediate burst of hot air causes the dough to poof quickly before it sets, resulting in taller, airier bread with a crust. Since this method produces a gentle, slow cook, expect the bread to be flatter and softer without a crispy crust. While that can be rectified by putting the finished rolls under the broiler for three to five minutes, softer rolls will stay moist for days and reheat better than crustier ones.
In high settings, most slow cookers reach a temperature of roughly 200 degrees Fahrenheit, the internal target temperature for bread. Given two hours, most dinner roll recipes can cook all the way through, keeping in mind that the center roll may be softer. When removed from the slow cooker, the rolls will be attached, but you will see the lines where you can easily pull them apart when they're cool enough to handle. 
Since the rolls are delicate when first baked, allow them to cool for a few minutes to prevent leaving finger dents in the soft rolls. This slow-cooking method is ideal during the summer months when you don't want to turn your oven on and busy weekdays when you don't have time to fuss over dinner.