Have More Fun With Lasagna By Shaping It Like A Cinnamon Roll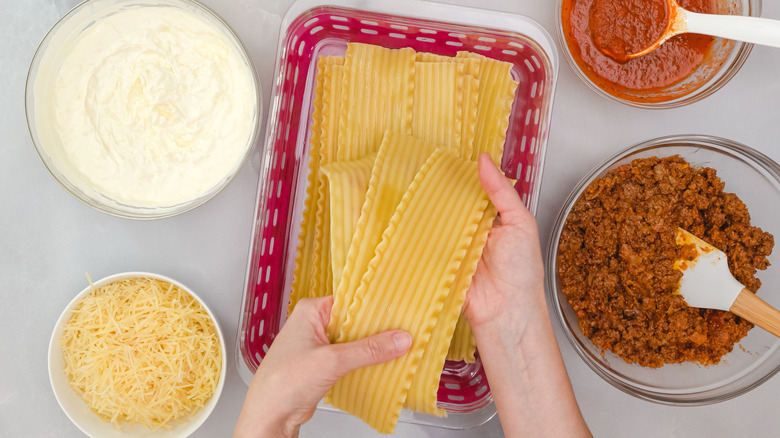 HannaTor/Shutterstock
If you've ever made lasagna for yourself or others, you've likely served it as stacked squares of pasta and filling. However, you can have a lot more fun by playing with your food — the shape of it, in this case — to make the dish more enjoyable. Lasagna is especially versatile, allowing for easy transformation by simply rearranging its sheets of pasta. Don't limit yourself to layering them one on top of the other in parallel lines. Instead of the traditional method, consider twisting the pasta like cinnamon rolls next time you make the dish.
Known as rotolo in Italy and lasagna roll-ups in the U.S., this approach was popularized by chefs Angie Rito and Scott Tacinelli at the New York City restaurant Don Angie, where it's called pinwheel lasagna. Making this dish at home will offer you the familiar flavors you love, but with a different texture that features many crispy edges in every bite.
How shape affects the taste and texture of lasagna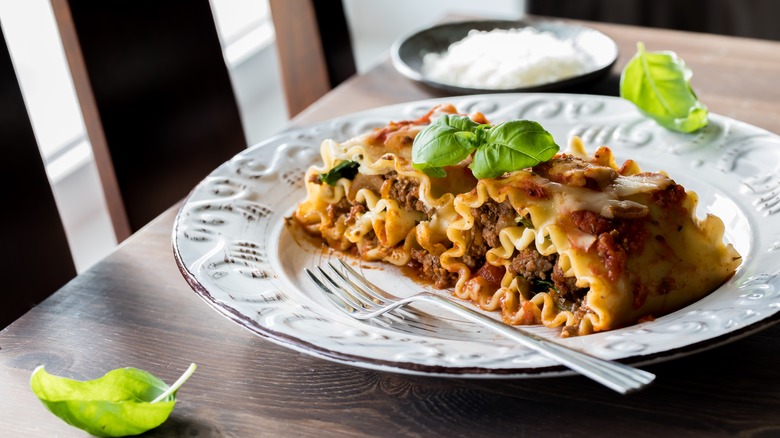 Carey Jaman/Shutterstock
If you've ever tried Giada De Laurentiis' sheet pan method for crispy lasagna, you're familiar with the joy of experiencing a range of textures in one bite, from a creamy, cheesy center to crunchy, toasted edges. By building the lasagna vertically — with the pasta sheets curled at a ninety-degree angle to the casserole dish — the pasta crisps up from the oven's direct heat instead of getting soggy from the sauce's steam. While lasagna roll-ups are often laid on their sides, arranging them to stand upright provides an artistic view from above, showcasing the filling as it swirls inward toward the center.
Consider what you love most about lasagna — whether it's the creamy center or the crunchy corners — and experiment with your preparation method. The texture will also vary depending on your choice of filling; béchamel sauce will add creaminess, while a nutty pesto will contribute crunch.
Serving lasagna rolls at home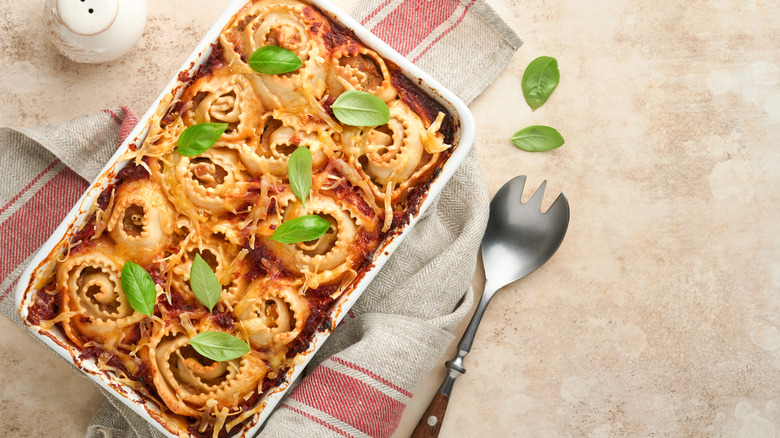 Kasia2003/Getty Images
Rolled lasagna looks impressive, but it's not much harder to make than your classic lasagna and even easier to serve. Given that each pasta pinwheel can be portioned out per person, there's less guesswork when deciding how much lasagna to make for a gathering. Once you have the ingredients, you could make a single serving for yourself or a pair of pasta pinwheels for a date, but you can also multiply that number for large groups.
Whatever the shape or size of your lasagna, it can be tailored to suit just about any personal preferences or dietary restrictions. For example, a classic lasagna recipe usually calls for a meat ragù, but there are plenty of delicious and filling vegetarian options like a three-cheese lasagna with porcini mushrooms or a lasagna stuffed with spinach and ricotta. You can also substitute a tomato sauce in place of the béchamel for a vegan variation.