Ina Garten's Go-To Gadget For Sharpening Knives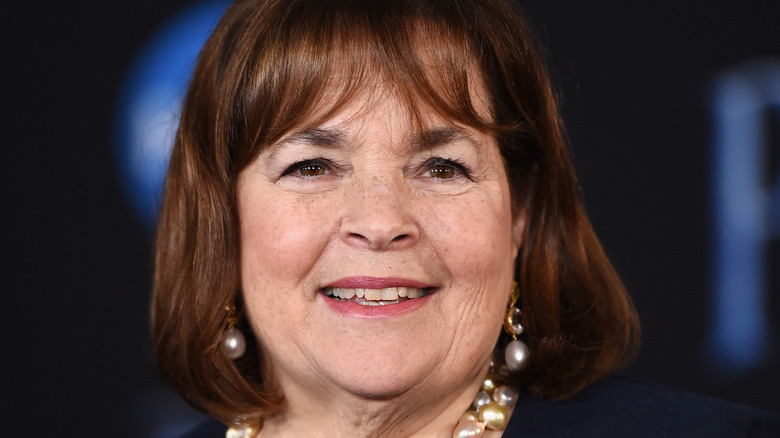 Amanda Edwards/Getty Images
Ina Garten is well known for her effortless yet sophisticated recipes and her genius cooking tips, but she is also a great resource for suggestions on gadgets and other tools to use in the kitchen. In fact, in her book "Cook Like a Pro" she has an entire page dedicated to the importance of chef's knives. She not only tells readers what to look for when purchasing the cutlery, but also how to keep the important investment as sharp as possible for years to come.
The recommendation she provides in the book, as well as on the suggested kitchen equipment page on her Barefoot Contessa website, is a professional sharpening station from Chef's Choice; specifically, the Model 320, which is readily available for purchase online. It's likely what keeps Garten's favorite knife for buttery smooth cuts in top shape. Garten goes into detail on why this budget-friendly knife sharpener is indispensable in her kitchen, citing its affordability, precision, and polishing feature.
Garten's favorite tool for sharpening knives at home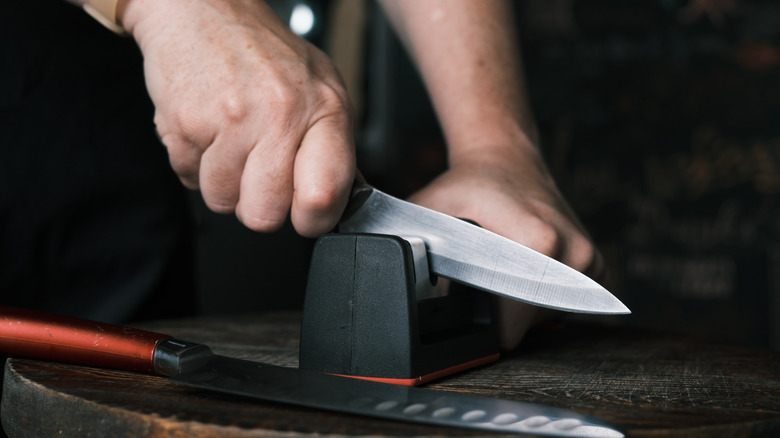 Invizbk/Getty Images
Ina Garten's favorite tool for sharpening knives is not only easy to use but also convenient, allowing you to do so at home without having to gather up the cutlery and take them to an off-site location where you might have to wait to get them back.
The Chef's Choice Model 320 Flexhone/Strop Pro Knife Sharpener works in two stages and is suitable for both straight-edge knives as well as serrated blades. The first is a coarser abrasive to start the sharpening process. The next stage is finer and uses a polishing technique. In addition, the sharpener achieves the perfect 20-degree angle for precise cutting. (Per the manufacturer site, this ideal angle would be very difficult to achieve using other tools without years of experience, or taking your cutlery to an expert.)
The best part is about Garten's suggested knife sharpener— it costs around $120. While this is an upfront investment, the gadget will pay for itself after a few uses since a professional service could run you $5 to $10 per knife and is normally needed several times a year.
More knife tips from Ina Garten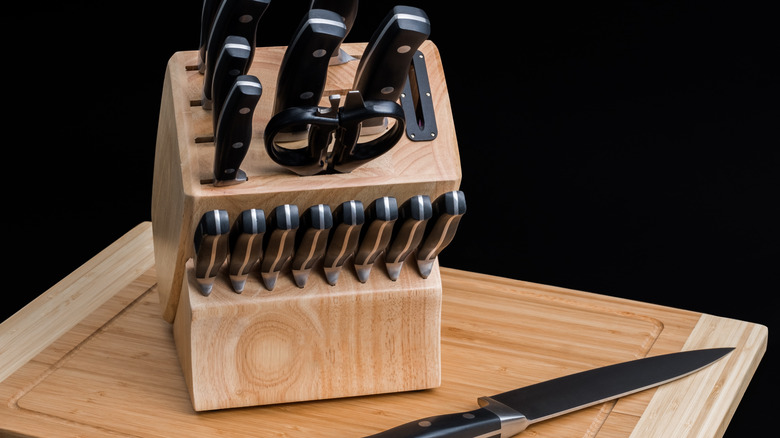 Bruce Peter/Shutterstock
Since knives are a significant investment for the kitchen, it's important to not only make wise purchasing decisions, but to also keep them in tip-top shape for years of use. As such, Ina Garten has other knife tips beyond just her preference for a sharpening tool. Per the Barefoot Contessa, you'll want to start by buying knives that are constructed with a full tang, which means the steel runs the entire length of the knife all the way through the handle. It is also important to hold and manipulate the knife in your hand before purchasing one to "test drive" it. Preferences in weight and feel can vary from person to person and you want it to fit well so it's comfortable to use.
Once you take your knives home, remember to use them only for food preparation. Don't even think about opening a box or a can with cooking knives, which can prematurely dull them. Finally, proper storage is also imperative. High-quality knives should be kept in a knife block or attached along a magnetic strip, and never tossed loosely in a drawer. The clinking and clanking can dull and damage your well-chosen purchase. So, whether you own an entire set or have only three knives in your kitchen arsenal, these tips will keep them safe and sharp.