Espresso And Tonic Water Are A Mocktail Match Made In Heaven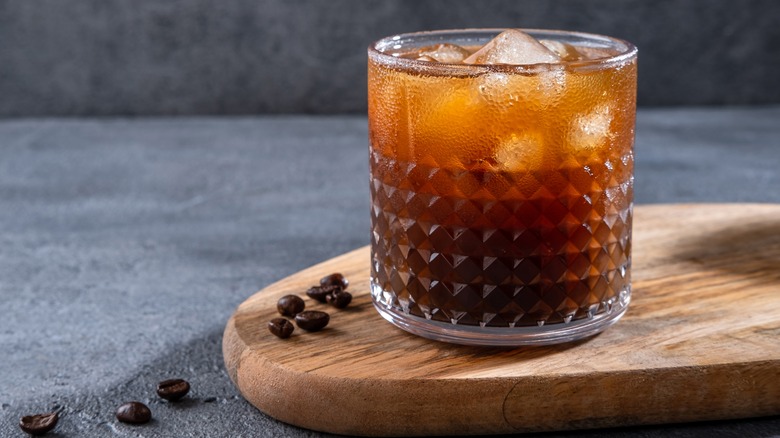 Svetlana Khutornaia/Shutterstock
An espresso tonic bridges the gap between morning and evening, virgin and boozy, fizzy and calm. As a simple yet sassy mocktail, it holds just two liquids, aptly indicated by its name: tonic water and espresso. When served over ice in a highball glass, it feels just as special and indulgent as any cocktail, sans the alcohol and plus the rich depth and flavor of espresso. Just add a halo, and you've got a match made in heaven. 
Though often considered a summer drink, there's no reason to shun this perfectly perky drink throughout the year. After all, few people stop drinking iced tea, cold sodas, or sparkling water in the winter. Snuggling by a cozy fire is even better when sipping a refreshing, tingly concoction that's earthy and light at the same time. 
With an espresso tonic, the slightly sweet, citric effervescence bubbles mix with the potent acidity and complexity of strongly expressed coffee beans to create an otherworldly taste explosion that's hard to explain. Fortunately, you can just make or order one yourself –– with little effort and a lot of tasty fun.
A heavenly drink made by mere mortals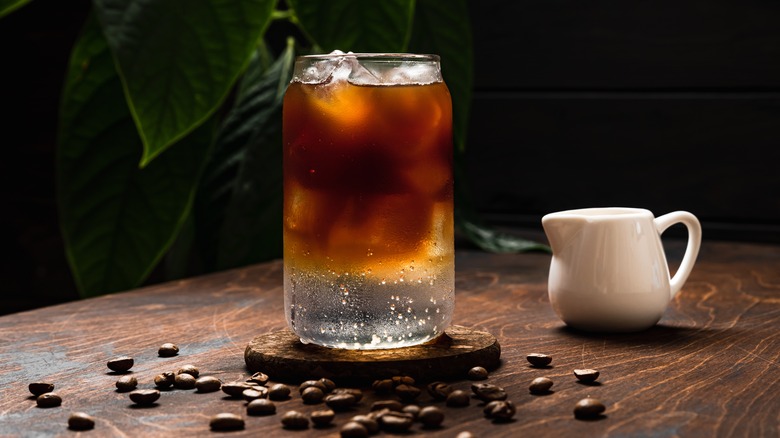 Elena Gordeichik/Shutterstock
Experiencing an espresso tonic really is as simple as it sounds. That's no surprise given its reported origin in the famously minimalist-minded country of Sweden. As with many now-famous foods and drinks, its invention came on a whim, later refined and presented in 2007 as Kaffe&Tonic at Koppi Roasters in Helsingborg. Choosing two seemingly contrasting ingredients turned out to be a perfect two-step tango, a beverage that danced across the globe, thanks to international barista competitions. 
You don't even need a recipe for making an espresso tonic; that's how basic it is. The bartender, whether at home or in your favorite watering hole, simply fills a glass with ice, pours in tonic water, and tops it off with cooled-down espresso, generally one to two shots. The ratios totally depend on personal preference, but a good guideline is three parts tonic water to one part espresso. Pouring the espresso last allows it to slowly seep through the tonic bubbles, pulling out the subtle espresso crema, which floats gently like a natural crowning halo. 
To do it well, you want to make sure those two single ingredients are high-quality ones. Whenever a recipe is this simple, it's wise to invest in the best.
Choosing a tonic water and coffee variety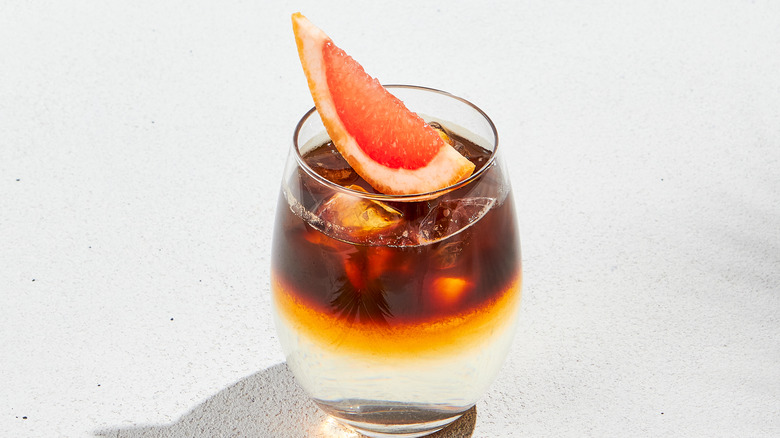 Ryzhkov/Getty Images
Tonic water differs slightly, or sometimes substantially, based on the manufacturer. This can affect the taste of an espresso tonic. Most all tonics are soft drinks that come canned or bottled. Many tonic devotees choose glass bottles because glass keeps the flavors pure while also helping retain carbonation. They also invariably contain quinine, an enticing bitter derivative of cinchona bark. The rest is carbonated water and sugar, agave, or corn syrup — though tonic-water producers increasingly add spices, herbs, or florals to create subtle flavor distinctions. Generally speaking, the best tonic waters will be ones that use natural forms of sugar rather than high-fructose corn syrups.
As for the espresso, it again comes down to taste preference, but you'll notice a difference in the final mocktail based on the coffee you choose. Sample a few types of roasts as well as beans with specific origins. If possible, find a single-origin espresso that's known for fruity or floral notes, which can help balance out the sweet and bitter tones of tonic water. 
If you don't typically make espresso at home or are pinched for time, cold-brew coffee is a viable substitute for espresso. Just be aware that the mouthfeel might be altered, and you'll likely lose that lovely halo of crema glowing atop your espresso tonic mocktail. Experiment with garnish to bring freshness and additional flavor bursts to your drink to really make the mocktail your own.