Nutty Carrot And Apple Soup Recipe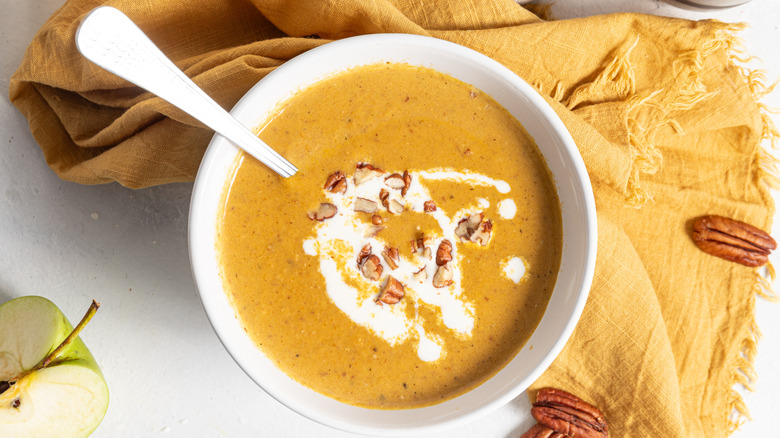 Milena Manolova/Food Republic
Soup season is upon us and with it comes plenty of experimentation. Why stick to plain tomato or chicken noodle soup when there are so many flavor combinations available? This nutty carrot and apple soup, courtesy of Food Republic recipe developer Milena Manolova, is an absolute treat for the palate. She shares, "This soup combines the sweetness of carrots and apples with the nutty richness of pecans. The sweet and earthy flavors complement each other beautifully, creating a well balanced and satisfying taste." 
If you're undecided about which tasty soup to whip up for your weekly meal prep, this one provides a range of nutrients and a taste that is hard to beat. "The warmth of the spices, combined with their rich flavors, can provide a comforting and soothing feeling, especially on a cold day," Manolova comments. With a hint of sweetness and the classic taste of a creamy carrot soup, this recipe should satisfy everyone at the table — adventurous and picky eaters alike.
Gather the ingredients for this nutty carrot and apple soup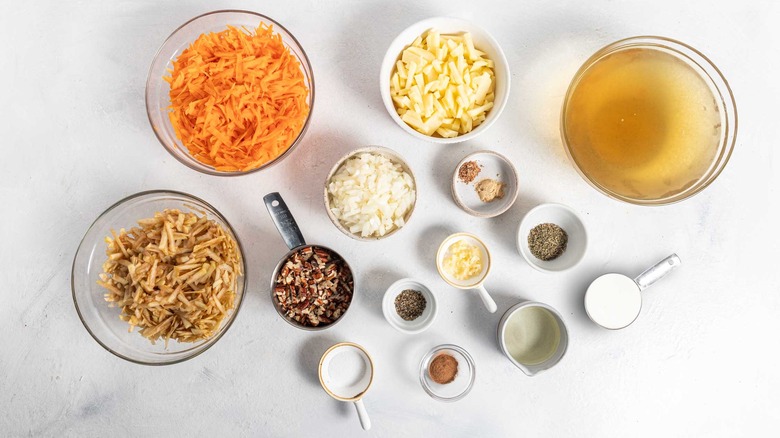 Milena Manolova/Food Republic
For this soup, get some olive oil and prep your ingredients. You'll need carrots (shredded), onion (chopped), russet potatoes (diced), sweet apples (shredded), and garlic (minced). For the apple variety, Manolova notes, "Gala, fuji, or golden delicious are great choices for this recipe." Next, get fresh or dry thyme, cinnamon powder, grated nutmeg, ginger powder, salt, and ground black pepper to season. Finally, chop some pecans and measure out some vegetable stock and heavy cream. 
Cook the vegetables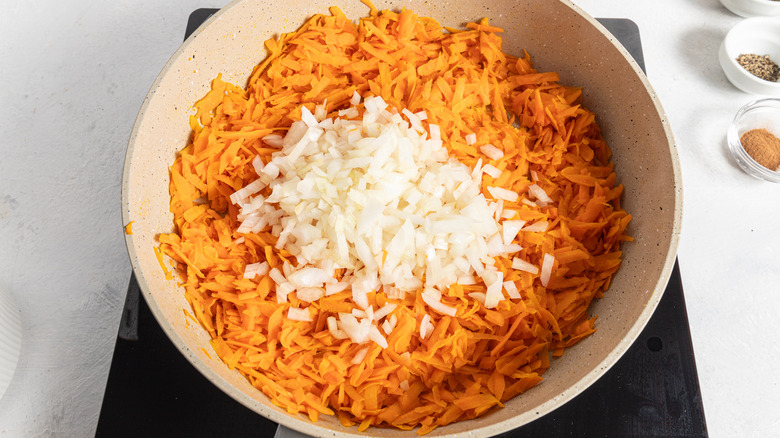 Milena Manolova/Food Republic
Pour the olive oil into a large skillet, then add the shredded carrots and chopped onion. Cook the vegetables until they soften, then add the diced potato and cook for 2 minutes.
Add the apple, seasonings, and nuts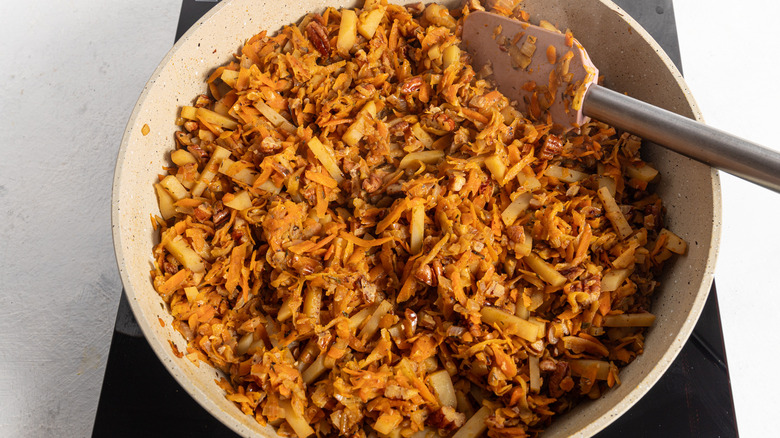 Milena Manolova/Food Republic
Stir in the shredded apples and cook them with the other ingredients for a minute. Next, mix in the seasonings: minced garlic, thyme, cinnamon, nutmeg, ginger, salt, and black pepper. Add the chopped pecans now as well. 
Simmer the ingredients in broth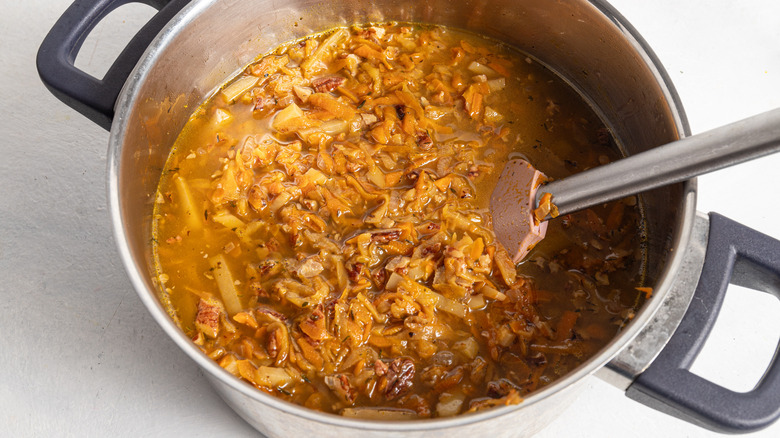 Milena Manolova/Food Republic
Once all the vegetables and seasonings are in the skillet, pour in ½ cup of vegetable stock. Simmer the soup over medium heat for 1-2 minutes, then carefully transfer the mixture into a pot with high sides and pour in the rest of the stock. Cook for 5 more minutes.
Blend the soup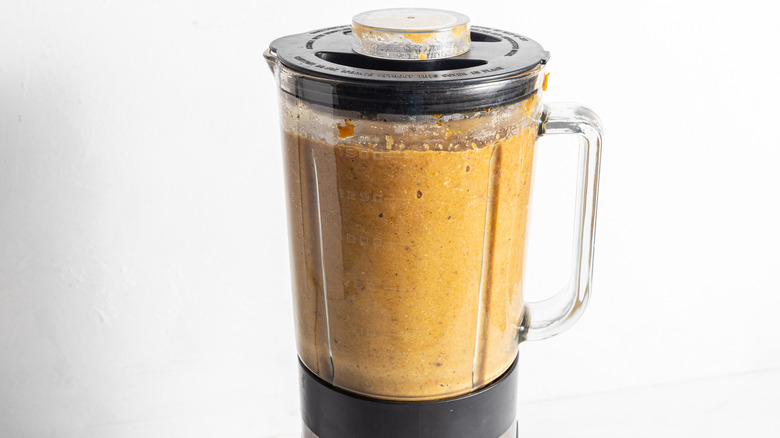 Milena Manolova/Food Republic
Slowly pour the vegetables and stock mixture into a blender and blend the contents until smooth. You can adjust it to your liking whether you prefer a chunkier or more pureed consistency.
Add cream, and enjoy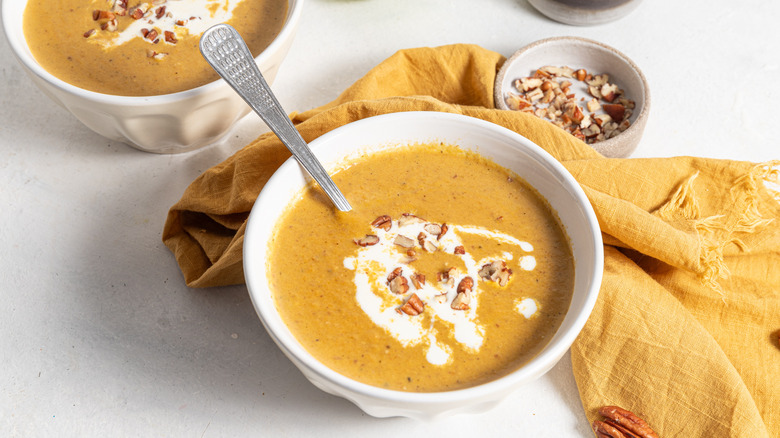 Milena Manolova/Food Republic
Pour the soup from the blender back into the pot and place it on the stovetop over medium heat. Mix in the cream and cook the soup for another minute or so, then serve it warm. Manolova comments, "Rustic bread or baguette will be perfect to dip in the soup." Alternatively, if you want to add a little garnish, she says, "Croutons can be used as a topping as well." As for leftovers, "This soup can be stored in the fridge for up to 3 days in an airtight container, or frozen for up to 2 months," Manolova instructs.
Nutty Carrot And Apple Soup Recipe
You may never have thought to combine carrots and apples in soup, but these autumnal flavors pair perfectly with nutty pecans and cozy warming spices.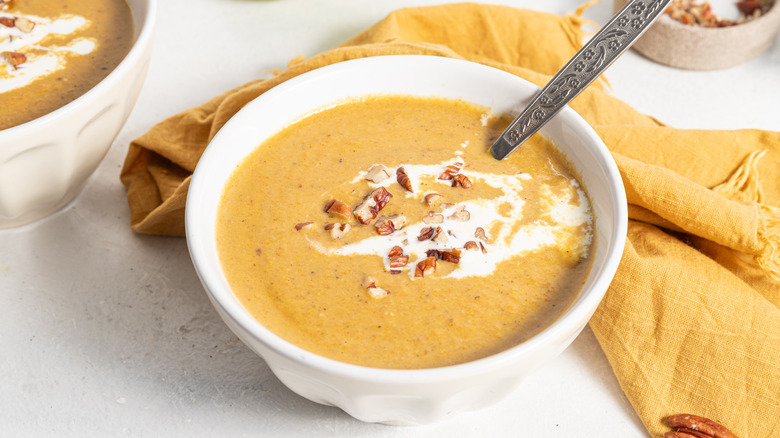 Ingredients
2 tablespoons olive oil
3 cups shredded carrots
1 cup chopped onion
1 ¼ cup diced russet potatoes
2 ½ cups shredded sweet apples
2 cloves garlic, minced
1 teaspoon dry or fresh thyme leaves
½ teaspoon ground cinnamon
¼ teaspoon ground nutmeg
¼ teaspoon ginger powder
½ teaspoon salt
½ teaspoon ground black pepper
¾ cup chopped pecans
5 cups vegetable stock, divided
½ cup heavy cream
Directions
Add the olive oil to a skillet and place over medium heat. Add the shredded carrots and chopped onion and cook until soft.
Add the diced potato and cook for 2 more minutes.
Stir in the shredded apple and cook for 1 minute, then stir in the garlic, thyme, cinnamon, nutmeg, ginger, salt, black pepper, and pecans.
Pour in ½ cup vegetable stock and continue to cook the vegetable mixture for 2 minutes.
Transfer the mixture to a pot, add the rest of the stock, and return to the stove over medium heat. Cook for 5 more minutes.
Transfer the soup to a blender and blend until smooth.
Pour the soup back into the pot over medium heat, and stir in the cream. Cook for 1-2 more minutes.
Serve warm.
Nutrition
| | |
| --- | --- |
| Calories per Serving | 436 |
| Total Fat | 32.8 g |
| Saturated Fat | 9.2 g |
| Trans Fat | 0.4 g |
| Cholesterol | 33.6 mg |
| | |
| --- | --- |
| Total Carbohydrates | 35.6 g |
| Dietary Fiber | 7.9 g |
| Total Sugars | 15.3 g |
| Sodium | 412.3 mg |
| Protein | 5.4 g |