How Giada De Laurentiis Takes Her Oatmeal Up A Notch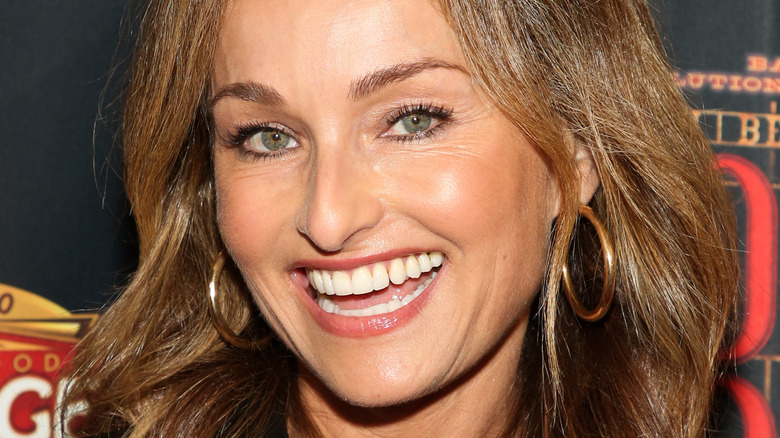 Paul Archuleta/Getty Images
Giada De Laurentiis is known for her unique twists on classic dishes — just think of her white pesto alternative to alfredo sauce. Of course, she embraces her heritage and all things Italian, and she even incorporates a surprising Italian staple into her breakfast routine. Italians tend to enjoy carbohydrate-heavy breakfasts with sweet biscotti or cornetti. While these might be once-in-a-while delights for De Laurentiis, she still prefers carbs in the morning over high protein choices like eggs, yogurt, or the American favorite, bacon.
De Laurentiis will often start her day with a bowl of oatmeal — but with a Mediterranean twist. Her serving of whole grains isn't laden with sugar, but instead, she does the most Italian thing possible by topping her oatmeal with olive oil. Along with a pinch of salt, lemon, fresh herbs, and nuts, she enjoys a bowl of savory oatmeal instead of sweet. In fact, a warm bowl of oats with a savory twist is an emerging breakfast trend worth trying.
Olive oil is the secret ingredient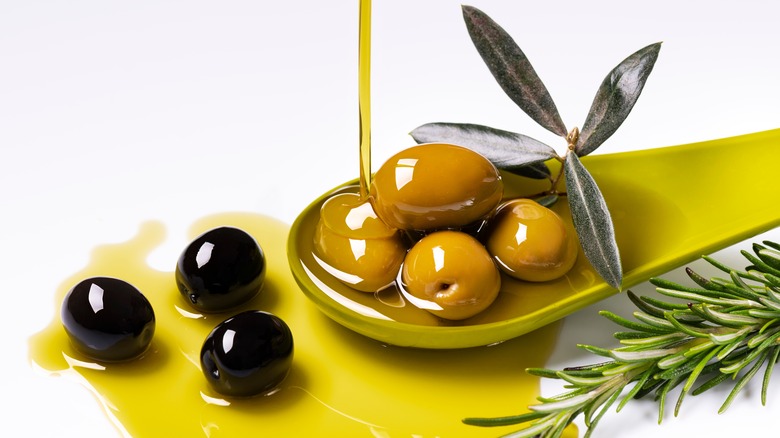 luigi giordano/Shutterstock
The key to Giada De Laurentiis's morning oatmeal is a drizzle of olive oil. This shouldn't come as too much of a surprise since she loves olive oil so much that it's the savory ingredient she tops her ice cream with. If it is a topping suitable for dessert at the end of the day, why not incorporate it into another typically sweet dish in the morning? She turns oatmeal on its head and instead of finishing it off with the typical sprinkle of brown sugar, hers takes a savory turn. A bit of olive oil adds richness to the oatmeal the same way a drizzle of cream or pad of butter might in a sweet version.
If you want to try this topping for yourself, this is the time to use the best olive oil you can find. Since the oil won't be cooked, it is appropriate to reach for the fancier finishing olive oils where you can really enjoy the nuances and flavor of the high-quality product.
Savory oatmeal is an untapped breakfast trend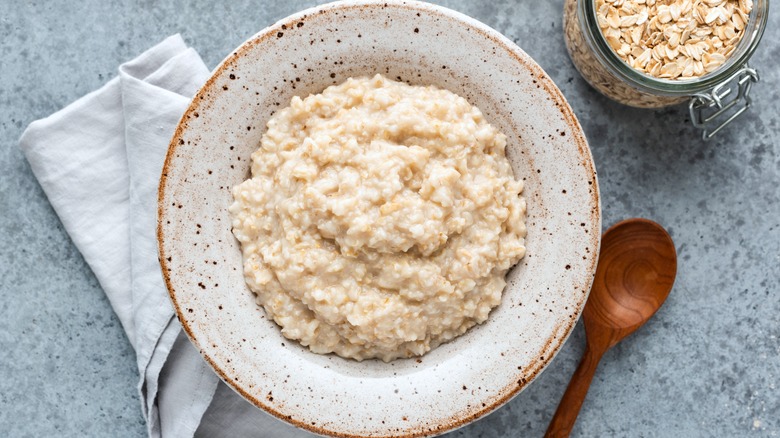 Arx0nt/Getty Images
Laurentiis' savory oatmeal features old-fashioned rolled oats boiled in water with a dash of fine salt. Once they are thick and creamy, she adds freshly grated lemon zest and chopped fresh thyme. The Italian chef tops hers with orange segments and chopped raw almonds for even more flavor and texture. Finally, as the crowning glory, she finishes off the dish with her signature drizzle of olive oil.
It turns out, she isn't the only one getting on the savory oatmeal bandwagon. Recipes for oatmeal filled with cheese, wilted greens, and swirls of hot sauce have started to pop up online. Some incorporate sausage, fresh tomatoes, and herbs. There are even savory takes on overnight oats that are topped with a fried egg, avocado slices, and a zig-zag of sriracha. No matter what kind of breakfast you prefer — filling with bacon crumbles and egg, perfect for a day of heavy activity; or light with oats topped with sliced veg, some broiled tofu, and your favorite herb blend — there really is a savory oatmeal for everyone.