The Exact Difference Between Red And Pink Velvet Cake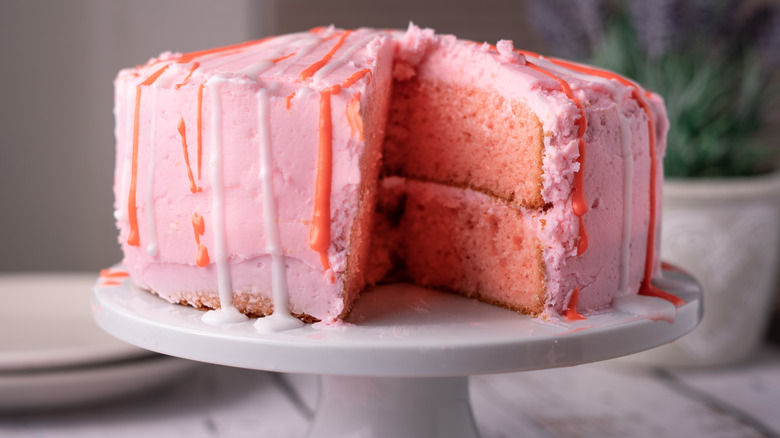 Dianebentleyraymond/Getty Images
Red velvet cake is like the strawberry ice cream of cakes. It's for the whimsical, the iconoclastic, and those with a sweet tooth that can't be satisfied by the simple binary of vanilla or chocolate. This nostalgic favorite offers an unexpected combination of flavors by pulling in rich, earthy chocolate powder, tangy cream cheese frosting, and a sharp tartness from buttermilk. Not to mention, its iconic bright red color comes from a touch of food dye.
However, some red velvet fans have discovered a new favorite on the horizon, one as colorful and delicious but with a twist: pink velvet cake. Essentially a Barbiecore version of red velvet cake, a pink velvet cake uses the same ingredients that make red velvet cake so irresistible but leaves out the cocoa powder for a lighter, fluffier dessert. Despite this notable difference, we're confident that even the staunchest red velvet lovers will have no trouble trying this ultra-aesthetic alternative.
What is pink velvet cake?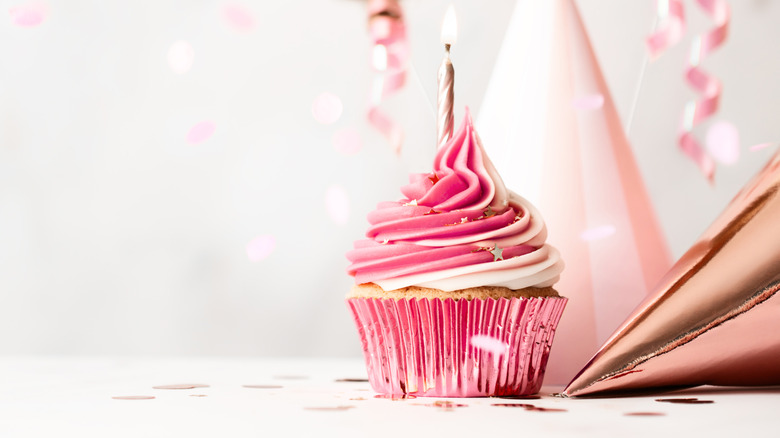 Ruth Black/Shutterstock
Pink velvet cake features a vanilla buttermilk base dyed pink to give it a cheerful look — and a beautiful surprise when you cut the cake open. Like red velvet cake, it is topped with a cream cheese frosting, which adds a lovely acidic counterpoint to the sugary cake. However, while the frosting might be left an untouched white to contrast with the color of a red velvet cake, you're more than welcome to go ahead and dye the frosting pink to match the rest of this velvet cake.
Red velvet cake is usually defined by its chocolate flavor, achieved by adding a small amount (sometimes only a couple of tablespoons) of unsweetened cocoa powder. It requires a lot of red dye to obtain its signature color and overpower the warm chocolate brown the cake would have if left au naturel. Since pink velvet cake contains no cocoa powder, it features a milder flavor that leans more heavily on vanilla — and requires far less food dye.
Buttermilk is essential in pink and red velvet cakes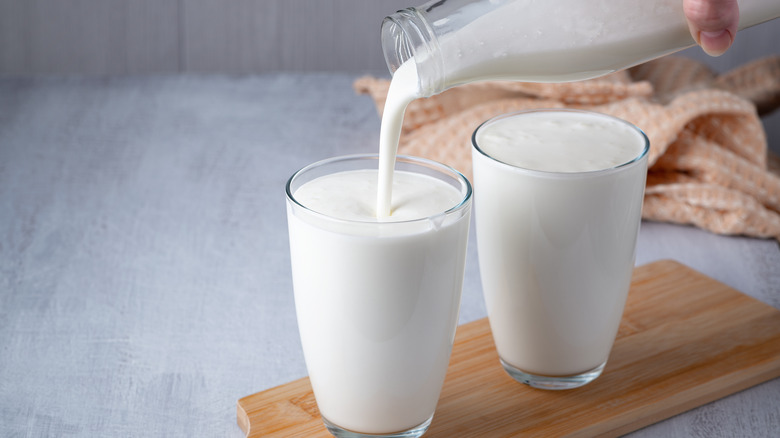 Natalipopova/Getty Images
What sets pink velvet cake aside from any other colorful vanilla birthday cake is its use of buttermilk. Both pink and red velvet cakes are buttermilk-based; this ingredient gives them a distinctive, zesty flavor. However, it serves a few other crucial functions. 
Buttermilk, which is fermented to give it its trademark funk, has a lot of uses in baking that often go unrecognized. For example, its flavor creates balance to combat what could be an otherwise ultra-sweet cake. Plus, it plays well with the cream cheese frosting used to top red and pink velvet cakes. However, it also has some practical purposes. Buttermilk makes cakes more tender and creates a velvety texture that may have played a role in the name of this dessert. This ingredient also helps with leavening, allowing the cake to grow tall and cloudlike. Buttermilk can even prevent cakes from overcooking! No wonder buttermilk is such an essential ingredient for making these classic cakes.