Ina Garten Is Very Particular About The Jam In Her Perfect PB&J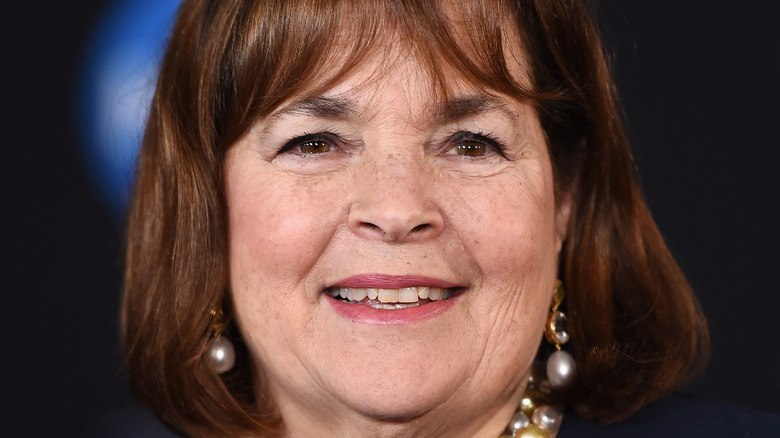 Amanda Edwards/Getty Images
Leave it to Ina Garten to cause a stir by just sharing a picture of her peanut butter and jelly sandwich. Granted, this is the Barefoot Contessa we're talking about here, and her PB&J is truly next level. The crave-worthy creation is unlike anything you'd ever expect to find in a sack lunch, much less something you'd slap together for a snack in your own kitchen. In a 2021 Instagram post, Garten detailed a dreamy, winter lunch date with her husband Jeffrey. They drove down to the exclusive Main Beach in the Village of East Hampton, parked in the snow with a view of the icy surf, and enjoyed peanut butter and jelly sammies while sitting in their warm car listening to podcasts. Hashtagged with #simplepleasures, her anything-but-simple PB&J post has been liked hundreds of thousands of times.
What makes Garten's peanut butter and jelly sandwich exceptional is how she prepares it, and her choice of ingredients — a mix of everyday brands plus one indulgent, imported specialty. The Contessa disclosed the ingredients in her Instagram comments: Pepperidge Farms white bread, Skippy creamy peanut butter, and she's very specific about the fruity layer — which is Eli Zabar's raspberry jam and only Eli Zabar's raspberry jam.
Fabulous jam aside, one thing that makes this PB&J different is that she toasts the bread. Fans went (pea)nuts over this. This brilliant move ensures that the bread isn't made soggy by the luxurious jam.
Old school fruit is the secret to extravagant peanut butter and jelly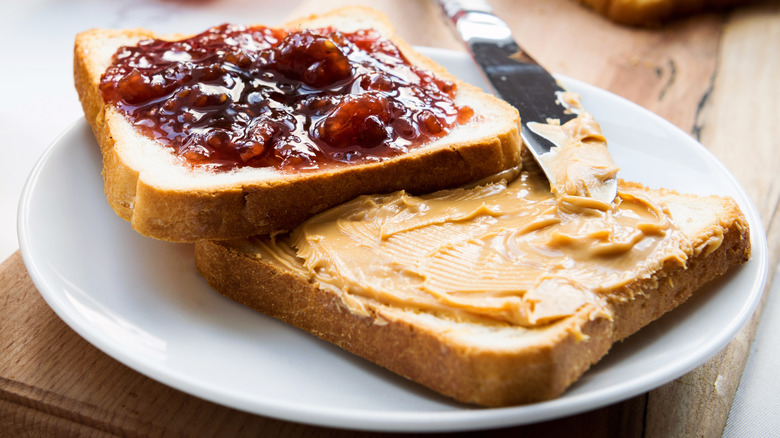 VelP/Shutterstock
The delicious jam Garten is so specific about for her peanut butter and jelly sandwiches comes from Eli Zabar's market in New York City, a high-end specialty grocery store named for its owner, a longtime friend of Ina Garten's whom she credits as her cooking mentor. 16-ounce jars of the upscale condiment can be purchased in-store or from the company's web shop for $28.00. Zabar's E.A.T. cafes have been serving it for over 30 years with sweet butter and Eli's freshly baked bread — where it's not unheard of for diners to eat an entire jar's worth of the delectable jam at one time. Along with its classic seeded raspberry flavor jam, Eli Zabar also offers strawberry, blueberry, apricot, and fig.
The jam is made with just two pure ingredients (fresh fruit and sugar), but its hefty price tag is in part due to where it comes from. The jam is specially made for Eli Zambar by Les Confitures de la Création. The family-owned business is located in the Mont Blanc foothills of Passy, in the Haute-Savoie region of France. Anne-Marie and René Darbelin began their company in the 1960s as fruit pickers and suppliers, canning their first jam made with local blueberries in 1972. Before retiring, the Darbelins passed down their confection-making knowledge to their family, who still make their recipes in the same traditional manner.
How the Barefoot Contessa improved a classic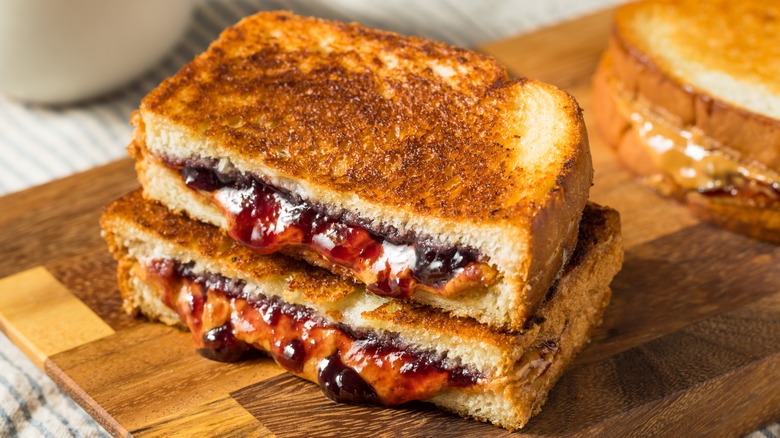 Brent Hofacker/Shutterstock
During the coronavirus lockdown in 2020, CNN's Anderson Cooper and Ina Garten discussed what kinds of foods they had been eating while stuck at home. When Cooper admitted that he loves peanut butter and jelly sandwiches and he'd just had one for dinner, Garten replied that she and Jeffrey had eaten a lot of them since the start of the pandemic too. Then came the shocking reveal when she told him, "I don't think I'd ever had a peanut butter and jelly sandwich. I mean, my mother never made them." Despite being a childhood favorite for many, with its first appearance in a printed recipe dating back to 1901, the Barefoot Contessa somehow managed to go her entire life until just recently without having ever had the American staple.
Perhaps her newness to the classic is what motivated Garten's fresh take on it. Without prior familiarity dictating what it was supposed to be like, she was free to reinvent her own version, free from nostalgia, and from the perspective of an experienced chef. From her toasted bread breakthrough to using high-quality jam along with the more conventional ingredients, Garten took peanut butter and jelly from humble to haute cuisine. While she's been known to say that store bought is fine and prefers the brand Skippy, a natural peanut butter without added sugar, salt, and hydrogenated oils would make an even finer match with her choice of premium jam.