TikTok's Mini Brie Pumpkins Revive A Trader Joe's Favorite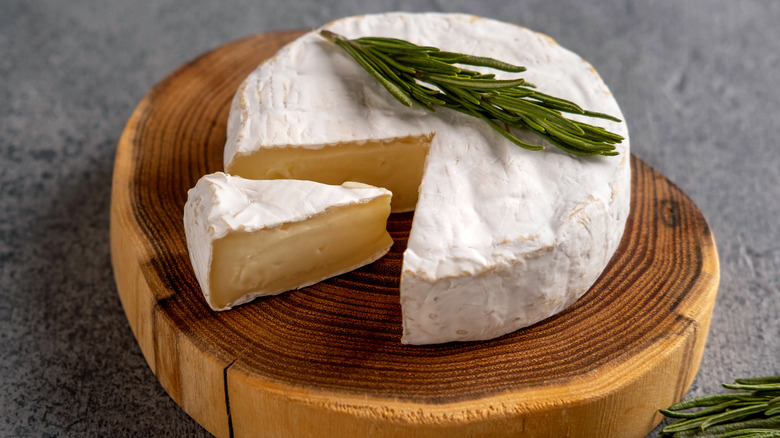 Svetlana Khutornaia/Shutterstock
Whether you are enjoying your first PSL of the season or planning holiday menus, we have reached peak pumpkin season with the gourd featured in countless recipes, from appetizers to desserts. This year, though, instead of recreating the same plates and bites you did last year, let the season inspire you to make some cute changes.
When it comes to seasonal dishes, Trader Joe's is a great spot to shop with an impressive selection of pumpkin-themed options available for a limited time. Tortilla chips, scones, cookies, and ravioli are flavored with rich pumpkin, making entertaining a little more festive as the leaves fall.
TikTok creators have taken things a step further with semi-homemade mini-baked brie pumpkins, using some of TJ's staples. For these, individual wheels of brie are garnished with the flavors of autumn and wrapped in buttery puff pastry to resemble a little gourd shape. It was inspired by Trader Joe's Brie En Croute, a discontinued frozen appetizer, and makes the perfect addition to your charcuterie board for a Halloween party, Friendsgiving, Thanksgiving, or hosting the next Sunday football game. 
How to make TikTok's mini brie pumpkins
To make mini brie pumpkins, TikToker @prettyinthepines thaws a box of puff pastry (Pepperidge Farm and Dufour are readily available) and prepares four mini-wheels of brie (roughly one ounce), fresh blackberries, pumpkin butter, cinnamon sticks, an egg wash, and fresh herbs like rosemary and thyme.
After cutting each puff pastry sheet into quarters and placing the ingredients inside, you'll want to fold up the sides to encase it all and tie pieces of baker's twine, evenly spaced, around each pumpkin, and then bake it. Once ready, decorate with a cinnamon stick, or add some greenery with a bay leaf or fresh sage. Baked brie is best served hot and oozy from the oven. As it cools, the cheese will firm up again.
@prettyinthepines

A mini brie pumpkin patch 🎃🍂 I love the mini brie at Trader Joe's (I've spotted some in other stores too) though and made these last year… SO GOOD. What You'll Need: Puff Pastry Brie (personal sized) Blackberries Pumpkin Butter Egg Rosemary Cinnamon Sticks Thyme How To Make: Cut puff pastry into 5-6 inch squares, add a little pumpkin butter, a few blackberries on top of the brie, and wrap it all up. You'll wrap it with bakers twine in 8 sections, brush on egg wash, add it to the oven at 375 for 20-25 mins. You can spruce them up with Rosemary, thyme, cinnamon sticks for more of a pumpkiny feel and enjoy! #fallrecipe #fallcheeseboard #fallcharcuterie #bakedbrie #traderjoes #fallfood
You could also make one giant pumpkin using the entire sheet of puff pastry and a whole wheel of brie cheese. Any sweet or tart filling would be a good substitute if you don't have pumpkin butter — cranberry sauce for Thanksgiving, apple butter, red pepper jelly, honey, the list goes on.
To plate, space the pumpkins on a charcuterie board with crackers, crostini, and apple slices. Garnish with roasted pumpkin seeds, fresh berries, and fresh herbs. For an autumn lunch salad, toss baby spinach with a maple vinaigrette, toasted pecans, and dried cranberries, adding a mini brie pumpkin to each serving for the perfect finishing touch.