How To Read Target's Secret Grocery Discount Codes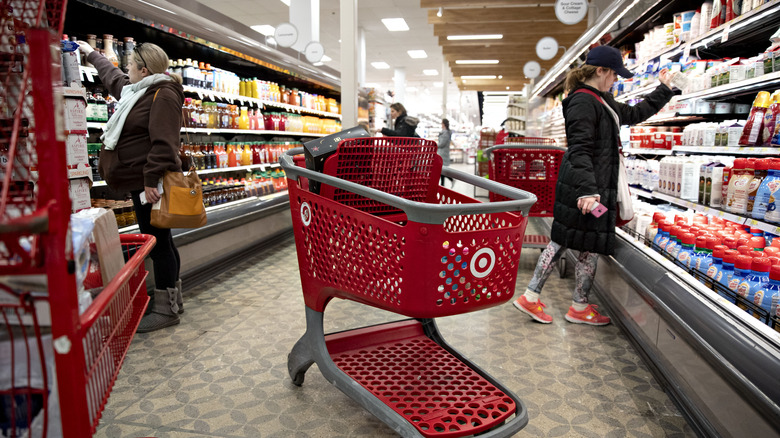 Bloomberg/Getty Images
No one is on a quest to spend more on groceries than they have to, and with Target ranking among the lowest-priced retailers when it comes to food, maybe it makes sense for it to be one of your go-to grocery stores. But once you crack the code on their price tags, you may be able to save even more.
Target employees take to the store's aisles every other week to lower the prices on selected items. If you're in the market for marked-down foods, Wednesday might be your lucky day — that's when the price of grocery items may be reduced. To see if you're getting the best deal, though, you'll have to look at more than just the current price on the tag.
There are three sections of the price tag that offer insight into the current price as well as the potential for spending even less on the product. By looking at details about the price itself, as well as information in the upper-right corner and the lower-left corner of a tag, you can uncover if the product has been discounted already, by how much, and whether or not it's likely to be reduced further. While this trick may not work as well for produce and other perishables, it could potentially save you lots on your canned, boxed, and even frozen foods.
What do the numbers on Target's price tags mean?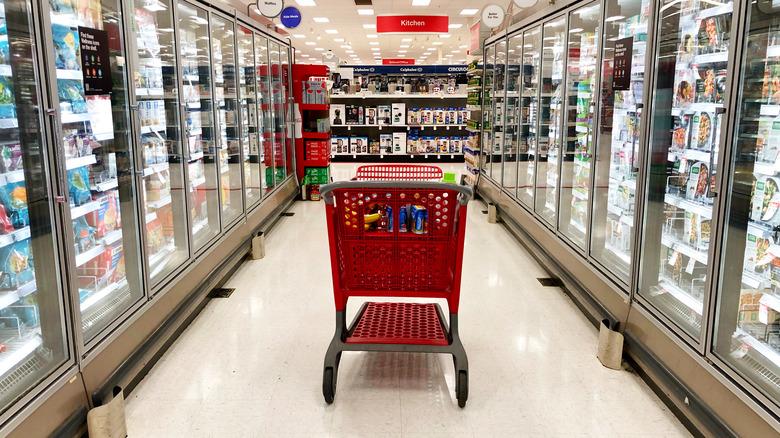 ZikG/Shutterstock
When you're looking at a marked-down product on Target's shelves, the upper-right corner of the tag will tell you how much it has already been marked down. The number in that corner is a percentage. Typically, 15% is the amount of an initial price reduction; so if the number is higher than that, it's likely that the price has been reduced multiple times. Taking a look at the bottom left corner will tell you what the price was originally, so you can see exactly how much you'd be saving by buying the product at its current cost instead of that price.
You may want to purchase the product if it's already deeply discounted. However, if there's a decent amount of it left in stock, you can consider holding off — another price reduction could be on the way. To determine this, take a look at the current price. The final digit will give you clues on the likelihood of scoring an even better deal. If the price ends with a four — for example, $2.54 — the product has already reached its rock bottom price. However, if it ends with a six or an eight — $1.96 or $2.98 — it's likely that the price will be reduced again.
Other ways to save money on groceries at Target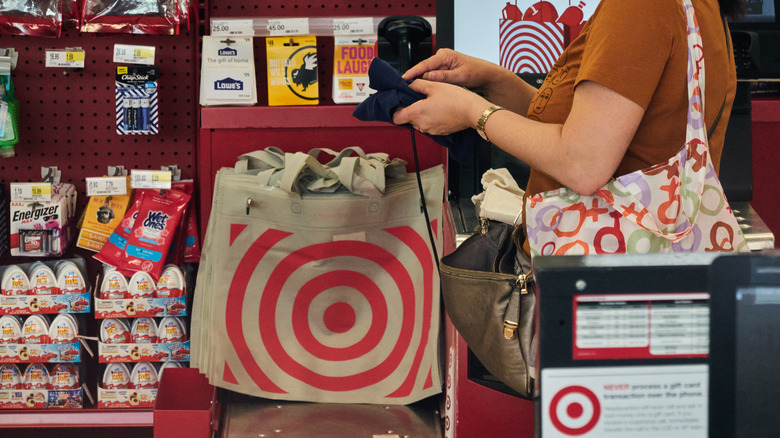 Bloomberg/Getty Images
While most markdowns at Target start moderately at 15%, holiday items often receive deeper initial discounts of as much as 50%. While that may not save too much on your typical grocery haul, it's a good opportunity to grab up some sweets like Halloween candy, candy canes, or chocolate hearts, among other seasonal foods.
There are other simple ways to save money at Target, too. Signing up for the store's reward program, Circle, can score you 1% earning on your purchases (and 5% on your birthday) that you can use toward other purchases at the store. Meanwhile, using the Target app can open the door to discounts of up to 50% or more and gives you access to coupons, too. If you're up for adding another card to your wallet, you can also apply for the Target RedCard, which qualifies you for free shipping when shopping online, as well as 5% back on everything you buy.
And once you've saved all of that money, you'll have a few extra bucks to spend. You can always pop back to Target on Thursdays when the store marks down homewares like kitchen tools and appliances.