Frozen Tater Tots Are Unbelievably Versatile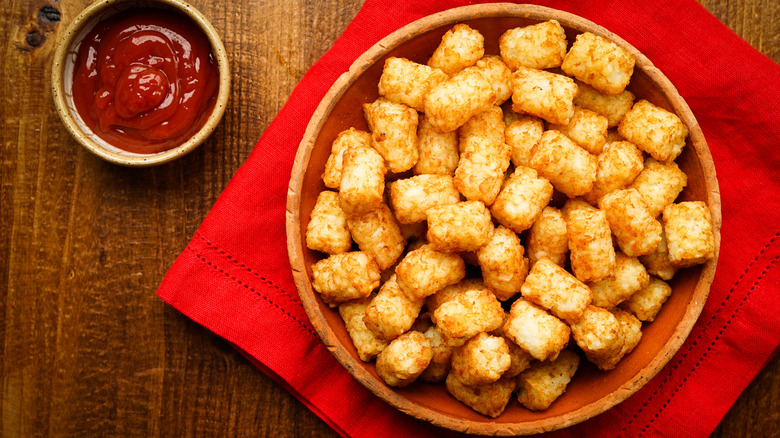 Hope Phillips/Shutterstock
Versatile and suitable for just about any application, frozen potatoes are probably one thing every freezer should contain in case of emergency. However, between all the different types of frozen potatoes, tater tots — a dish worthy of a retro comeback — are probably the best ones if you need an all-around useful potato. Tater tots can be adapted to be used in multiple recipes that help you put some carbohydrates on the table in a pinch. 
This frozen treat is pretty darn fantastic on its own, but the thing that makes them the reigning monarch of frozen foods is that they can be used in just about any dish you can imagine. Need a casserole topper? Tater tots. Want a quick hash with a side of eggs? Smashed tater tots. Craving some cheesy French fries, but you want to make it a whole meal? Loaded cheesy tater tots. When it comes to versatility, the world is your oyster — err, in this case, tater tot.
The many uses of tater tots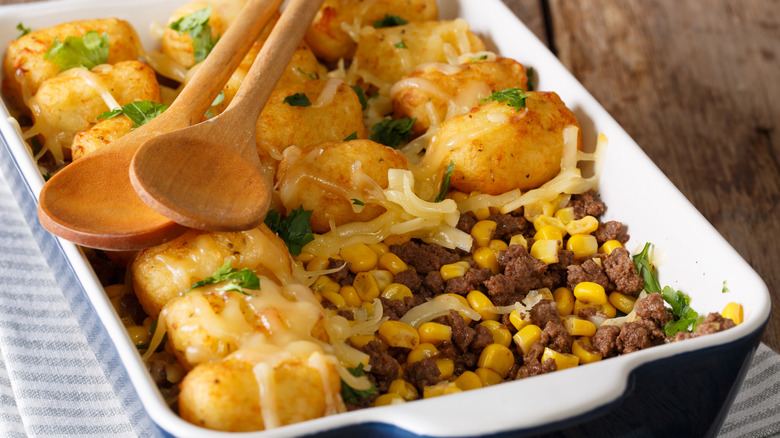 Alleko/Getty Images
At its core, frozen tater tots are basically shredded potatoes formed into small cylinders and par-cooked. They cook quickly for a crispy snack or side dish right out of the oven. However, since they are simply shredded potatoes, you can turn them into many other potato-based dishes with relatively minimal effort. For instance, if you have a waffle iron, you can press a layer of semi-thawed tater tots between its oiled surface and create a quick potato pancake, perfect to eat with applesauce or sour cream.
Another delicious way to use frozen tater tots is to use them as a base for a nacho-like casserole. Place a layer of frozen tater tots in a casserole dish and bake them until they are halfway done. Remove the dish from the oven and add shredded cheese and cooked ground meat. Finish cooking the meal in the oven until the cheese is melted and the ground meat is cooked through. Top with sour cream, pico de gallo, and guacamole.
Frozen hash brown is an alternative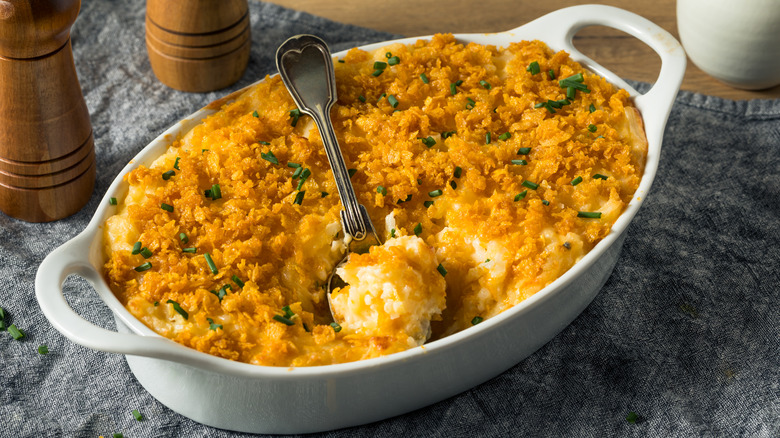 Bhofack2/Getty Images
If you cannot find frozen tater tots in your local market, do not despair. Similar to tater tots, frozen hash browns are composed of finely shredded potatoes, and they come in large frozen bags. You can use these flash-frozen tubers for a huge variety of potato dishes. For instance, cooking frozen hash browns in a slow cooker along with chicken broth will give you a potato soup that will be ready once blended with an immersion blender. Dress the bowls of soup with sour cream, chopped scallions, shredded cheese, and bacon bits, and you have a hearty and savory baked potato soup.
Another alternative is a hash brown-based cheesy casserole. Known as "funeral potatoes" due to their popularity in potluck meals after funerals, they require minimal ingredients, and little prep work — all while feeding a very large crowd. Baked with a crispy and cheesy crust then coupled with a tender and soft center, they will be a hit at any large dinner gathering — the funeral optional.