Chipotle Is Re-Introducing Carne Asada For A Brief, Glorious Moment
If you're one of the 10 million people who purchased Chipotle's carne asada when it was first released in late 2019, you'll want to fire up the Chipotle app again because it's back! But, just like its brief original appearance on the menu (and a short return in 2020), the protein is only around for a limited time at locations in U.S. and Canada.
While Chipotle's menu does already offer beef, as in the form of steak or barbacoa, its carne asada has garnered a huge fanbase thanks to its seasoning (a blend that includes coriander, oregano, and cumin), its fresh finish with a squeeze of lime juice and a sprinkle of cilantro, and the tenderness of the meat. In fact, fans have been pushing the Tex-Mex chain to bring back the beef staple on social media for years.
On a Reddit thread appropriately named, "Holy Sh*t Carne Asada is amazing," many fans of the seasoned beef have sang its praises. One commenter in particular oozed enthusiasm with their post, sharing "It's soooo soft. You barely have to chew," while others point to the lime flavor, the cut of beef, and the way it's sliced as selling points.
How to get Chipotle's carne asada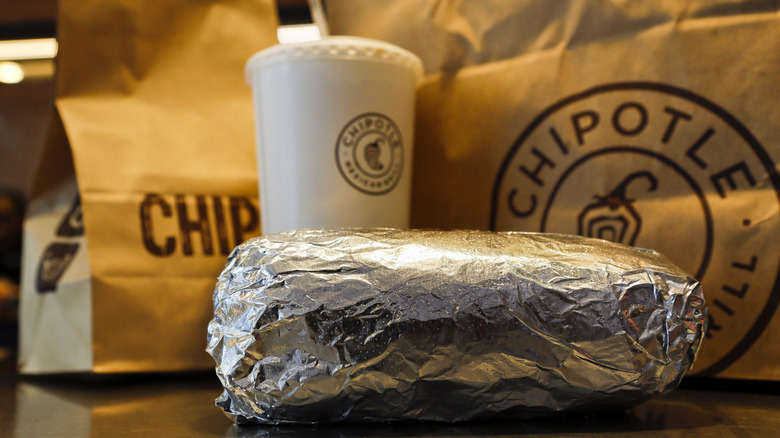 Bloomberg/Getty Images
As with Chipotle's other proteins, you can add carne asada to anything on the menu, from a burrito to tacos. If you're living a paleo, keto, or Whole 30 lifestyle, the seasoned meat is great for you, too, allowing you to stick with your diet by adding the meat to a burrito bowl or salad. You can also get the carne asada stuffed into one of the brand's newest offerings, a fajita quesadilla; since debuting in March, the new food item has become so popular it has resulted in record-breaking sales. But there is a catch.
In order to get your hands on a carne asada (or any other variety) quesadilla, you can only order through the chain's apps, website, or third-party delivery services. However, there's an upside (outside of not having to wait in line, of course). From September 14 through October 1, Chipotle is waiving delivery fees when you order one (or more) of those cheesy carne asada quesadillas — just make sure to use their app or website to do so.