Ina Garten's Favorite Way To Dress Up Cheap Chicken Cuts
Michael Loccisano/Getty Images
With food prices constantly on the rise, many are trying to make do with cheaper ingredients while maximizing their flavor. From saving bones to use for stock to freezing vegetable trimmings for other uses, what was considered scraps has found a new purpose in these frugal times. It is no different for cookbook author and general kitchen miracle worker Ina Garten, who heartily embraces the idea of making the most out of any ingredients.
When it comes to proteins such as chicken thighs (Garten prefers skin on samples) — a cut that is cheaper than breast meat in most markets — Garten finds that it is best paired with a hearty and creamy mustard sauce. Served in the skillet it is cooked in, it is an easy way to make something inexpensive feel luxurious for small dinner parties. Accompanied by roasted vegetables and potatoes, chicken baked in a creamy sauce with mustard is a fantastic way to serve inexpensive and underused cuts of the bird.
Giving chicken thighs a luxurious coat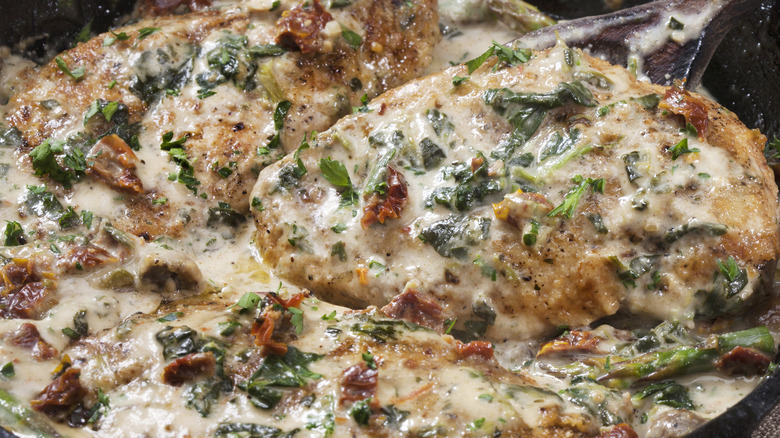 Lauripatterson/Getty Images
To create a chicken skillet in a creamy sauce, you will need chicken thighs, crème fraîche or sour cream, onions, Dijon and whole grain mustard, white wine, olive oil, and butter. Pat the thighs dry with paper towels and salt the meat on all sides. Sear the chicken skin side down first with a bit of olive oil in a cast iron pan or another deep skillet, removing when the chicken is slightly browned on all sides. Add the thinly sliced onions and butter into the chicken fat and oil mixture and cook on medium until the onions start to brown and caramelize.
When the onions are well browned but not burned, deglaze the pan with white wine. Stir vigorously to scrape up all the browned bits on the bottom of the pan. Once the alcohol of the wine is evaporated, stir in the mustards and the sour cream. Stir gently to mix everything before placing the chicken back into the simmering sauce. Baste the chicken thighs with the sauce and simmer until they are cooked through. Garnish with fresh parsley and tarragon on top and serve directly from the skillet. The creamy sauce is perfect to serve with steamed vegetables, crusty breads, and buttered noodles.
Chicken thighs are underrated yet versatile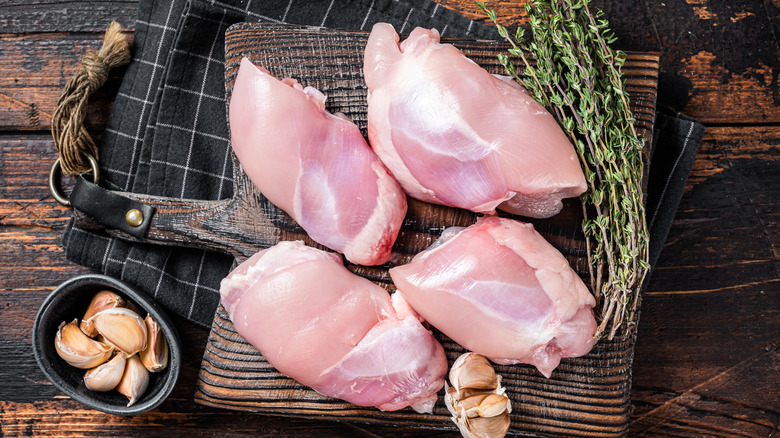 Vladimir Mironov/Getty Images
Cheaper than chicken breasts, chicken thighs are an often-ignored cut of chicken. However, the dark chicken meat is actually a very versatile and delicious ingredient in addition to being economical. Thanks to its higher fat content, chicken thighs can be braised or slow-cooked without drying out. It pairs well with just about any recipe that calls for poultry, including cream-based recipes such as Garten's or lighter, more vegetable-forward chicken dishes.
For example, those who prefer a tomato-based skillet can substitute the cream and mustard with a good quality tomato-based pasta sauce and cheese. Sear the chicken as before, then cook the onions before adding tomato paste, tomato sauce, and chopped garlic. Optionally, you can add pitted and chopped olives or even capers for a hint of brininess. Return the chicken to the skillet and let it simmer until cooked through and add grated parmesan cheese. Serve with a green salad with balsamic vinaigrette dressing and cooked pasta.