Starbucks Responds To Union Partners' Sip-In Protests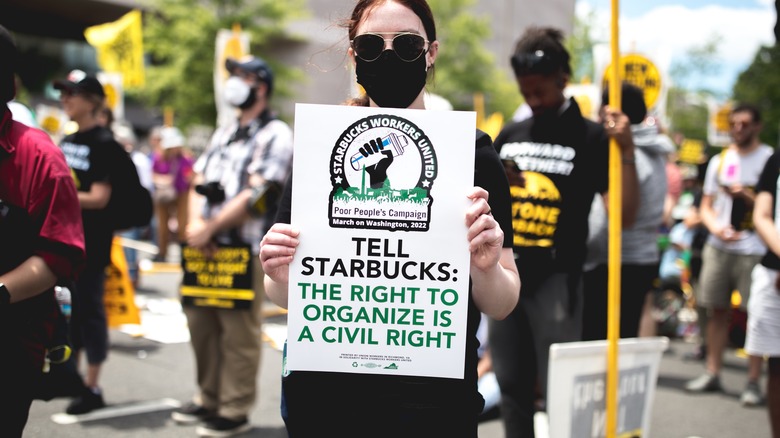 Johnny Silvercloud/Shutterstock
Over the last few years, Starbucks has become the epicenter of a significant union battle. Despite strong corporate resistance, Starbucks stores around the country have been attempting to unionize. More than 300 Starbucks stores have successfully unionized in the U.S. since the first in Buffalo, New York.
Starbucks Workers United, the organization spearheading this pro-union movement, has organized "sip-in" protests at stores across the U.S. These events encourage locals to support the employees who keep them caffeinated and ready for the workday. They also aim to educate both Starbucks employees and the public about union objectives while filling the stores with pro-union supporters.
An upcoming sip-in scheduled for September 19 will take place in Columbus, Ohio, ahead of a union representation election for the North High and East Torrence stores in Columbus. The election will be conducted by the National Labor Relations Board (NLRB).
Starbucks provided Food Republic with the following comment regarding the protest: "We respect our partners' right to engage in lawful union activities without fear of reprisal or retaliation and welcome the opportunity for partners at our North High and East Torrence store to vote in a neutral, secret ballot election conducted by the NLRB — which allows all partners to make their own informed decision regarding union representation. In advance of the union representation election, our focus is to ensure our partners trust the process is fair and their voice is heard."
Starbucks has been accused of undercutting unionization efforts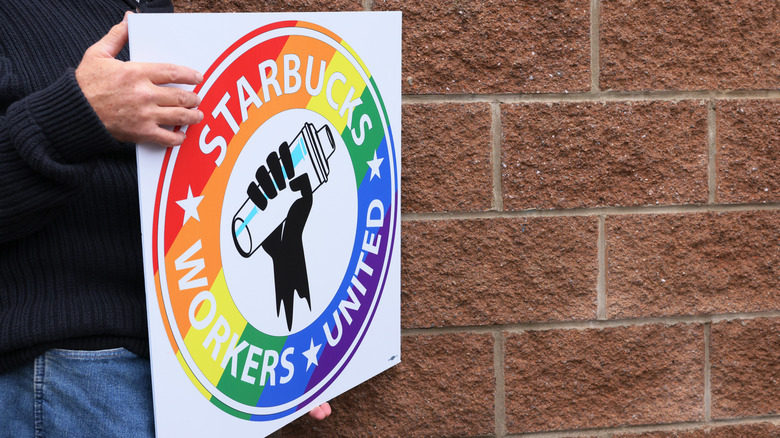 Michael M. Santiago/Getty Images
Recently, Starbucks has been accused of deliberately undercutting unionization efforts. Allegations include union-busting activities such as firing employees who attempt to unionize, closing stores that pursue unionization, and intimidating workers. The National Labor Relations Board ruled that Starbucks violated federal law, and that such actions were unlawful and discriminatory.
Starbucks has also portrayed the union as ineffectual and unwilling to negotiate. Starbucks told Food Republic that May Jensen, Senior Vice President of Partner Resources, recently said: "Just like our partners, we're disappointed that Workers United has not made any effort to bargain for more than 250 stores and in the last three months has failed to agree to a single request to bargain a contract. Workers United President Lynne Fox has left these Starbucks partners with a leaderless union more interested in disinformation campaigns and publicity stunts than bargaining contracts."