José Andrés' Favorite Gazpacho Made Him Fall In Love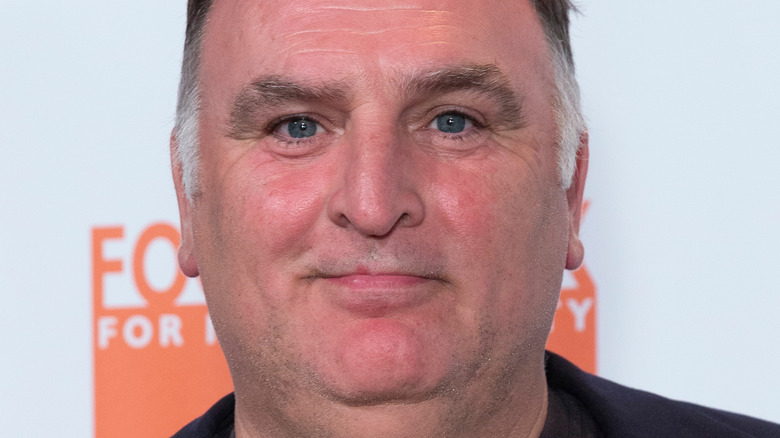 lev radin/Shutterstock
It must be a truly tasty meal for a chef like José Andrés to fall in love. The celebrity chef, restauranteur, and founder of the nonprofit World Central Kitchen knows a thing or two about flavorful cuisine — especially when it involves his Spanish heritage. That's why his favorite gazpacho soup is such a hit. In an article for Today, Andrés literally calls it one of the reasons he married his wife. 
Falling in love over soup is not so far-fetched, especially when it's one created by Patricia Fernandez de la Cruz, the now-wife of Andrés and mother to their three daughters. She hails from the Andalucían region of Spain, well-known for its sherry, Bellota ham, seafood, paella, and its somewhat quirky moniker, the cold-soup capital of the world. Such fame comes from the area's smooth, crimson-toned tomato gazpacho soup, which de la Cruz happens to have mastered — which is a high compliment from such a renowned chef.
Describing de la Cruz's recipe, known as Tichi's Gazpacho, Andrés paints a soothing, colorful image of the family refrigerator on a hot summer day. Opening the chilly door reveals a front-and-center glass pitcher brimming with rich, creamy, refreshing red liquid –- which, incidentally, harbors more nutritious goodness than one could imagine. It's made from fresh and natural raw ingredients, primarily vegetables, and the main stars are loads of super-hydrating, potassium-rich tomatoes. 
The gazpacho love potion recipe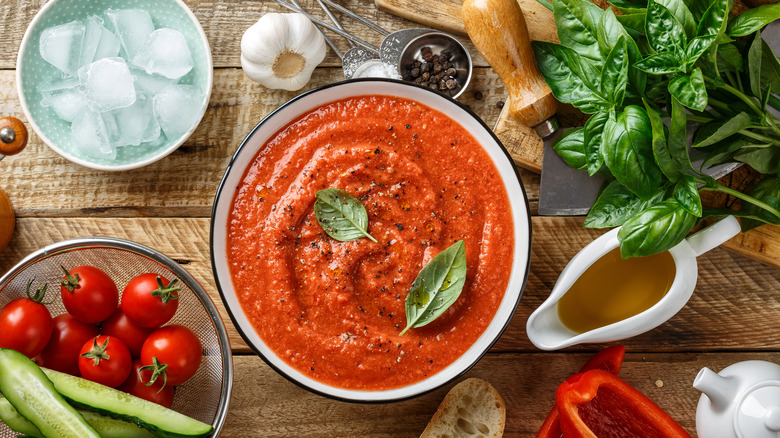 Sunny Forest/Shutterstock
What's not to love about a close-knit cooking family who launched a father-and-daughters Discovery+ gastronomic adventure through Spain at the end of 2022, all spurred by a life-changing Spanish gazpacho soup? Tichi's Gazpacho recipe doesn't stray far from Andalucían roots, but it's worth noting that any cold soup from the region is open to personalization. In this case, Andrés showcases his wife's little touches — ones that elevate the recipe to everlasting status. 
As with all cold gazpacho soups, heat is not part of the equation. Instead, the veggies and tomatoes get chopped, diced, peeled, or quartered, and then pureed in a blender or food processor until they're creamy, smooth, and divinely hydrating. In this recipe, with seeds and stems removed as necessary, the mouthwatering goods include quartered ripe plum tomatoes, peeled and chopped cucumbers, diced green bell peppers, and peeled garlic cloves. 
But those ingredients are not alone in the mix; in addition to the high water content in tomatoes, additional liquid comes from extra-virgin olive oil, sherry vinegar, oloroso sherry, and plain water (as desired for consistency). Strain the mix and chill it in the fridge. Andrés recommends strategically placing a handful of extra chopped tomatoes, cucumbers, and bell peppers in the bottom of each serving bowl before ladling the freshly made gazpacho over them, then lightly dribbling with olive oil, and sprinkling with a pinch of sea salt. 
Gazpacho tips and variations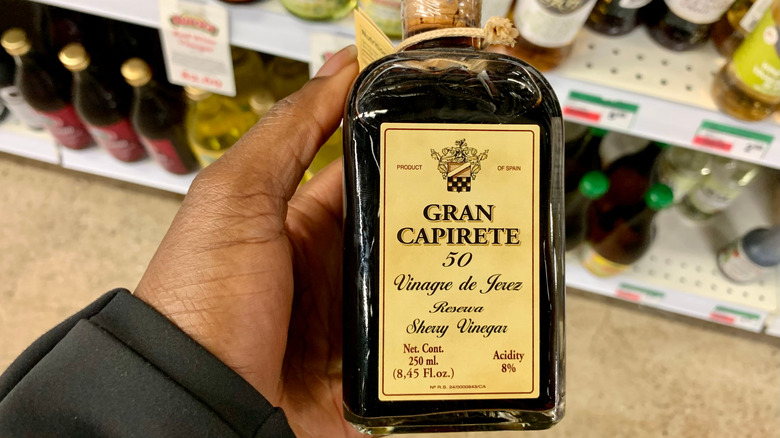 Jenari/Shutterstock
When sharing his favorite gazpacho recipe, made special by the family connection, José Andrés offers a few tips for ordinary chefs. Those who don't roam the world seeking gastronomy-done-right can still capture the international flavors of cold Spanish gazpacho. Ideally, you'll have a premier-level Spanish sherry vinegar to impart extra flavor. For richness and depth, seek out oloroso sherry, which is an unsweetened Spanish wine made from Palomino grapes.
Plenty of chefs create their own versions of tomato gazpacho soups — though the base of tomatoes, cucumbers, garlic, olive oil, and sherry vinegar generally remains the same. From there, a world of flavors blends and swirls into soup majesty. Try shallots, fennel, avocado chunks, dill, corn kernels, soft fruits, or anything that feels interesting and complementary. You can also try making chunkier gazpacho versions or even thickening the soup with sliced day-old bread that's been soaked for a few minutes. 
If you're a tastebud blaster, try a spicy mix of cilantro, jalapeños, or serrano with perhaps a splash of Tabasco or chili paste. For complexity without the extra spice, give it a dash of Worcestershire sauce. Make it pucker-perfect with lime juice, and consider swapping out the sherry vinegar for balsamic, apple cider, or red wine vinegar. Add some juicy sweetness with fresh watermelon chunks. 
Calling family his anchor, Andrés doubles down on admiration for his gazpacho-making spouse by telling People, "... I don't know who sent my wife to me, but I'm sure it's a God from whatever religion."