What Exactly Is Sopita?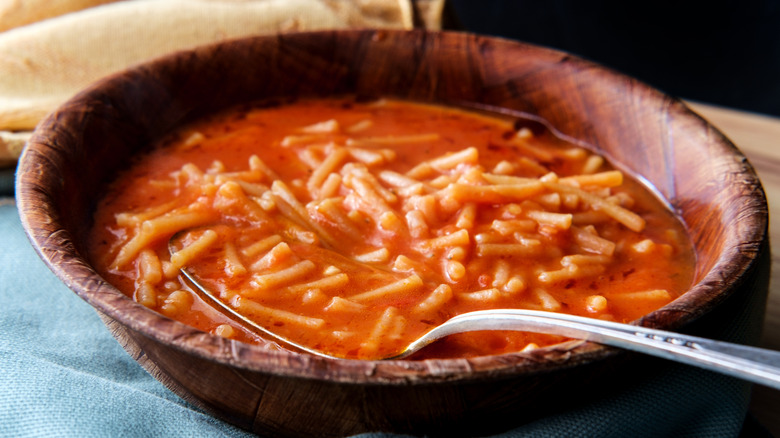 Ezumeimages/Getty Images
As much of the U.S. looks forward to cooler temps, sopita, a traditional Mexican noodle soup, should find its way into your comfort food rotation. A cross between American chicken noodle soup and tomato-based Italian pasta e fagioli, sopita is a variation of sopa de fideo introduced by Spaniards centuries ago. Sopita continues to be made in homes across Spanish-speaking countries, beloved by every generation. 
Over time, regional variations of the soup have developed, including different preparations with added protein. Sopita is traditionally made with a small pasta shape, chicken broth, onions, garlic, fresh cilantro, and tomatoes, and is often topped with cheese. Unlike traditional sopa de fideo, made with fideo pasta, a thin noodle reminiscent of one-inch pieces of broken vermicelli, sopita is commonly made with small pasta shells.
Similar to how rice dishes — like paella or risotto — are prepared, the pasta in sopita is sautéed in oil at the beginning of the recipe. The toasted grains cook with diced aromatics like onion and garlic and simmer with the other ingredients as the soup cooks, unlike other recipes that add the pasta during the final minutes of cooking to keep it from getting soggy.
This Mexican noodle soup isn't as "soupy" as other broth-based soups. You add just enough liquid to the dish to give it a heartier, thicker consistency — like another Italian classic, minestrone. Enjoyed for breakfast, lunch, or dinner, when sick or just need some TLC, this classic dish is simple to make.
How to make sopita
Sopita recipes are versatile, with modern versions including ground beef, shredded chicken, and even mayonnaise for creaminess. Whether you're making sopita de conchas (sometimes called conchitas) with shell pasta, sopita de estrellas with star pasta, or sopita de letras — Mexican alphabet soup, each recipe begins the same way.
Sauté minced onion and pasta in oil in a stock pot over medium heat. Cook the mixture until the onion is translucent and soft, then add your minced garlic. Sauté the garlic until fragrant, for just about a minute; be careful it doesn't burn.
Add chicken stock, crushed tomatoes, and dried spices, like cumin and oregano to the pot, and then bring the soup to a roiling boil. Once boiling, cover the pot and lower the heat to simmer for another 15 minutes until the pasta is soft. The starch from the pasta will thicken the soup, so stir it frequently to prevent the bottom from burning.
Garnish the soup with chopped fresh cilantro, a squeeze of lime, and shredded cheddar cheese. Since the pasta will continue to absorb the liquid, sopita is best enjoyed immediately when it's hot and fresh. However, you can store leftovers in the refrigerator in an air-tight container for a few days. Remember, if you want a really soupy version, you can add more stock and tomatoes. If you prefer a dryer sopita, use less.