The Ultimate Secret Ingredient For Instantaneous Tiramisu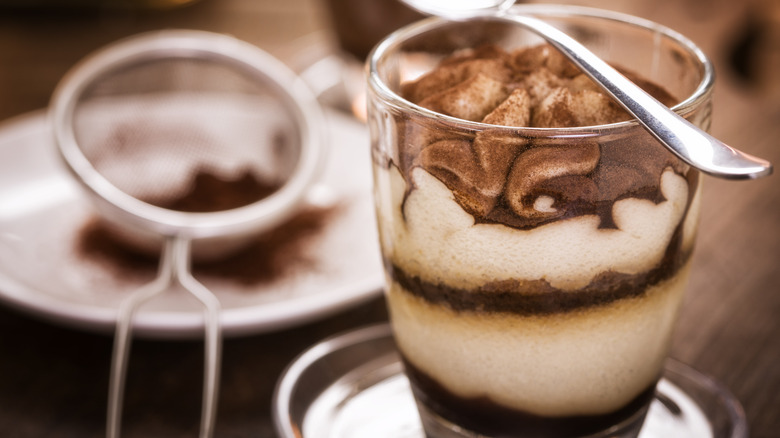 Gmvozd/Getty Images
If you like coffee, chocolate, or both, then tiramisu is the perfect dessert for you. With layers of light and fluffy sweet cream between rows of coffee- and syrup-soaked cookies, and topped with a generous dusting of cocoa powder, this Italian dessert is satisfyingly sweet without being too heavy. Invented in the 1970s by an Italian restaurateur, tiramisu is the perfect companion to an immaculately brewed cup of espresso, cappuccino, or a glass of scotch.
If you are planning to make the dessert at home, preparing some of the components, including the egg-based zabaglione that forms part of the filling, can be tricky and time-consuming. Making zabaglione is a delicate process because you need to whisk eggs, sugar, Marsala wine, and nutmeg over a water bath without scrambling them or having clumps. Luckily, you can still make a perfect tiramisu at home without this additional step. With a box of instant pudding, you can create an instant, egg-free thickener that produces results as fluffy and light as those of traditional tiramisu.
Making an egg-free tiramisu with instant pudding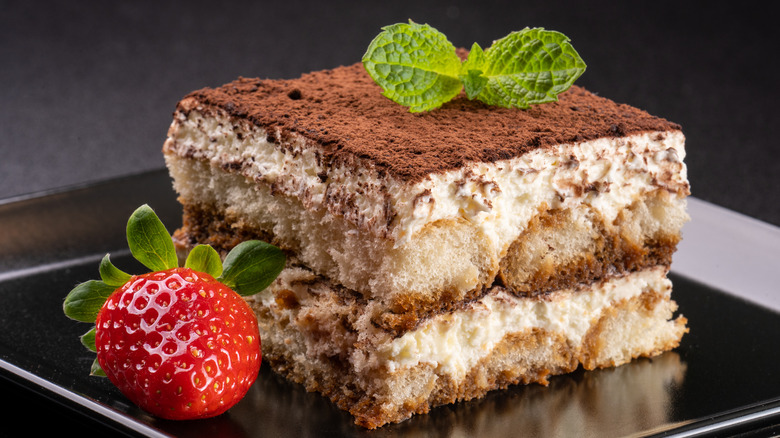 Juraj Rasla/Shutterstock
To make a tiramisu filling with instant pudding, you'll need a box of instant vanilla pudding, mascarpone cheese (a type of Italian cream cheese), heavy whipping cream, Marsala wine, powdered sugar, vanilla extract, and salt. Additionally, you'll need ladyfinger cookies (very light, finger-shaped cookie available at Italian markets or online), cold-brewed coffee or espresso, syrup, coffee liqueur, and cocoa powder.
Start by combining the cold coffee, syrup, and coffee liqueur. Dip each ladyfinger cookie into this mixture and arrange half of them on the bottom of a deep casserole dish. Meanwhile, combine the mascarpone cheese, cream, Marsala wine, powdered sugar, vanilla extract, salt, and instant pudding mix in a stand mixer. Whip until the pudding mix is well incorporated and the mixture becomes light and fluffy.
Spread a thick layer of the filling over the ladyfingers in the casserole dish. Next, layer the remaining coffee-soaked ladyfingers on top of the filling. Cover these cookies with the rest of the filling and smooth the top using a spatula. Dust the surface with plenty of cocoa powder, cover with plastic wrap, and place the dish in the fridge until thoroughly chilled and slightly firm.
One formula, different flavors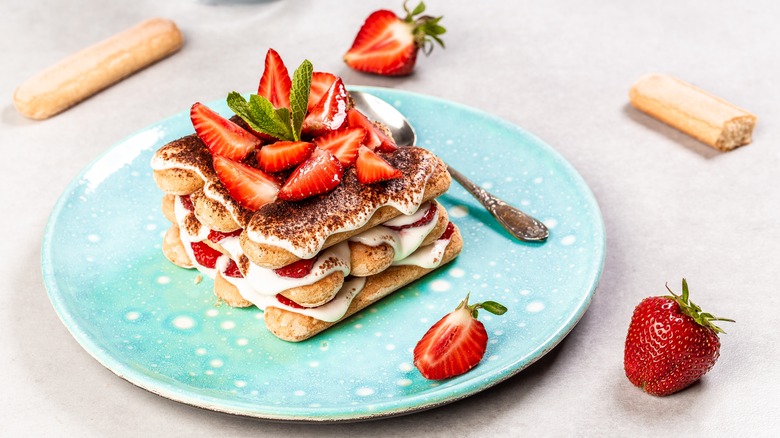 sweet marshmallow/Shutterstock
Tiramisu is a great pick-me-up dessert, but for those who don't enjoy its traditional cocoa or coffee flavors, the same formula of syrup-soaked cookies and light cream filling can be easily adapted to other tastes.
For example, a common alternative to traditional tiramisu features lemons and limoncello, the Italian lemon liqueur. To make this variation, substitute the Marsala wine with limoncello, and replace the vanilla extract with a dollop of lemon curd and some lemon zest to boost the citrus flavors. Instead of using coffee syrup for soaking the cookies, create a lemon-flavored simple syrup by combining water and lemon juice, and add some limoncello for an extra kick. Finish off by decorating with finely grated lemon zest.
Alternatively, if you have fresh berries on hand, you can craft a berry-flavored tiramisu. Combine berry preserves, mascarpone cheese, instant pudding, heavy whipping cream, sugar, and lemon juice in a mixer until the texture is light and fluffy. Dip the ladyfinger cookies into a simple syrup. Instead of dusting with cocoa powder, spread a layer of berry preserves over the top layer of the assembled tiramisu and garnish with whole or sliced berries of your choice.