The Spicy Flavor Boost Giada De Laurentiis Loves Adding To Her Dishes
Paul Archuleta/Getty Images
When one of the world's most highly regarded celebrity chefs reveals her all-time favorite flavor booster, it's probably worth noting. Especially when that chef is Rome-born Giada De Laurentiis praising a beloved offering from southern Italy's Calabria region. Resting in the toe portion of Italy's famous boot-shaped borders, peninsular Calabria is renowned for growing spicy, flavor-packed Calabrian chili peppers. But it's not the fresh peppers on their own that De Laurentiis constantly reaches for when cooking at home, on renowned cooking shows, or when creating recipes for her Las Vegas restaurants. 
It's a crushed, oiled, and jarred version of Calabrian peppers that stars in many of the Italian-American's culinary creations, cropping up in her cookbooks, online recipes, and appearances on Food Network demonstrations. The product is a crushed Calabrian chili paste — and the one she specifically prefers is the Tutto Calabria brand. It's made in Italy from genuine Calabrian peppers, which fall within the 25,000 to 40,000 SHU range on the Scoville Heat Units scale. That puts it on roughly equal footing with cayenne peppers – but with a notable flavor depth that's adaptable to many dishes, whether Italian or not. 
Cooking with Calabrian chili paste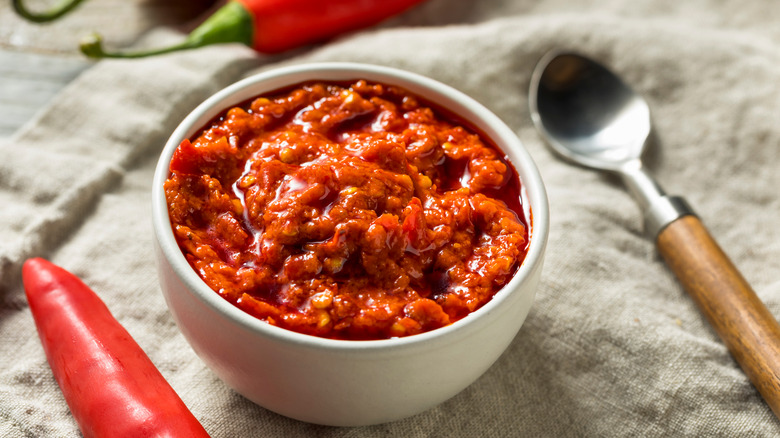 Brent Hofacker/Shutterstock
Before dashing a spoonful of chili paste into your labor-of-love pasta, salads, marinades, and more, you'll probably want an inkling of how it tastes. The Giadzy website, centered on all things Giada, notes how the Tutto Calabria brand features a rich, spicy flavor that's complex yet fruit-forward, with a light smoky finish.
Italian Calabrian chili pastes center on crushed chili peppers and extra virgin olive oil. The Tutto Calabria paste that De Laurentiis uses and sells also includes sunflower oil, white wine vinegar, basil, and salt. 
Pasta is a natural cohort for Calabrian chili paste. With such condensed and flavorful peppers, the paste can serve as a primary base for Italian pasta sauces, accompanied by more olive oil, fresh pressed garlic, diced tomatoes, and basil. Pizza comes alive with a dash of chili paste-infused vinegar, honey, or dipping oils. The paste also makes a tasty marinade for seafood and vegetables, and there's even a De Laurentiis recipe hack for transforming fig jam with this special chili paste.  
Giadzy offers traditional Italian recipes enhanced by Calabrian chili paste — including a popular Abruzzese street food called arrustelle. Grilled lamb skewers are marinated in olive oil, chili paste, crushed garlic, red wine vinegar, dried rosemary, and kosher salt.
What's in Calabrian chili paste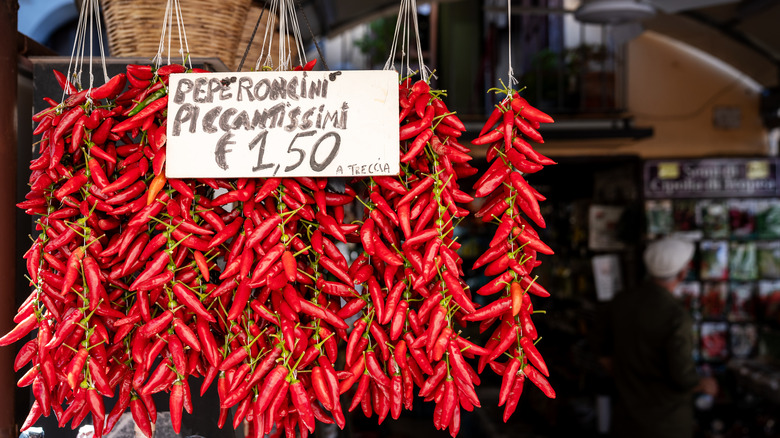 Rasa Petreikiene/Getty Images
The favored De Laurentiis crushed Calabrian chili paste has a long history in the hilly Mediterranean town of Marcellinara town — where chili-pepper crops benefit from at least 300 days of sunshine annually. Members of the Celli family, who founded the Tutto Calabria chili paste brand, have been operating the company for at least 50 years with a motto of piccanti per passione, translating to "spicy for passion."
Spanish merchants initially introduced peppers to Italy, likely in the 1500s. Calabrian chili peppers themselves are part of the Solanaceae (nightshade) group of Capsicum annuum peppers. They also go by names like Devil's Kiss, Peperone Picante Calabrese, and Small Red Cherry Pepper. In addition to flavor-bursting a jar of chili paste, they also harbor a wealth of minerals and vitamins, including C, B-6, and A, iron, potassium, and a chemical called capsaicin, which potentially reduces pain and swelling (per WebMD).
That's a whole lot of tasty goodness compressed into a jar. So, as they say in Italy, "Mangia, mangia!" Eat up!